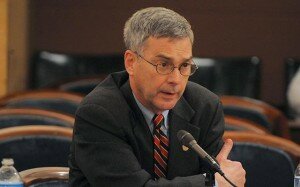 Our current SD48 Senator and friends held a presser before the April 10 State of the State Address announcing a new "Family Surplus" tax cut. We know whenever we read and hear Republican Orwellian language, it's important to check the facts.
During his remarks about how awful things have been under Democratic control. We've done multiple posts about how Minnesota has outperformed our neighbor to the East, which has been under the kind of Republican control Sen. Hann wants to impose.
But, back to this new tax cut bill. Once again, it's a percentage across the board on income taxes. Why is that an issue? It benefits those at the top yet again. The Uptake has done a great post on this that includes the video of the conference. Here's their findings:
only the progressive (affecting those who are more well off) income tax is included
someone making $50,000 annually would save $250
someone making $500,000 annually would save $2,500
the top 1% of the economy has enjoyed substantially more robust economic recovery from the Republican Great Recession than the 99% of the economy
more regressive taxes (affecting those who aren't as well off) like property taxes and sales taxes are, for some reason, not included in the bill he's carrying
Why are we pointing this out? The Minnesota Tax incidence Study shows the poor and middle class pay 29.9% of their income in state taxes. The highest income bracket? Those folks pay 9.6% of their income. That's why Sen. Hann always wants to talk percentages and not real money.
You can see the full post here.
David Hann · GOP warn on the middle class · MN vs. WI · Orwellian language · sd48 · Sen. Hann · Senate District 48 · top 1%