2015 Budget for a Better Minnesota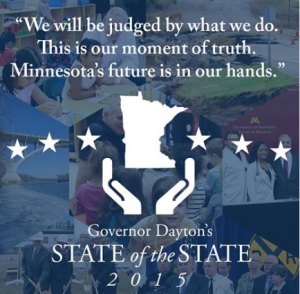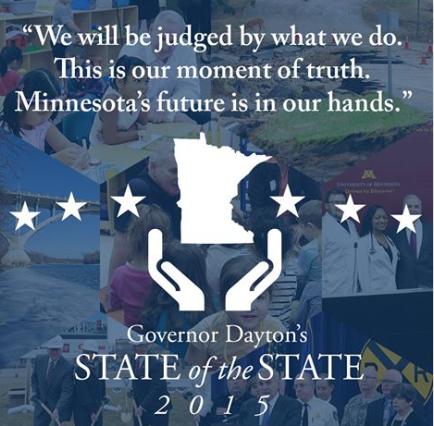 Last night, Governor Mark Dayton outlined his vision for Minnesota's future – highlighting his proposals for preK-12 education, higher education affordability, and transportation. What did we learn?
Now is the time to act. This year, we have the rare opportunity to lay the foundation for Minnesota's future.
For more than a decade, Minnesota was saddled by chronic deficits – burdened by shifts, gimmicks, and deep cuts. But during the past few years, Governor Dayton has worked to clean up the state's fiscal mess, turn deep deficits into surpluses, and position Minnesota for future success.
A Balanced Budget – When Governor Dayton took office in 2011, our state faced a $6.1 billion deficit. Thanks to Minnesota workers and businesses, and a Governor willing to make tough decisions, we have a nearly $2 billion surplus today.
Building on Past Investments – During the last two years, the Governor and DFL Legislature made long-overdue investments in all-day Kindergarten, and paying back the shifts and gimmicks that hurt Minnesota schools and seniors.
Laying the Foundation – Now with the Minnesota's fiscal house in order, Governor Dayton believes we have a great opportunity this year to build on these investments and lay the foundation for an even better Minnesota.
Universal pre-Kindergarten will transform education for generations and save families money.
Governor Dayton's universal pre-Kindergarten proposal would allow an estimated 47,300 students to attend a high-quality preschool in the first year of operation. Within just a few years, the Department of Education predicts that number would grow to roughly 57,000 four-year-olds statewide.
Universal Pre-Kindergarten will Benefit All Children – We have seen the transformational power of all-day Kindergarten. We want to do the same thing with universal pre-Kindergarten access – providing every child an excellent education and saving families money.
Universal Access is Transformational — We already are seeing the success with all-day, every day Kindergarten. Take Peter Hobart Elementary in St. Louis Park for example:

Then/Now – Then: Last year, only half the students at Peter Hobart were full day students. Those that did go all-day had to pay $3,800 in tuition. Now: This year with all-day kindergarten, every family at Peter Hobart chose the all-day option.
Better Prepared Students – Teacher Kay Carlson has been teaching Kindergarten in St. Louis Park for 43 years says this is her most advanced class ever.
Parents See Improvement – Laura Truett is a mother of three. Her two sons did half day kindergarten at Peter Hobart. Her daughter is in all-day Kindergarten. Laura can't believe the difference all-day Kindergarten has made. She said her daughter is reading at a 1st Grade reading level, is confident, capable, and immersed in this school.
Making higher education more affordable will help better prepare all Minnesotans for tomorrow's economy.
In 2013, Governor Dayton and the DFL Legislature reversed a decade of funding cuts, investing $250 million in initiatives to make higher education more affordable for hundreds of thousands of students. This year, the Governor's budget would freeze tuition and increase funding for the state grant program – saving students and their families thousands of dollars over the course of getting a degree.
Tuition Relief – Under Governor Dayton's proposed tuition freeze, more than 310,000 students at Minnesota's public colleges and universities would see tuition frozen for another two years.
Increased State Grant Aid – Governor Dayton's budget would provide more than 93,000 college students a State Grant Program increase – with an average increase of $352 a year.
Minnesota needs a comprehensive, long-term transportation solution now.
Right now, more than half of Minnesota's roads are more than 50 years old, and 40 percent of the state's bridges are more than 40 years old. In the next ten years, nearly 40 percent of our roads will be past their useful life. That is why Governor Dayton has proposed a comprehensive transportation solution this year.
It's Time to Act – Minnesotans can't wait any longer for a transportation solution. We all agree on the need. It's time to stop admiring the problem and act.
Long Term Solution – Over next decade, the Governor's transportation proposal would invest $6 billion in our state roads and bridges, $2.356 billion in Minnesota counties, cities, and townships, and $2.92 billion in our transit systems.
Dedicated Funding – Governor Dayton's transportation solution uses revenue constitutionally dedicated for roads and bridges. The Governor's plan doesn't pit roads and bridges against school kids and seniors like the Republican proposal.
Last night, you heard from Governor Dayton: This year, we have a great opportunity to act. It's time to set up Minnesota for future success.
2015 State of the State · balanced budget · comprehensive transportation solution · Gov. Dayton · higher education · Mark Dayton · universal pre-K