Daily Brief: Friday, April 10th, 2015
Posted by SD48 DFL Communications Team in Daily Brief, News
In the Know
Minnesota DFL
April 10, 2015

Events today
9 a.m. – Gov. Dayton will appear on MPR with Kerri Miller.
Gov. Dayton and Lt. Gov. Smith will hold a conference call with Agriculture Commissioner Dave Fredrickson, State Veterinarian Bill Hartmann and representatives from Minnesota's turkey industry to discuss the state's response to avian flu.
10:30 a.m. – Sen. Klobuchar will highlight efforts protect children from detergent packet poisoning. The Minnesota Poison Control System is reporting a 600 percent increase in poisoning incidents related to detergent packages, with a jump from 49 cases in 2012 to 352 in 2014. There have been 64 cases so far this year. Klobuchar has cosponsored legislation that would set safety standards for liquid detergent packets…Klobuchar will be joined by the family of a 13-month-old Minnesota girl that bit into a laundry detergent pod and was hospitalized in an intensive care unit with severe poisoning for six days.
Minnesota Health Commissioner Dr. Ed Ehlinger to visit Washington County Health Improvement Sites for youth and elderly residents.1:30-2:30 p.m., Pine Hill Elementary, 9015 Hadley Ave., Cottage Grove. 3-4 p.m., Cardinal Pointe, 1201 Hadley Ave. N., Oakdale.
7 p.m. – Gov. Dayton will appear on "Almanac."

Save the date
April 16 – Rally for transportation, noon, lawn in front of the State Capitol. Gov. Dayton and DFL legislators will speak.
June 6 – Tickets are now on sale for the 4th Annual Humphrey-Mondale Dinner.
June 20 – Registration is now open for the DFL Training Summit. Attend and learn how you can help the party build to win, built to last.

2014 election
Final price tag on 2014 election: $34M, MPR

2016 election
Ophthalmologist announces bid to unseat Kline, MPR
Clinton could announce 2016 run as soon as this weekend, The Hill
The GOP presidential field looks chaotic. It's not. The New York Times
Robby Mook just took the hardest job in politics: Saving the Clintons from themselves, Mother Jones

Agriculture
Researchers fear avian flu may be here to stay, MPR
Avian flu samples flood U's vet lab as outbreak escalates, MPR
Avian flu lab breaks the bad news to MN turkey farms, KARE

Budget (state)
GOP bill cuts rural broadband grants, MPR
Senate DFL tweaks state spending goals, Star Tribune
GOP budget would make Scott Walker proud, mn progressive project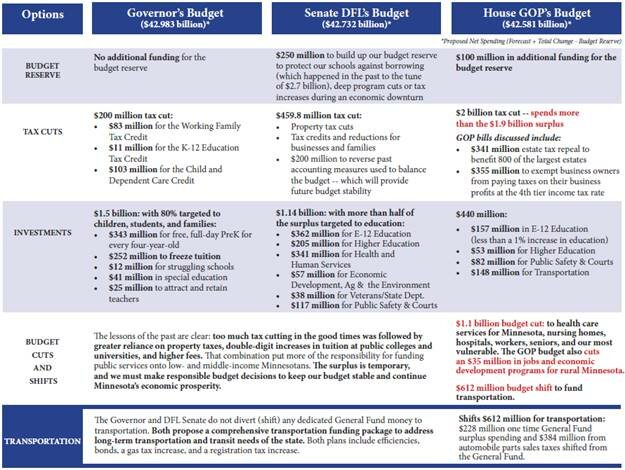 The Minnesota Hospital Association has created a web site protesting MN House GOP proposal to cut $1.14 billion from the health and human services budget. There is an on-line petition to send to House leadership. http://protectmnhealthcare.org/

Child care
Commissioners from the Minnesota Departments of Human Services and Revenue visited Mankato this week to highlight proposals from Gov. Mark Dayton that will make quality child care accessible for thousands of middle class and low-income families. The governor's budget will invest $99.9 million in child care tax credit relief for 130,000 middle class families. It will also provide $17.6 million to increase access to quality child care for nearly 10,000 families with low incomes.
"Every child deserves excellent early learning opportunities to prepare to succeed in school," said Human Services Commissioner Lucinda Jesson. "But right now, access to child care is still a significant barrier for too many families. More than 6,000 children are on a waiting list for child care assistance and many more can't afford or find quality programs that will help prepare them for kindergarten."
"The governor's plan to expand Minnesota's Child and Dependent Care Credit will save real money for thousands of Minnesota families with young children or other dependents, such as aging parents and family members with disabilities," said Revenue Commissioner Cynthia Bauerly. "It would more than triple the number of families eligible for the credit and increase the maximum credit."

Congressional delegation
Klobuchar
Klobuchar visits Chandler wind energy plant, Worthington Daily Globe
Nolan
Rep. Nolan tours dilapidated schools, calls for replacement, Northland News Center
Congressmen get a firsthand look at Indian school crisis, Star Tribune
Walz
MN lawmaker angry over VA memo, KARE

Education (early)
Minnesota boosts early childhood education, step by step, Star Tribune

Education (K-12)
School districts foresee yet another fiscal cliff, despite Dayton's ed plan, MinnPost

Energy
Political divide emerges over Minnesota energy policy, Star Tribune

Flying
Minn. driver's license may not get you on airplane in 2016, KARE

GOP
Race for MN GOP Party chair sparks a little drama, MPR

Local Government Aid
Bid to cut Local Government Aid would spare Rochester, WCCO

Major League Soccer
Minneapolis MLS team's owners to begin stadium push at Capitol, Star Tribune

State of the State
Dayton says 'moment of truth' at hand for Legislature, Session Daily
Here's Dayton's State of the State address, Pioneer Press
Dayton's State of the State focuses on education, transportation, Pioneer Press
Dayton repeats call for investment in State of the State, Pioneer Press
Dayton challenges lawmakers to take action on transportation, education, MPR
Dayton pushes major spending programs in speech, WCCO
Invest surplus and pool resources, Dayton says, Star Tribune
A belated State of the State, Star Tribune
3 highlights in Gov. Dayton's State of the State, Fox 9
Dayton: We must still work toward a better Minnesota, KSTP
House DFL Leader Paul Thissen released the following statement following Gov. Dayton's State of the State:
"Gov. Dayton laid out the choice before us this session – seize our opportunity to build a better future for Minnesota, or let this opportunity pass us by. And he made a compelling case for the action we can take this session to keep Minnesota ahead of the curve, especially in education. We hope House Republicans were listening.
"The Republican budget plan puts $15 in tax cuts for every $1 they put in education. Shortchanging Minnesota's kids will mean classroom cuts and fewer opportunities from our youngest learners to college students. We can do so much better.
"This is the least ambitious legislative majority I've ever witnessed. With a growing economy and stable budget, what a waste it would be if we didn't set our sights high, act boldly, and put Minnesota on the path to greater prosperity for decades to come."
The following people were guests of Rep. Thissen at the State of the State:
Jane Berenz, Superintendent, Apple Valley-Eagan-Rosemount
Despite a $1.9 billion surplus, the House Republican budget provides less than a 1 percent increase for E-12 education. For every $1 Republicans put toward education, they are giving $15 in tax cuts. School officials have signaled that shortchanging education in this way could force local budget cuts in education.
Delrae Williams, Mayor, City of Moorhead
Gov. Dayton and DFL legislators have introduced legislation to address the emerging oil train public safety issue. Gov. Dayton's bonding proposal includes resources for a grade crossing in Moorhead. Republicans have said they oppose a bonding bill and have opposed legislation that would ask railroad companies to pay for rail safety improvements.
Gabe Goldstein, MinnesotaCare enrollee and graphic designer who has a serious health condition.
Despite a $1.9 billion surplus, Republicans are proposing a $1 billion cut to health and human services. 95,000 working Minnesotans would lose their health care coverage.
Alysen Nesse, recent graduate from Maple Grove with more than $80,000 in student loan debt
While Gov. Dayton has proposed to continue the tuition freeze at the U of M and MnSCU system, Republicans have shortchanged higher education in their budget targets. Higher tuition and debt are very likely under the Republican budget.
Nikki Kleman, St. Paul mother of a son with a rare form of leukemia and member of Momcology Read more about her story here.
Rep. Thissen has authored the Working Parents Act to provide more balance and flexibility in workplace policies for Minnesota families. Earned sick leave, paid family leave, fair scheduling, and wage theft protections are included in the package. House Republicans have refused to give the Working Parents Act a hearing.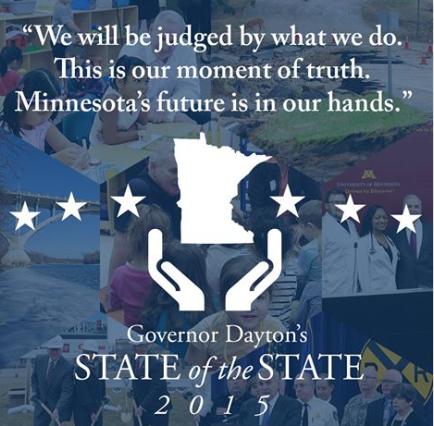 LIKE the Minnesota DFL on FACEBOOK: https://www.facebook.com/MinnesotaDFL
Follow @MinnesotaDFL on TWITTER: https://twitter.com/MinnesotaDFL
On INSTAGRAM: http://instagram.com/minnesotadfl
daily brief · issues · news