Star Tribune endorses Laurie Pryor for #HD48A! Way to go @lauriepryor!
Posted by SD48 DFL Communications Team in Laurie Pryor
The StarTribune Editorial Board has endorsed Laurie Pryor for the HD48A seat, posting the following on their website November 1, 2016: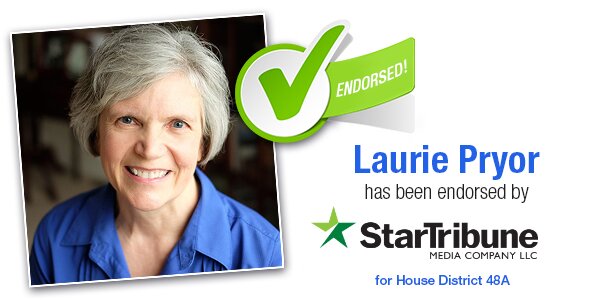 When state Rep. Yvonne Selcer unexpectedly announced in April that she would not seek a third term in her Minnetonka-Eden Prairie district, Laurie Pryor realized that she was well-suited to run in her stead. As a retired communications and management consultant and 27-year resident of the district, Pryor is well-versed in state and local issues. As a DFL activist, she had already doorknocked the district many times.
We share Pryor's self-assessment. She's a strong candidate who deserves election over Republican Mary Shapiro, who recently retired after 35 years teaching in the Minneapolis Public Schools.
Pryor, 59, has deep interest in health care for good reason — her husband, Jon, is CEO of Hennepin County Medical Center. She wants to attack the root causes of high premium costs on the MNsure insurance exchange, not just offer exchange shoppers a discount. She's keen to reduce the burdens that high health-care costs and the statewide property tax are putting on small businesses.
She takes a long-term view, connecting her support for mass transit to the needs of an aging population and the climate benefits of reducing automobile use. Unlike her opponent, Pryor is a strong supporter of Southwest light rail.
Shapiro, 63, would bring to the Capitol the valuable perspective of an inner-city teacher who developed programs tailored for immigrant students. But particularly on state budget matters, she would face a steep learning curve.
You can read the original article here.
2016 election · HD 48A · HD48A · Laurie Pryor