Star Tribune endorses Steve Cwodzinski for #SD48! Way to go #cwodsquad!
Posted by SD48 DFL Communications Team in Steve Cwodzinski
The StarTribune has endorsed Steve Cwodzinski for the SD48 seat in an endorsement appearing on their website October 31, 2016, and in print November 1, 2016: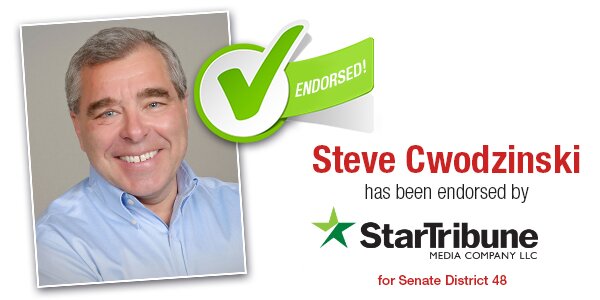 Senate GOP Minority Leader David Hann is in the toughest re-election fight of his 14-year legislative career for two good reasons. One: Hann's positions on issues — particularly on Southwest light rail — are out of sync with those of many residents in his Eden Prairie district. And two: He has an uncommonly appealing opponent in DFLer Steve Cwodzinski.
Our nod goes to challenger Cwodzinski, a recently retired government teacher at Eden Prairie High School. Hann's dedication to public service and his willingness to shoulder leadership responsibilities for his caucus in the past four years are admirable. But Eden Prairie would be well-served by the passion for public problem-solving that Cwodzinski would bring to the Legislature.
Cwodzinski reminded us of another educator who took on an entrenched Republican incumbent. Like the late U.S. Sen. Paul Wellstone, Cwodzinski, 58, exudes infectious enthusiasm for democracy and optimism about its potential to make lives better.
Raised in Superior, Wis., by immigrant grandparents and on his own by his teens, he hitchhiked to Minneapolis, got a job at the Leamington Hotel, put himself through the University of Minnesota and landed what he called his "dream job" teaching American government in Eden Prairie in 1985. His favorite classroom exercise has legislative relevance. It involved splitting students into liberal and conservative camps, then coaching them to compromise.
Unlike Hann, Cwodzinski backs Southwest light rail. He opposed — as did a majority of District 48 voters — the 2012 attempt to ban same-sex marriage in Minnesota that Hann helped push through the Senate. Cwodzinski is eager to seek ways to improve gun safety, expand the use of renewable energy, extend the benefits of preschool to more children, drive down college student debt loads, and make health insurance affordable.
Long a resident of Chanhassen a few blocks from the District 48 boundary, Cwodzinski moved into the district after retiring with the intention of running against Hann. That move would raise red flags for us were it not for his three decades of involvement in Eden Prairie life.
Hann, 64, is a former school board member and retired businessman whose conservative views may have matched his district's a few decades ago. But President Obama carried the district in 2012, signaling a change. Hann has demonstrated little inclination to bend with his district's changing political wind.
You can read the original article here.
2016 election · sd48 · Steve Cwodzinski
<< Star Tribune endorses Laurie Pryor for #HD48A! Way to go @lauriepryor!