Daily Brief – ELECTION DAY EDITION – Tuesday, Nov. 4th, 2014
Posted by SD48 DFL Communications Team in Daily Brief, News
In the Know
Minnesota DFL
Nov. 4, 2014
Events today
7 a.m. – Polls open.
10 a.m. – Gov. Dayton and Tina Smith vote.
10 a.m. – Sen. Al Franken votes.
11:06 a.m. – MPR News political reporters preview Election Day, MPR
8 p.m. – The Minnesota DFL hold our Election Night Party, Minneapolis Hilton.
8:30 p.m. – Congressman Rick Nolan holds and Election Night Party at Arrowwood Lodge at Brainerd Lakes, 6967 Lake Forest Road, Brainerd.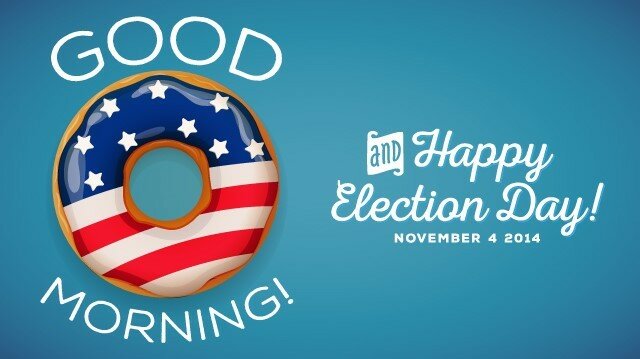 2014 election
Minnesota Democrats get out the vote, KARE 11
Hair, hockey and geeks: the top political advertising themes of 2014, MinnPost
On Election Day, here's what you need to know, MPR
New law boosts early voting numbers to new record, MPR
Another drawn-out Minnesota election night expected, Fox 9
Voters line up early on Election Day in St. Cloud, St. Cloud Times
Candidates press hard for votes as end nears, St. Cloud Times
10 things to watch in Minnesota's election results, Star Tribune
Live Blog: 2014 Election Day in Minnesota Live, Star Tribune
Minnesota's 2014 election, in one tweet, Star Tribune
Governor, Senate, State House are Minnesota prizes, KSTP
Residents of the 11-county Twin Cities metro area can plug in their address and use this tool to find out where to vote, what the choices are and information about specific candidates. After the polls close at 8 p.m., users can use the tool to get results of the races on their ballot. Given the number of voters who seemed confused about some of these things during interviews this campaign season, the tool should come in handy. The Secretary of State's MNVotes also has information. Polls open at 7 a.m. and close at 8 p.m. Thanks to a new state law, there will be free transit on Election Day where available. Star Tribune
It could be a late night, especially for those watching the outcome of Minnesota House races. Republicans will need to pick up seven seats to take the majority. Here are a few DFL incumbents we'll be watching, as their fate could help determine which direction the night is moving: Will Morgan, Yvonne Selcer, Joe Radinovich and Shannon Savick. That's two in the suburbs and two in Greater Minnesota. And don't count out the possibility of recounts. It could be some time before we know the identity of the next Speaker. Star Tribune
As of yesterday, there are 3,137,539 voters registered in the state of Minnesota according the Secretary of State.  In 2010 there were, 3,128,795 registered voters on election day and 2,107,021 voted in the Governor's race it was an open seat and there was no Senate race.  In 2006, when Gov. Tim Pawlenty faced Attorney General Mike Hatch, 2,202,937 people voted for Governor.    There was a Senate race between Sen. Amy Klobuchar and Mark Kennedy. 2,202,772 people voted in that race.  Of course Pawlenty won, and Klobuchar won. It was a split ticket night. morning take
Legislature
Big prize in Minnesota Election: State House, KSTP
U.S. House
In politically and economically diverse 8th District, Nolan and Mills search for votes, MinnPost
Democratic leaders try to boost Nolan's standing on Iron Range, MPR
daily brief · Election Day · issues · news