Daily Brief: Tuesday, Oct. 14th, 2014
Posted by SD48 DFL Communications Team in Daily Brief, News
In the Know
Minnesota DFL
Oct. 14, 2014

Events today
8 a.m. – Gov. Dayton and Jeff Johnson debate in Duluth. The debate sponsored by the Duluth Area Chamber of Commerce and the Duluth News Tribune will be live streamed by The UpTake from the Duluth Playhouse.

Hear 3rd gubernatorial debate held in Duluth Oct. 14, MPR

10 a.m. – Gov. Dayton will hold a public meeting regarding railway safety and rail capacity (Kirby Ballroom, University of Minnesota Duluth, 1120 Kirby Drive, Duluth.
11 a.m. – DFL Chairman Ken Martin holds a press conference to talk about how the GOP candidate for Secretary of State, Dan Severson, is running a campaign based on suppressing voter turnout and allegations of election fraud.
Noon – The DFL Flying Squad leaves DFL HQ for Hinckley to door knock for Rep. Tim Faust.

Plan ahead!
This Sunday, St Paul will host the fourth gubernatorial debate on the historic campus of Hamline University at 9 a.m. The Dayton Campaign will hold a sunrise rally outside the Klas Center on campus at 7:45 a.m., where coffee and a light breakfast will be served.
Pre-Debate Rally for Governor Dayton
Sunday, October 19th
Klas Center, Hamline University Campus
1537 Taylor Avenue
Saint Paul, MN 55104
7:45 a.m.

Mark your calendars and spread the word!
Early voting is open! #simonsaysvote www.mnvotes.org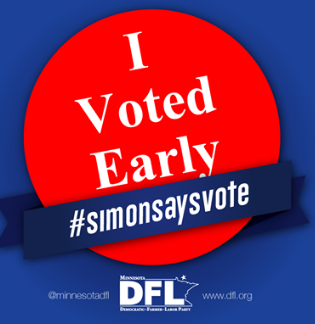 21 days until the Nov. 4 general election
Want to volunteer to elect DFLers? Visit http://www.dfl.org/gotv/
2014 election
U.S. voters give GOP edge vs. Dems on handling top issues, Gallup
Koch donors uncloaked, Politico
Minneapolis School Board
Progressive Education Fund joins spenders in MPS school-board race, MinnPost
Legislature
Battle for state House hot in Albert Lea, Star Tribune
Governor
New Jersey Gov. Chris Christie stumps for Jeff Johnson, MPR
Nicollet wants in on Duluth debate, MPR
N.J. Gov. Christie tours Columbia Heights charter school with Johnson, McFadden, Star Tribune
Independence Party's Nicollet upset at being excluded from Duluth debate, Star Tribune
New Jersey Gov. Christie stumps for Jeff Johnson, Pioneer Press
Christie joins Johnson and McFadden at school event; says Johnson can beat Dayton, MinnPost
Dayton talke on Ebola, MNsure and the 'unaware' ad, WCCO
Gov. Christie in Minnesota to boost Johnson campaign, Fox 9
Today, DFL Gov. Mark Dayton and Republican challenger Jeff Johnson will meet for a one-on-one debate in Duluth. The 8 a.m. debate, which will not include Independence Party candidate Hannah Nicollet, will be at the Duluth Playhouse. Follow the Star Tribune's @patricktcondon [email protected] for tweets from the event. After the debate, Dayton will hold a 10 a.m. event about rail safety and capacity at the University of Minnesota Duluth's Kirby Ballroom. Although the governor will have both a campaign event and an official event, his campaign is paying for the cost of his transportation and lodging, Dayton officials said. Star Tribune
Republican candidate for governor Jeff Johnson has been asked some of the same questions over and over during the course of the campaign, but on Monday an eighth grader tossed a new one at him: "If you could choose to represent another state other than Minnesota, which state would you choose and why?" the Columbia Heights charter school student asked. "That's a great question," Johnson replied. "I would want to stay in the Midwest because I like it here and it's where I'm from. So I would pick any state that touches Minnesota, whether it's North Dakota, South Dakota, Iowa or Wisconsin. I don't think I'd want to move too far from home." Star Tribune
American Action Network released this ad critical of Gov. Dayton on education. http://bit.ly/1sc4UHQ Morning Take
U.S. House
Emmer wins endorsement from GOP notables, St. Cloud Times
DFL candidate for Congress Joe Perske releases a radio ad critical of GOP candidate Tom Emmer's campaign contributions. The ad has a game show theme. http://bit.ly/1wysZcu Morning Take
GOP candidate for Congress Stewart Mills released a new ad addressing the ads related to his hair and his family's business. http://bit.ly/1v7DmGcMorning Take
U.S. Senate
McFadden, Franken disagree on Guantanamo Bay, MPR
McFadden seeks to shift narrative on polling, Fergus Falls Journal
Mass. Sen. Warren to campaign in Minnesota with Sen. Franken, Star Tribune
Al Franken's record, sized up, Pioneer Press
The Minnesota GOP is releasing a web video critical of Sen. Franken on ISIS. http://bit.ly/1tZyzSP Morning Take
2016
Chris Christie tells Minnesota 8th grader he's 'thinking about' 2016 run, Fox 9

Congressional delegation
Franken
Franken at Indigenous Peoples Day event, Star Tribune

Ebola
Dayton, Franken, Klobuchar ask for Ebola screening at MSP, Star Tribune

Ness, Don
After helping Duluth remake itself, Ness decides not to run again, MPR
Minnesota will miss Duluth mayor, Star Tribune
Transportation
How will Minnesota pay for transportation needs? MPR
Dayton, senators seek federal action on railroad delays, Pioneer Press
daily brief · issues · news