Daily Brief: Thursday, July 9th, 2015
Posted by SD48 DFL Communications Team in Daily Brief, News
In the Know
Minnesota DFL
July 9, 2015

Events today
11 a.m. – The Department of Public Safety will hold a news conference to announce extra speed enforcement on Minnesota roads July 10 – 26…The Hennepin County Traffic Enforcement Group (HCTEG) is an example of a law enforcement team dedicated to keeping motorists safe. HCTEG, which started in 2013, is comprised of 13 agencies. In less than three years, the team has improved traffic safety by stopping nearly 2,500 drivers for speed, lack of seat belt use, distracted driving, crosswalk violations and more….As part of the kick-off event, media will view enforcement techniques, such as technology that detects speed, and officers will provide a ride-along to demonstrate how motorists are risking their lives and the lives of others by exceeding the speed limit.
Happy birthday, Kenner!

Mark your calendars
July 10 – Rep. Joe Atkins (DFL-Inver Grove Heights) and Rep. Dan Schoen (DFL-South Saint Paul) will hold a press conference to announce legislation banning the manufacture, sale and possession of gun shaped cell phone cases in Minnesota. Cell phone cases resembling handguns made recent news when U.S. Senator Charles Schumer (D-NY) and numerous law enforcement agencies urged retailers to stop selling them and warned consumers not to purchase them. 10 a.m., Room 181, State Office Building, St. Paul.
July 12 – The Congressional District 2 DFL will host a Lesbian, Gay, Bisexual, and Transgender Legislative Issues Forum from 2 – 4 p.m. at the Galaxie Library, 14955 Galaxie Ave., Apple Valley. For further information, contact Terry Friedrichs, CD 2 Outreach/Inclusion Committee, at 612-859-9676.
July 14 – Minnesota Health Commissioner Ed Ehlinger will visit Forest Lake to host the latest in his series of popular "Pitch the Commissioner" events, in which he talks about public health with community members over a friendly game of horseshoes. The Washington County "Pitch the Commissioner" event will start with horseshoe pitching at 1 p.m. at the Forest Lake VFW, 556 12th St. SW, in Forest Lake. Participants can pitch their ideas to Commissioner Ehlinger about improving the public health in their community and how the state can help them accomplish their goals, while pitching horseshoes. The games of horseshoes will be followed by two presentations at Forest Lake City Hall, located at 1408 Lake Street South. The first presentation will be a 20-minute HealthUP! Community presentation by Fairview Health Services and their community partners. Commissioner Ehlinger will then lead a discussion on "What Does Minnesota Need to be Healthy?" Following the presentations, there will be an opportunity to visit and discuss the issues over refreshments.
July 25 – The Kanabec County DFL will host our annual Post-Parade Reception at the Masonic Hall,800 S Union St, Mora. The parade begins at 4:30 p.m. Join the Kanabec DFL for hotdogs and discussion.
July 30 – The Minnesota Nurses Association would like to cordially invite you to the Medicare turns 50 Birthday BBQ Bash on Thursday, July 30 from 5 – 8 p.m. in St. Paul. Medicare is an American as apple pie (Protect Improve Expand Medicare) so join us for an all American birthday BBQ, as we celebrate the 50th Anniversary of Medicare, one of the greatest social safety net pieces of legislation ever signed into law and what we hope to be the basis of a single payer system for our entire nation. Highland Park Picnic Shelter, 1227 Montreal Ave. St. Paul.
2016 election
A political lifer, Scott Walker has long been his own strategist, New York Times
Why Scott Walker keeps dropping Marco Rubio's name as VP, The Washington Post
O'Malley to call for Wall Street reforms, breaking up big banks in latest policy initiative, The Washington Post
The Simpsons takes on Donald Trump's presidential campaign — and his hair, The Washington Post
Branden Petersen's state Senate seat draws a crowd of potential candidates, MinnPost
Sanders trying to make the most of booming 2016 crowds, WCCO
Fox News is diminishing the power of the early states in the presidential nominating process. The cable channel will use an unspecified mix of national polls to decide which ten Republicans appear in the first debate next month. The drama over who is going to make the cut disturbs a bipartisan mix of leaders from Iowa, New Hampshire and South Carolina because it validates deeper fears that they will not play the same gatekeeping role as they have in the past. They argue that, in 2016, it will be harder than ever for underfunded longshots, like Jimmy Carter in 1976 or Rick Santorum in 2012, to emerge by outhustling everyone else and impressing grassroots activists. The Washington Post
National Democrats want to make Trump the face of the national GOP. The DNC posted a web video this morning, called "The Retrumplican Party," that highlights comments other GOP candidates have made echoing Trump. It's in the same vein as Hillary Clinton's comments in Iowa on Tuesday. Although, the Clinton Foundation yesterday said it will hold onto the six-figure donation Trump gave before he became a candidate. A California state senator, meanwhile, introduced a resolution condemning Trump and calling on the state to divest from Trump-affiliated businesses. The Washington Post
Sneak peek: Bobby Jindal will attack the GOP establishment for not wanting to talk more about abortion. In a keynote tonight at the National Right to Life Convention in New Orleans, the Louisiana governor will blast the "spineless" Republican "smart guys" in Washington who see cultural issues as a "distraction." From excerpts shared by the campaign: "There are some Republicans running for president who would like to sneak into this convention, whisper about being pro-life, and then sneak away hoping the press won't report on it … We will not be silenced or quiet. If they don't want to hear me talk about these issues, they better buy some ear muffs, because I will not be silenced." The Washington Post
The Republican Governors Association has gone up with its first TV ad in the off-year Kentucky governor's race, linking Democratic nominee Jack Conway to President Obama. The spot is reminiscent of almost every ad the GOP ran in red state Senate races last year. The Washington Post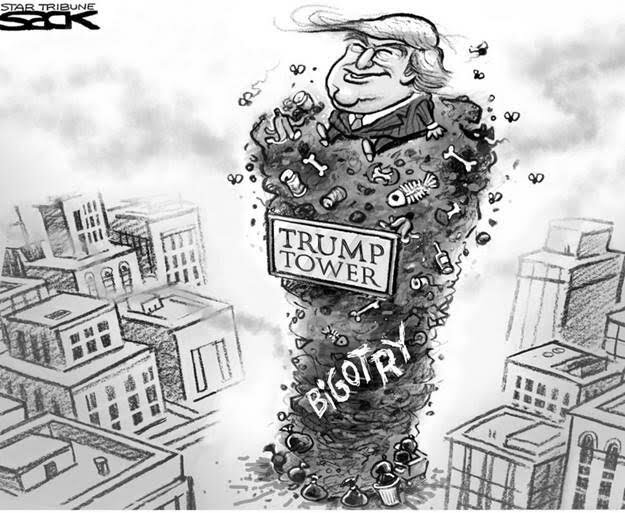 Broadband
Our view: Federal hope to broaden broadband, Duluth News Tribune

Center for the American Experiment
Mitch Pearlstein explains why his conservative think tank is flourishing after 25 years in Minnesota,MinnPost

Confederate flag
South Carolina House approves removing Confederate flag; banner could come down within days, Star Tribune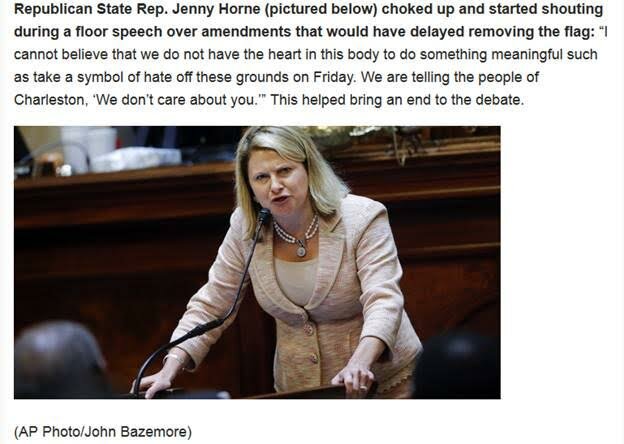 Education (E-12)
Test scores tossed over cheating: Dozens of tests affected as St. Paul teacher suspended, Cannon Falls teacher resigns, Worthington Daily Globe
Is our legislators learning? After 13 years, Congress takes stab at reforming No Child Left Behind,MinnPost
School voucher program fails in the Senate, The Washington Post
House votes narrowly to overhaul No Child Left Behind education law; Senate debates its bill, Star Tribune
Rep. John Kline passes education overhaul with no Democratic support, Star Tribune
No Child Left Behind law clears major hurdle, MPR
Kline: No Child Left Behind reform would give states more control, MPR
Via email solicitation from Kline's GOP endorsement opponent David Gerson:
"We killed this monster bill back in February, but John Kline is trying to raise it from the dead!...John Kline is trying to resurrect No Child Left Behind under a new name – the "Student Success Act" (H.R. 5). This bill forces Common Core standards further into our local schools – and it could be voted on as early as Thursday!…When I contacted you in February, you flooded John Kline's office with calls, and we stopped this bill in its tracks!…We must again put pressure on John Kline to provide the reforms needed to end this federal overreach into OUR schools. We owe it to our children to stop this bill again!" morning take
Via statement from DFL challenger Angie Craig:
"The bill not only maintains the excessive focus on standardized tests, but also eliminates much needed accountability and action to lift up struggling schools. Even worse, Kline's bill included a voucher-lite 'portability' program that could lead the federal government to move millions of dollars in school funding from the neediest schools to the wealthiest…If John Kline and the extreme right wing of his party are not going to fund our public schools and invest in students and teachers, the least they could do is to protect the students while they're in the classroom. Unfortunately, the Student Success Act doesn't include provisions, such as those introduced by Sen. Al Franken in the Senate, from the Student Non-Discrimination Act, which would codify anti-discrimination protections for LGBT students in to law…In his attempt to appease radical conservative attempts to cripple federal education policy, John Kline has failed our students, teachers, and families. We can and must do better." morning take
GOP
Biggest (hair-related) news in Minnesota politics today, Pioneer Press

Labor
Marker commemorating '34 Teamsters strikes to be unveiled July 18, Workday Minnesota

Obama
President Obama: DFL helps Minnesota win border battle with GOP-controlled Wisconsin, YouTube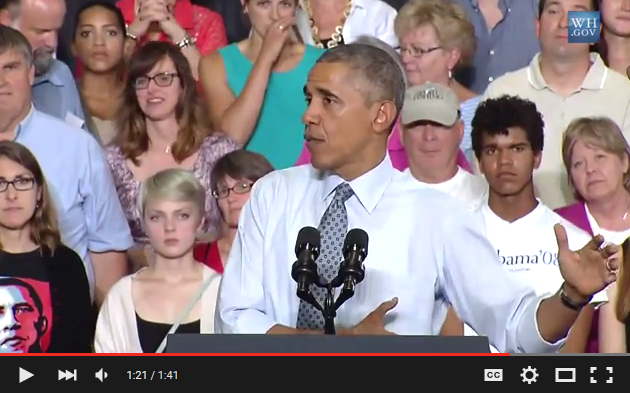 Transportation
Southwest light rail's new $1.74 billion budget approved by Met Council, Star Tribune
Met Council cuts $250M to save Southwest Corridor light-rail project, Pioneer Press
$1.7 billion SW light rail project clears key hurdle, while Legislature looms, KSTP
Met Council approves $1.7B Southwest Light Rail plan, cutting Eden Prairie stops, Fox 9
LIKE the Minnesota DFL on FACEBOOK: https://www.facebook.com/MinnesotaDFL
Follow @MinnesotaDFL on TWITTER: https://twitter.com/MinnesotaDFL
On INSTAGRAM: http://instagram.com/minnesotadfl
daily brief · issues · news