Daily Brief: Wednesday, July 8th, 2015
Posted by SD48 DFL Communications Team in Daily Brief, News
In the Know
Minnesota DFL
July 8, 2015

Events today
10:30 a.m. – DFL Chairman Ken Martin meets with the editor of the Brainerd Dispatch.
1 p.m. – DFL Chairman Ken Martin meets with members of the St. Cloud Times editorial board.
3 p.m. – The Saint Paul Regional Labor Federation and the Saint Paul Building & Construction Trades Council will break ground on their new home, 385 W 7th St., St. Paul.
6:30 p.m. – Senate District 42 DFL will host a prevailing wage/right to work forum at the Roseville Library, 2180 N Hamline Ave., Roseville.

Mark your calendars
July 12 – The Congressional District 2 DFL will host a Lesbian, Gay, Bisexual, and Transgender Legislative Issues Forum from 2 – 4 p.m. at the Galaxie Library, 14955 Galaxie Ave., Apple Valley. For further information, contact Terry Friedrichs, CD 2 Outreach/Inclusion Committee, at 612-859-9676.
July 14 – Minnesota Health Commissioner Ed Ehlinger will visit Forest Lake to host the latest in his series of popular "Pitch the Commissioner" events, in which he talks about public health with community members over a friendly game of horseshoes. The Washington County "Pitch the Commissioner" event will start with horseshoe pitching at 1 p.m. at the Forest Lake VFW, 556 12th St. SW, in Forest Lake. Participants can pitch their ideas to Commissioner Ehlinger about improving the public health in their community and how the state can help them accomplish their goals, while pitching horseshoes. The games of horseshoes will be followed by two presentations at Forest Lake City Hall, located at 1408 Lake Street South. The first presentation will be a 20-minute HealthUP! Community presentation by Fairview Health Services and their community partners. Commissioner Ehlinger will then lead a discussion on "What Does Minnesota Need to be Healthy?" Following the presentations, there will be an opportunity to visit and discuss the issues over refreshments.
July 25 – The Kanabec County DFL will host our annual Post-Parade Reception at the Masonic Hall, 800 S Union St, Mora. The parade begins at 4:30 p.m. Join the Kanabec DFL for hotdogs and discussion.
July 30 – The Minnesota Nurses Association would like to cordially invite you to the Medicare turns 50 Birthday BBQ Bash on Thursday, July 30 from 5 – 8 p.m. in St. Paul. Medicare is an American as apple pie (Protect Improve Expand Medicare) so join us for an all American birthday BBQ, as we celebrate the 50th Anniversary of Medicare, one of the greatest social safety net pieces of legislation ever signed into law and what we hope to be the basis of a single payer system for our entire nation. Highland Park Picnic Shelter, 1227 Montreal Ave. St. Paul.

2015 session
Blame for session's failure falls on Republicans, Duluth News Tribune
2016 election
How will Walker's time as Wis. governor play to national audience? MPR
Clinton says nation shouldn't take a 'big U-turn' and return to GOP control of the White House, Star Tribune
Sanders will rebuild middle class, St. Cloud Times
Hillary Clinton: 'People should and do trust me,' CNN
Clinton campaign adds 20 paid Iowa staffers, The Des Moines Register
Near launch, Walker team sees Bush, Rubio as 2016 competition, The Washington Post
Martin O'Malley racked up $339,200 in loans putting two kids through college. He wants to lighten the load for others, The Washington Post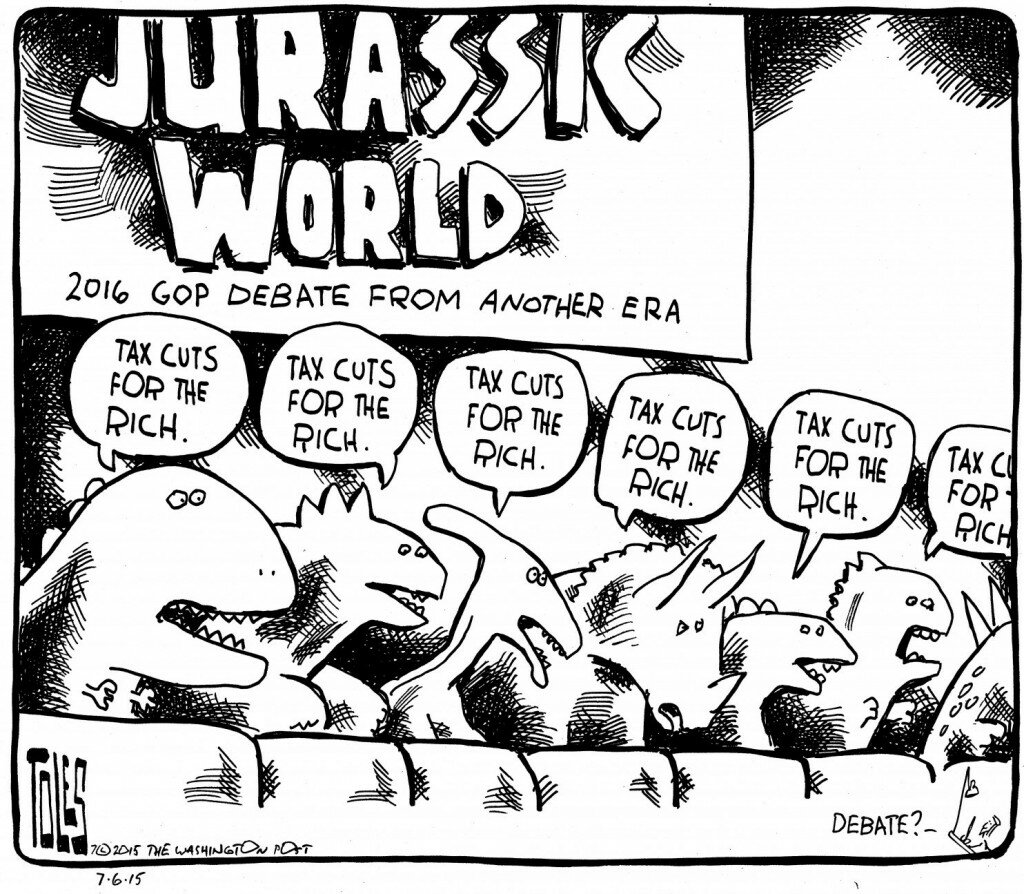 Education (E-12)
Key Minnesota integration changes opponent drops legal objection, Pioneer Press

Elections
Humphrey School offers online training for election officials, MPR

Energy
White House aims to give renters, lower-income people access to solar, Star Tribune

Labor
John Kline rises up against overtime pay for working moms, City Pages

Secretary of State
Secretary of State talks business in his visit to St. James, St. James Plaindealer

Transportation
MN lawmakers want access to railroad emergency plans, MPR
Southwest light-rail e-mails show messaging behind cost announcement, Star Tribune
Legislators, residents hold news conference on oil train safety, Star Tribune
Railway neighbors call for heightened safety, WCCO
Lawmakers, emergency managers seek rail hazmat plans, KARE
Minnesota oil train disaster plans haven't been released to public, Fox 9
Study could shed light on best use of St. Cloud airport, St. Cloud Times
MnDOT begins $31 million expansion of Hwy 14 from North Mankato to Nicollet, WCCO
LIKE the Minnesota DFL on FACEBOOK: https://www.facebook.com/MinnesotaDFL
Follow @MinnesotaDFL on TWITTER: https://twitter.com/MinnesotaDFL
On INSTAGRAM: http://instagram.com/minnesotadfl
daily brief · issues · news