Daily Brief: Monday, Oct. 19th, 2015
Posted by SD48 DFL Communications Team in Daily Brief, News
In the Know
Minnesota DFL
Oct. 19, 2015

Events today
8:45 a.m. – Gov. Dayton will attend Cargill's 150th Anniversary Celebration
Noon – Education Commissioner Brenda Cassellius kicks off a statewide tour of all four- and five-time Reward Schools in the state, seeking to gain insight into what efforts are having the greatest impact for students. Her first visit is at Valley Crossing Community School, 900 Park Crossing, Woodbury.
1:30 p.m. – Education Commissioner Brenda Cassellius visits Twin Cities Academy High School, 835 5th St E, St Paul.
Canada's federal elections are today.

Mark your calendars
Oct. 24 – The DFL African American Caucus will hold its monthly meet at 10 a.m. at East Lake Library, 2727 E Lake St., Minneapolis.
Nov. 3 – Election Day! Check your ballots here http://bit.ly/1oqFLFD.

Fundraisers
Oct. 21 – Beltrami County DFL Fish Fry Fundraiser, 5:30 p.m., Eagles Club, Nielson Ave. SE, Bemidji.

Oct. 24 –

Pizza, Pie & Politicians DFL SD48 Fall Function!

6 – 9:30 p.m. at Homeward Hills Park Barn, 12000 Silverwood Dr., Eden Prairie. (more info)
Oct. 25 – Senate District 14 DFL will host the Wellstone Dinner, 5 p.m., Courtyard Marriott, 404 W Saint Germain St., St. Cloud. Click here for tickets.
Oct. 25 – Congressional District 4 DFL will host the Vento Dinner 2015. Doors open at 4 p.m. New location – Midpoint Event Center, St. Paul. For ticket information, go here https://www.dfl.org/cd4/bruce-vento-dinner-tickets-2/ .
Nov. 1 – CD 1 DFL will host its Autumn Dinner with Congressman Tim Walz. The keynote speaker is DNC Vice Chair R.T. Rybak. Special guests include Secretary of State Steve Simon and Attorney General Lori Swanson. 5 p.m., Owatonna Veterans of Foreign Wars, 135 Oakdale St., Owatonna. Please RSVP by Oct. 21 with meal choice (turkey dinner or vegetarian lasagna) to Shawn Groth at .
Nov. 4 – CD3 DFL Fall Fundraising Event: An Evening with Vice President Walter Mondale, moderated by Don Shelby. The 7 p.m. event will be held at Hughes Pavilion, Centennial Lakes, 7499 France Ave. S, Edina. Tickets may be purchased online at www.dfl3cd.org. Reservations can also be made by mail. Checks should be payable to CD 3 DFL and mailed to Nancy Parris, 8350 Airport Rd, Waconia, MN 55387.
Nov. 21 – CD 6 Unity Dinner – Drawn Together. 5 p.m., Teamsters Local 120, Blaine. Keynote speaker is Congressman Tim Walz. Ticket information coming soon.

2015 election
It's almost Election Day, mn progressive project

2016 election
Legislature
Petricka eyeing Republican party nomination for MN District 20 race, Northfield News
Congress
Howe, others putting big money into 2nd District campaign, Winona Daily News
President
Clinton's big-spending gamble, The Hill
Bush and Rubio go after each other as their Florida friendship turns to feud, Washington Post
Joe Biden bid for White House would begin in a $60-million hole, NBC News
Bidenites say it ain't over yet, MinnPost
In campaign money race, Democrats vastly outpacing Republicans, Washington Post
In Alabama, Clinton blasts GOP on voting rights, KSTP
Report: Trump, Carson to receive Secret Service protection, The Hill
Hundreds of Obama bundlers missing from Clinton's elite fundraising ranks, USA Today
Jeb Bush, no longer the Republicans' Mr. Inevitable, Washington Post
Sanders planning 'major speech' on democratic socialism, he tells Iowa supporters, Washington Post
6 Republican 2016 hopefuls woo faithful at Texas megachurch, AP
Think about it: Sanders uses the word 'socialist' and is still a leading candidate, MinnPost
Campaign finance: Democrats are putting a bigger emphasis on raising money for their actual campaigns, while Republicans seem to be focusing more on their technically separate super PACs that can accept unlimited checks. Which strategy works best should be a key question come November 2016. Washington Post


2016 special election
Election for Branden Petersen's state Senate seat to be Feb. 9, MinnPost
Special election set for suburban state Senate seat, MPR

Agriculture
Divisions deep over feds' back-up plan to mass kill bird if avian flu returns, MPR

Benghazi
House panel questions longtime Clinton confidante Huma Abedin on Benghazi attacks, emails, Star Tribune

Budget (federal)
US budget gap for 2015 at $439B, lowest in 8 years, as tax revenue tops gov't spending rise, Star Tribune
All eyes are on Ryan as the debt fight looms, The Hill

Budget (state)
Economists' views: What to do with Minnesota's budget surplus, MPR

Capitol complex
Minnesota Senate office building nearing completion, controversy continues, Pioneer Press
Minnesota Senate's contentious new office building to open by December, Pioneer Press

Dayton, Mark
Mark Dayton to reimburse state for travel costs questioned by auditor, Pioneer Press
Dayton to reimburse state $1,688 for travel to political events, Star Tribune

Debates
CNBC agrees to Trump demand on debate, The Hill
What's the best format for political debates? MinnPost
Department of Natural Resources
Natural Resources Commissioner Tom Landwehr takes arrows from all sides, Star Tribune

DNC
A few things to understand about R.T. Rybak's criticism of DNC Chair Debbie Wasserman Schultz, MinnPost
Economy
Franken discusses rural skills gap, St. Cloud Times

Education (E-12)
At one suburban school, a 380 percent increase in poverty – and they're not alone, Pioneer Press
How schools can support parents in helping their kids, MinnPost
Education (higher)
Minnesota private colleges try to soften $50K-60K 'sticker shock,' Star Tribune
Turmoil swirls around U of M president, Albert Lea Tribune

Energy
COMMENTARY: Ensuring nonprofits are included in America's energy efficiency efforts, Alexandria Echo Press
Enbridge, PUC ask Minnesota Supreme Court to take up Sandpiper pipeline case, Brainerd Dispatch

Governor's Pheasant Opener 2016
Opener returns to Montevideo: Community emphasizes region's outdoor opportunities in bid for event, West Central Tribune

GOP
Sympathy for the Speaker: as congressional Republicans implode, former caucus leaders in Minnesota empathize,MinnPost
GOP presidential hopefuls courting Daudt, MPR
House Republicans return to Capitol to confront leadership mess, await word from Rep. Ryan, Star Tribune
Speaker dilemma awaits Congress, Star Tribune

Guns
Senate Democrats' gun-control push is doomed from the start — so why bother? MinnPost
Senate Dems push new gun control laws, MPR
Labor
Should Minnesota increase the minimum wage?, MPR

Legislature
Senate Bonding Committee heading to dam sites, Austin Daily Herald

Lynx
Lynx celebrate third WNBA Championship, Star Tribune
Photos: Lynx celebrate 3rd WNBA title, aiming for more, MPR
'I'm not a sports person!' How the Minnesota Lynx made me a superfan, Star Tribune

Medical research
Klobuchar leads medical research tour throughout the state, KSTP

Mining
Cliffs CEO: Essar jeopardizes Range facility, Virginiamn.com

Minnesota v. Wisconsin
Minnesota vs. Wisconsin: Does the progressive paradise win? Power Line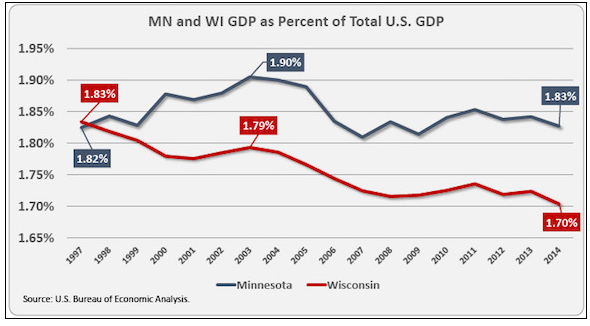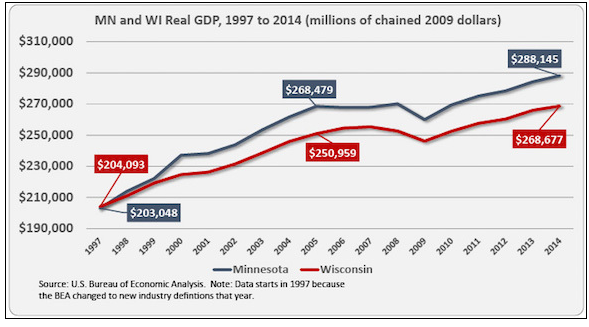 Mondale, Walter
Humphrey School hosts two Washington, DC, events to honor the life and legacy of Walter F. Mondale, University of Minnesota
Minnesota's elder statesman Mondale to be honored Tuesday in Washington, D.C., Star Tribune
Celebrating Fritz: An Evening with Walter Mondale, Star Tribune

Nursing home residents
Minnesota AG seeks protection for nursing home residents, Pioneer Press
Reding, Leo
Friends and family remember a 'classic public servant,' Rochester Post Bulletin
Leo John Reding, 91, Austin Daily Herald

Stassen, J. Robert
J. Robert Stassen, former state senator and civic leader, dies at 88, Pioneer Press
Transportation
Highway 14: Expedite funding for corridor of commerce, Austin Daily Herald

Walker, Scott
How Scott Walker spent $90,000 a day to lose an election, Washington Post
LIKE the Minnesota DFL on FACEBOOK: https://www.facebook.com/MinnesotaDFL
Follow @MinnesotaDFL on TWITTER: https://twitter.com/MinnesotaDFL
On INSTAGRAM: http://instagram.com/minnesotadfl
daily brief · issues · news