Daily Brief: Friday, Sept. 25th, 2015
Posted by SD48 DFL Communications Team in Daily Brief, News
In the Know
Minnesota DFL
Sept. 25, 2015

Events today
The pope will speak to the United Nations, meet Sept. 11 victims at the 9/11 memorial, ride through Central Park and hold a mass at Madison Square Garden.
President Obama and Vice President Biden host China President Xi for an official state visit, including several bilateral meetings and a joint press conference at the White House. First Lady Michelle Obama will take Chinese First Lady Madame Peng Liyuan on a visit to the National Zoo, where they will visit the Panda House and make "a special announcement."

Events Saturday
10 a.m. – The DFL African American Caucus will meet at Hosmer Library, 347 E 36th St., Minneapolis.
12:30 p.m. – Sept. 26 – The DFL Environmental Caucus will meet at Fond du Lac Community College in Cloquet. Sign in starts at 12:30 p.m., the meeting begins at 1 p.m.
3:30 p.m. – The DFL CD 2 Outreach/Inclusion (O/I) and African American Caucus will host a DFL African American Issues Forum. The event, free and open to the public, will be held at Rondo Community Library, at the intersection of University Ave. and Dale St., in St. Paul. Guest speakers are Sen. Bobby Joe Champion and Rep. Rena Moran. Special CD 2 guests include Sen. Jim Carlson. For more information, contact .
5 p.m. – Congressional District 7 has scheduled a fall fundraiser dinner at the Kandi Entertainment Center in Willmar. The keynote speaker is R.T. Rybak, current vice-chair of the Democratic National Committee and former mayor of Minneapolis. A CD7 central committee meeting and a rural candidate training session are both scheduled for earlier in the day.
6 p.m. – The Senate District 7 DFL will host the Annual Solon Munger at 6 p.m. at the Holiday Inn in Duluth. Silent auction, dessert auction, speakers and entertaining guests. Contact Tina Welsh for tickets, .

Event Sunday
4 p.m. – Rice County DFL will hold its 4th Annual Hotdish Dinner & Cook-Off Fundraiser – A Celebration of the Middle Class. Vintage Ballroom & Suites, 129 Central Ave. N, Faribault. For more information, contact Shawn Groth, chair, Rice County DFL, .

Mark your calendars
Sept. 29 – DFL special election primary in Dist. 3A.
Sept. 29 – University of Minnesota unions will hold a "Rally for Raises and Respect" at noon on Northrop Mall on the East Bank of the University's Minneapolis campus.
Oct. 10 – The College Democrats of Minnesota are holding a 2015 Fall Leadership Summit. Noon, Teamsters Council Joint 32, Minneapolis.
Oct. 13 – The first Democratic debate takes place in Las Vegas. It will air on CNN.

Fundraisers
Oct. 11 – Senate Districts 25 and 26 will hold a FDR dinner at the Kahler Hotel in Rochester. The keynote speaker is Javier Morillo-Alicea, SEIU #26 President, political commentator and activist. He will share stories about his entry into progressive politics. DFL elected officials and candidates will also speak. For more information or tickets, contact Randy at () or Nancy at .
Oct. 17 – Le Sueur Co. DFL's Annual Fall Fundraiser. American Legion Hall in Montgomery. The event includes a social hour (5 p.m.), dinner (6 p.m.), program and live auction (7 p.m.). Contact Janet Straub for tickets: 612-710-5783.
Oct. 24 – Pizza, Pie & Politicians DFL SD48 Fall Function! 6 – 9:30 p.m. at Homeward Hills Park Barn, 12000 Silverwood Dr., Eden Prairie. (more info)
Oct. 25 – Senate District 14 DFL will host the Wellstone Dinner, 5 p.m., Courtyard Marriott, 404 W Saint Germain St., St. Cloud. Click here for tickets.
Nov. 4 – CD3 DFL Fall Fundraising Event: An Evening with Vice President Walter Mondale, moderated by Don Shelby. The 7 p.m. event will be held at Hughes Pavilion, Centennial Lakes, 7499 France Ave. S, Edina. Tickets may be purchased online at www.dfl3cd.org. Reservations can also be made by mail. Checks should be payable to CD 3 DFL and mailed to Nancy Parris, 8350 Airport Rd, Waconia, MN 55387.

2015 special election
Ecklund rides labor tide as 3A race enters final week, Minnesota Brown
Hanna's smears, Ely Timberjay
DFL candidates make their case at Ely forum, Ely Timberjay

2016 election
Congress
DFL Chairman responds to Stewart Mills in stinging statement, Northland News Center
Former GOP candidate Mills outlines likely 2016 campaign, Brainerd Dispatch
WomenWinning backs Angie Craig for Congress, MPR
Craig lands important endorsement in CD2 race, Star Tribune
President
Eden Prairie boy's message for Ben Carson gets lots of reaction, makes his parents proud, Star Tribune
Senate GOP Leader Hann backs presidential hopeful Fiorina, WCCO
Minnesota leadership team organizes behind Fiorina, MPR
Jeb Bush: Win black voters with aspiration, not 'free stuff', Washington Post
8 GOP hopefuls to make their case to conservatives, The Hill
Fundraising deadline will test 2016 field, The Hill
Walker's campaign manager unloads, Politico
Live by cable news, die by cable news. Trump doesn't want to actually spend money on advertising. Though a billionaire, he does not necessarily have the liquidity to self-fund massive ad buys even if he wanted to and he's not raising massive amounts from donors. So Trump's survival depends on earning free media coverage. This requires him to constantly pick fights and devise ways to stay in the news. Month after month, this strategy becomes more challenging. It requires a higher and higher shock factor. As a result, Trump risks coming across as increasingly desperate. Washington Post
Broadband
Wide-ranging discussion addresses broad need, Aitkin Age

China
China's Xi to get a pomp-heavy U.S. welcome Friday, but maybe not a warm one, Washington Post

Congress
John Boehner will resign from Congress, New York Times
Speaker Boehner to resign at the end of October, Star Tribune
If Schoolhouse Rock remade 'I'm Just a Bill' today, it would be depressing, MinnPost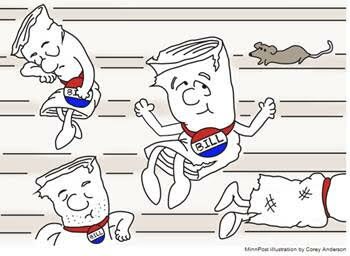 Education (E-12)
Lt. Gov. Tina Smith: All Minnesota students need pre-kindergarten opportunities, Sun ThisWeek

Education (higher)
UMD's GLBT director resigns, cites hostile environment, Northland News Center

Environment
How to spend $46 million in Minnesota lottery money? Hearings begin, Pioneer Press

Government shutdown
McConnell offers bipartisan stopgap spending bill after bid to punish Planned Parenthood fails, Star Tribune
Senate vote to keep government funded fails as shutdown nears, Washington Post
Boehner, GOP settle on strategy to prevent Oct. 1 shutdown, The Hill
How the threat of a government shutdown becomes normal, MinnPost
The Senate will pass a clean spending bill next week that includes money for Planned Parenthood. Mitch McConnell allowed a vote yesterday to cut off funding for the group; his point was to show that backers don't have the votes. Seven Republicans joined with the Democrats to block it. Next week, after some procedural hurdles are cleared, the upper chamber will vote on what's called "a clean CR" in Hill parlance. Washington Post

Labor
CEO: PolyMet will honor labor deal, Mesabi Daily News
U workers to rally Tuesday for 'raises and respect,' Workday Minnesota
Target Field concessions workers protest treatment by temp agencies, Workday Minnesota
Group of U of M faculty push for union vote, MPR
Push to unionize U Twin Cities faculty growing, Pioneer Press
Legislators
Branden Petersen, lone GOP state senator to vote for gay marriage, says he'll resign, Star Tribune
Sen. Petersen, pro-gay marriage GOPer, resigning, Pioneer Press
Critic: Rep. Atkins' corporate ties at odds with regulatory role, MPR
In cancer treatment, Sen. Metzen, 'I'm feeling good,' Pioneer Press
Ness, Don
Mayor Ness examines Duluth, political career in new book, MPR

Pope Francis visit
Pope's message to Congress finds its mark with Minnesotans, Star Tribune
Congress breaks the rules and gives pope rock-star treatment, Star Tribune
Pope urges Congress to help downtrodden in big speech, Star Tribune
Pope Francis challenges Congress to find unity on climate, immigration, Washington Post
Pope Francis' address to Congress (as prepared for delivery), CNN
The 10 most political moments in Pope Francis' address to Congress, MPR
Pope Francis teaches how to disagree, Star Tribune
In Pope Francis' Congress speech, praise for Dorothy Day and Thomas Merton, MPR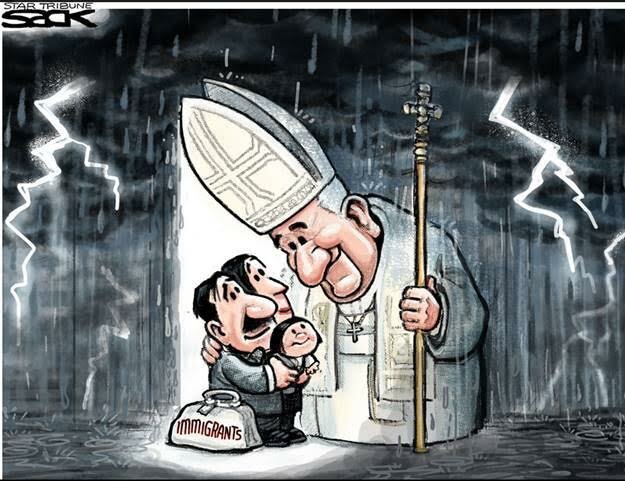 Real ID
Feds heading to Minnesota to talk ID cards, MPR
Secretary of State Steve Simon
Secretary of State Simon visits Pope County, area, Pope County Tribune
LIKE the Minnesota DFL on FACEBOOK: https://www.facebook.com/MinnesotaDFL
Follow @MinnesotaDFL on TWITTER: https://twitter.com/MinnesotaDFL
On INSTAGRAM: http://instagram.com/minnesotadfl
daily brief · issues · news