Daily Brief: Thursday, Sept. 24th, 2015
Posted by SD48 DFL Communications Team in Daily Brief, News
In the Know
Minnesota DFL
Sept. 24, 2015

Events today
The Democratic Governors' Association will host events in Minnesota with Gov. Dayton, Montana Gov. Bullock and Connecticut Gov. Malloy. The events include lunch at Mission and a dinner reception at CHS Field. Panels include a discussion about the agricultural supply chain with insight from Cargill and Dayton and Bullock. Another panel is on the electric grid and features Ben Fowke of Xcel and Lt. Gov. Smith and Malloy.
9 a.m. – Pope Francis addresses Congress. Livestream available here.
9:30 a.m. – Lt. Gov. Smith chairs a Destination Medical Center Corporation Board meeting.
11:30 a.m. – House DFL Leader Paul Thissen will host a roundtable discussion on college affordability at St. Cloud State University.

Mark your calendars
Sept. 26 – The DFL Environmental Caucus will meet at Fond du Lac Community College in Cloquet. Sign in starts at 12:30 p.m., the meeting begins at 1 p.m.
Sept. 26 – The DFL African American Caucus will meet at 10 a.m. at Hosmer Library, 347 E 36th St., Minneapolis.
Sept. 26 – The DFL CD 2 Outreach/Inclusion (O/I) and African American Caucus will host a DFL African American Issues Forum. The event, free and open to the public, will be held from 3:30 p.m. at Rondo Community Library, at the intersection of University Ave. and Dale St., in St. Paul. Guest speakers are Sen. Bobby Joe Champion and Rep. Rena Moran. Guest CD 2 respondents include Sen. Jim Carlson. For more information, contact .
Oct. 10 – The College Democrats of Minnesota are holding a 2015 Fall Leadership Summit. Noon, Teamsters Council Joint 32, Minneapolis.
Oct. 13 – The first Democratic debate takes place in Las Vegas. It will air on CNN.

Fundraisers
Sept. 26 – Congressional District 7 has scheduled a fall fundraiser dinner at the Kandi Entertainment Center in Willmar. The keynote speaker is R.T. Rybak, current vice-chair of the Democratic National Committee and former mayor of Minneapolis. A CD7 central committee meeting and a rural candidate training session are both scheduled for earlier in the day.
Sept. 26 – The Senate District 7 DFL will host the Annual Solon Munger at 6 p.m. at the Holiday Inn in Duluth. Silent auction, dessert auction, speakers and entertaining guests. Contact Tina Welsh for tickets, .
Sept. 27 – Rice County DFL will hold its 4th Annual Hotdish Dinner & Cook-Off Fundraiser – A Celebration of the Middle Class.4 p.m., Vintage Ballroom & Suites, 129 Central Ave. N, Faribault. For more information, contact Shawn Groth, chair, Rice County DFL, .
Oct. 11 – Senate Districts 25 and 26 will hold a FDR dinner at the Kahler Hotel in Rochester. The keynote speaker is Javier Morillo-Alicea, SEIU #26 President, political commentator and activist. He will share stories about his entry into progressive politics. DFL elected officials and candidates will also speak. For more information or tickets, contact Randy at () or Nancy at .
Oct. 17 – Le Sueur Co. DFL's Annual Fall Fundraiser. American Legion Hall in Montgomery. The event includes a social hour (5 p.m.), dinner (6 p.m.), program and live auction (7 p.m.). Contact Janet Straub for tickets: 612-710-5783.

Oct. 24 – Pizza, Pie & Politicians DFL SD48 Fall Function!

6 – 9:30 p.m. at Homeward Hills Park Barn, 12000 Silverwood Dr., Eden Prairie. (more info)
Oct. 25 – Senate District 14 DFL will host the Wellstone Dinner, 5 p.m., Courtyard Marriott, 404 W Saint Germain St., St. Cloud. Click here for tickets.
Nov. 4 – CD3 DFL Fall Fundraising Event: An Evening with Vice President Walter Mondale, moderated by Don Shelby. The 7 p.m. event will be held at Hughes Pavilion, Centennial Lakes, 7499 France Ave. S, Edina. Tickets may be purchased online atwww.dfl3cd.org. Reservations can also be made by mail. Checks should be payable to CD 3 DFL and mailed to Nancy Parris, 8350 Airport Rd, Waconia, MN 55387.

2016 election
Legislature
Ward weighing rematch against Heintzman, Brained Daily Dispatch
Congress
Mills to make another run at Rep. Nolan in 8th District, MPR
John Howe announces campaign for Congress, Star Tribune
Helland to challenge Emmer in 6th District, St. Cloud Times
Stewart Mills to launch campaign in mid-October, Northland News Center
Democrat Angie Craig picks up another endorsement for her Second District run, Pioneer Press
President
Never a Muslim president? Minnesota boy, 12, tells Ben Carson he's wrong, MPR
How our system of picking a president got so messed up, MinnPost
Walker tells donors he won't accept Cabinet post if Republican wins, will serve out term, Star Tribune
Ben Carson said he raised $1 million in the 24 hours after last week's debate and has continued to take in money at that pace since the kerfuffle over his opposition to a Muslim president. In Michigan yesterday, he said that Muslims who "are willing to put the Constitution above their ideology" would be acceptable to him, per the Detroit News. Washington Post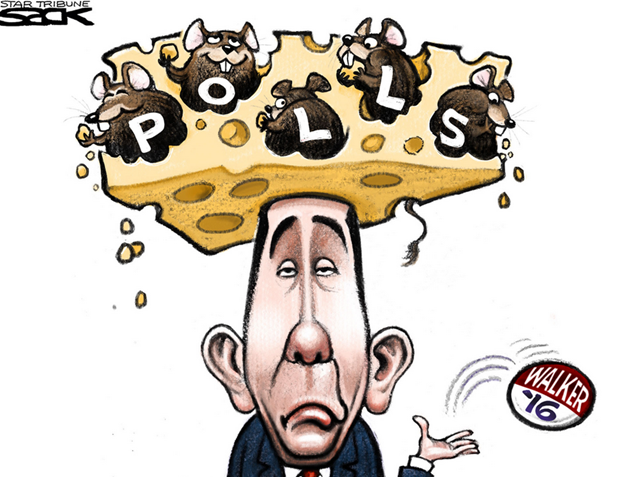 Broadband
Demand for broadband aids exceeds available state grants, MPR
Requests for Minnesota broadband aid exceed grants by 3 fold, WCCO

Carter, Jimmy
Old friends: Walter Mondale visited Jimmy Carter after cancer diagnosis, Star Tribune

Education (E-12)
Dayton, DFLers went to bat for education, Worthington Daily Globe

Environment
White House hopes the pope's words will boost Obama's climate push, Washington Post
The pope at White House: Climate change action can't wait, MPR
As more companies battle climate change, Cargill gets called out, Minneapolis/St. Paul Business Journal
EPA orders 40 percent cut in Minnesota carbon emissions by 2030, WCCO

Government shutdown
Blue-state Republicans lead charge against federal shutdown, Washington Post
Minnesota GOP not joining Republicans pushing for government shutdown over abortion, Star Tribune
Shuttering the government actually costs more than keeping it open — more than $2 billion last time, Washington Post

GOP
Why Republicans are starting to panic, in 1 paragraph, Washington Post
Boehner coup talk puts GOP on edge, The Hill
Walker's right: 'Positive conservative message' has been hard to hear, Star Tribune

Human rights
Dayton calls for a human rights office in St. Cloud, Grand Forks Herald

Immigration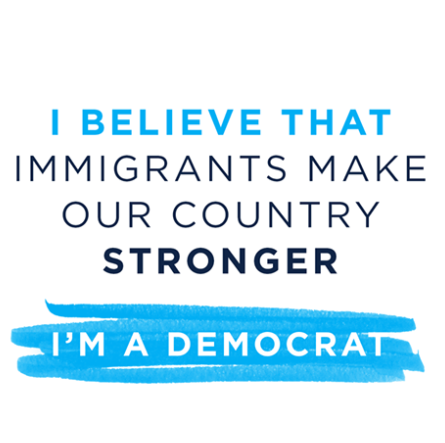 Major League Soccer
Mark Dayton firm in support for Twin Cities soccer stadium, Pioneer Press

Planned Parenthood
Planned Parenthood tries in vain to get Carly Fiorina to retract video claim, Washington Post
Polls
What do folks see as the single biggest problem with the federal government? Asked by Global Strategy Group (in a nationwide poll held this summer), to pick one item from this list of nine answers, this is how it broke down:
Corrupt (23 percent)
Inefficient (18 percent)
Out of touch (17 percent)
Wasteful (14 percent)
Too big (9 percent)
Doesn't reflect my views (7 percent)
Not transparent (6 percent)
Unresponsive (4 percent)
Not inclusive (2 percent)
The results are interesting because they suggest voters care more about the power of special interests and mismanagement than the size or scope of government. Note that "too big" is fifth on that list.
Republicans have a 16-point advantage on which party voters think can make government "less wasteful" and an 8-point advantage on making government "more efficient." Democrats have a 12-point lead on making government more "in touch" and a 4-point edge on making it "less corrupt." They have an even bigger lead on the questions of which party is more inclusive, in-touch and transparent. But those concepts do not resonate as much with voters. Washington Post

Pope Francis visit
Mankato nun an honored guest as pope speaks to Congress, MPR
What will Pope Francis say? The Hill
Pope Francis prepares for historic address at US Capitol, and dysfunctional Congress pauses to listen, Star Tribune

Sen. Klobuchar has been selected to be a member of Pope Francis' escort committee. A member of Senate leadership, where she chairs the Steering and Outreach Committee, Klobuchar has been invited to serve on the congressional escort committee when the pope addresses a joint session of Congress tomorrow. Pope Francis will greet the escort committee members individually when he arrives in Congress, and then the group will escort him into the chamber for his address. morning take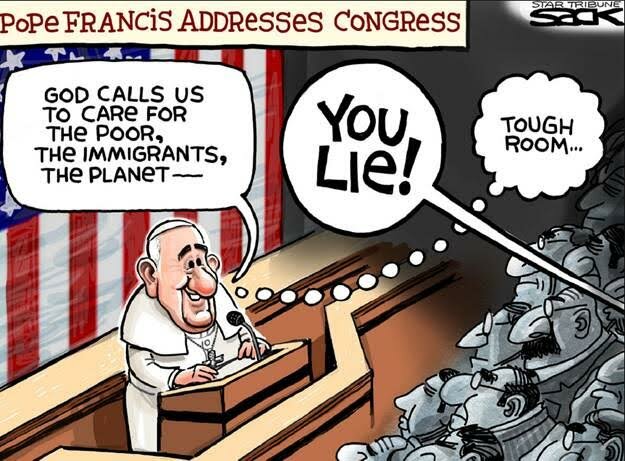 Real ID
What you need to know about Real ID, Pioneer Press

Redistricting
Some states want to take redistricting power away from legislators, Star Tribune

Secretary of State Simon
Report predicts business to improve in region, Alexandria Echo Press
Transportation
Bus rapid transit projects move forward in the Twin Cities, Star Tribune
LIKE the Minnesota DFL on FACEBOOK: https://www.facebook.com/MinnesotaDFL
Follow @MinnesotaDFL on TWITTER: https://twitter.com/MinnesotaDFL
On INSTAGRAM: http://instagram.com/minnesotadfl
daily brief · issues · news