Daily Brief: Friday, Oct. 9th, 2015
Posted by SD48 DFL Communications Team in Daily Brief, News
In the Know
Minnesota DFL
Oct. 9, 2015

Events today
Noon – Rep. Erin Murphy (DFL-St. Paul) traveling across Minnesota this week meeting with educators, administrators, and superintendents to discuss and promote pre-k initiatives. Today at noon she will visit Alexandria Public Schools Early Education Center, 1410 S. McKay Ave., Suite 201, Alexandria.
1 p.m. – Lt. Gov. Tina Smith and DNR Commissioner Tom Landwehr will tour Minneopa State Park and see the park's new bison herd.
2:30 p.m. – Gov. Dayton will celebrate the expansion of Highway 14 from two lanes to four lanes near Owatonna.
3 p.m. – Lt. Gov. Smith will welcome guests to the Governor's Pheasant Hunting Opener 2015. Nicollet Conservation Club, 46045 471st Lane, Nicollet.
4 p.m. – Lt. Gov. Smith and the Nicollet Conservation Club will take a guided boat tour of Swan Lake, the largest prairie pothole marsh in the contiguous United States.
6:45 p.m. – Gov. Dayton will drop the puck at the Minnesota State Mavericks vs University of Nebraska Omaha hockey game at Minnesota State University Mankato. Verizon Wireless Center, 1 Civic Center Plaza, Mankato.
7 p.m. – Former Rep. Ryan Winkler will appear on "Almanac" with former Speaker of the House Kurt Zellers.
7 p.m. – Gov. Dayton will host the Governor's Pheasant Opener Community Banquet. Banquet Room, Mankato Civic Center, 1 Civic Center Plaza, Mankato.

Events Saturday
Noon -The College Democrats of Minnesota are holding a 2015 Fall Leadership Summit. Teamsters Council Joint 32, Minneapolis.
5 p.m. – Congressional District 8 will host its first Oberstar Dinner. Hibbing Park Hotel and Suites, 1402 E Howard St., Hibbing. Congressman Rick Nolan will be the keynote speaker. He will be joined by special guest Congressman Lloyd Doggett of Texas. For more information, click here.

Events Sunday
Senate Districts 25 and 26 will hold a FDR dinner at the Kahler Hotel in Rochester. The keynote speaker is Javier Morillo-Alicea, SEIU #26 President, political commentator and activist. He will share stories about his entry into progressive politics. DFL elected officials and candidates will also speak. For more information or tickets, contact Randy at () or Nancy at .

Mark your calendars
Oct. 13 – North Metro Senior Caucus, 11:30 am Little Venetian Inn. The featured speaker will be from MYDFL.
Oct. 13 – The first Democratic debate takes place in Las Vegas. It will air on CNN.
Oct. 17 – The Twin Cities Book Festival. Sen. Amy Klobuchar will read from her book "The Senator Next Door." Minnesota State Fairgrounds. More information is available here.
Oct. 24 – The DFL African American Caucus will hold its monthly meet at 10 a.m. at East Lake Library, 2727 E Lake St., Minneapolis.

Fundraisers
Oct. 17 – Le Sueur Co. DFL's Annual Fall Fundraiser. American Legion Hall in Montgomery. The event includes a social hour (5 p.m.), dinner (6 p.m.), program and live auction (7 p.m.). Contact Janet Straub for tickets: 612-710-5783.

Oct. 24 –

Pizza, Pie & Politicians DFL SD48 Fall Function!

6 – 9:30 p.m. at Homeward Hills Park Barn, 12000 Silverwood Dr., Eden Prairie.

(more info)
Oct. 25 – Senate District 14 DFL will host the Wellstone Dinner, 5 p.m., Courtyard Marriott, 404 W Saint Germain St., St. Cloud. Click here for tickets.
Nov. 1 – CD 1 DFL will host its Autumn Dinner with Congressman Tim Walz. The keynote speaker is DNC Vice Chair R.T. Rybak. Special guests include Secretary of State Steve Simon and Attorney General Lori Swanson. 5 p.m., Owatonna Veterans of Foreign Wars, 135 Oakdale St., Owatonna. Please RSVP by Oct. 21 with meal choice (turkey dinner or vegetarian lasagna) to Shawn Groth at .
Nov. 4 – CD3 DFL Fall Fundraising Event: An Evening with Vice President Walter Mondale, moderated by Don Shelby. The 7 p.m. event will be held at Hughes Pavilion, Centennial Lakes, 7499 France Ave. S, Edina. Tickets may be purchased online at www.dfl3cd.org. Reservations can also be made by mail. Checks should be payable to CD 3 DFL and mailed to Nancy Parris, 8350 Airport Rd, Waconia, MN 55387.

2016 election
Legislature
Candidate enters his name into District 27A race, KIMT
Congress
Cataclysmic boredom propels Stewart Mills into 2016 congressional race, City Pages
President
Right-wing and left-wing media critics agree: The press is blowing the Democratic primary, Washington Post
Ted Cruz raised $12.2 million last quarter, second-best haul so far of GOP candidates, Washington Post
In debate, Hillary Clinton should show her strong suit, New York Times
Bernie Sanders gets his first endorsement from a member of Congress, Huffington Post
Is Jesse Ventura's unlikely Minnesota win a road map for Donald Trump? Washington Post
Sanders' debate mantra: Let Bernie be Bernie, KSTP


Agriculture
Turkey growers prep for possible fall bird flu outbreak, WCCO

Broadband
GOP has disconnection on broadband, Worthington Daily Globe

Budget (federal)
GOP drama hurls budget talks into disarray, The Hill

Capitol complex
Minnesota partisan divide to remain in new Senate office, AP
New MN Senate building looks nice, but GOP still doesn't like it, MPR

Congressional delegation
Franken
Al Franken working on book about his years in Washington, Pioneer Press
Franken to write about life on Capitol Hill, Star Tribune
The Minnesota Business Partnership dinner is an anticipated gathering of business and public affairs leaders. Last night, the "Minnetopia" video produced by TD Richter was a classic. The video that stole the show however was Sen. Al Franken's impression of GOP Presidential candidate Donald Trump. Complete with a "Make Minnesota Great Again" cap, Franken did nearly five minutes in Trump style. Video's from the dinner are typically never released online, however Franken's staff should post it promptly this morning on YouTube – it will be a hit, showing that Franken's humor can lighten the mood of overly tense Washington. morning take

Dayton, Mark
Dayton urges business leaders to address racial disparities in jobs, income, Pioneer Press
Gov. Mark Dayton tells business leaders racial disparities a key priority, Star Tribune
Dayton to host governor's pheasant hunting opener in Mankato, Pioneer Press

Debate
Washington Post and Univision to host Democratic debate, Washington Post

Education (E-12)
College credit rules change draws ire from Minnesota lawmakers, educators, Pioneer Press
Melees at St. Paul Humboldt, Como Park high schools concern police, Pioneer Press

Education (higher)
U finds ties to mentors, families help keep at-risk kids in school, MPR

Elections
Why hasn't Minnesota elected a female governor? MinnPost

Fleet Farm
Mills family preparing to sell Fleet Farm chain, Duluth News Tribune

GOP
House Majority Leader Kevin McCarthy drops out of race for House speaker, Washington Post
McCarthy drops out of speaker race, throwing GOP leadership into chaos, MPR
The speaker chase: Who's next? Washington Post
Could a John Kline 'caretaker' speakership be the solution to House Republicans' leadership dilemma? MinnPost
Why a minority of hard-line House Republicans wield so much power, MinnPost
Speaker Kline? Top job for retiring rep. a possibility for tumultuous GOP caucus, Pioneer Press
The GOP sinks deeper into chaos. Can it still function as a party? Washington Post
Under speaker pressure, signs pointing to a reluctant Paul Ryan, Washington Post
Who is next to become House speaker? GOP leadership bench is thin, Star Tribune
Minn. Republicans disheartened by leadership shake-up, Star Tribune
US House chaos proves they cannot govern, mnpACT!
What's really behind this Hamlet act: Taking the job requires that [Paul] Ryan gamble his political future on his own ability to break the fever gripping House Republicans. Though he's been in Congress for 17 years, Ryan is only 45-years-old. That means he has another two or three decades on the national stage, if he plays his cards right. Ryan wants to take the lead in writing tax reform with the next Republican White House. He's also never actually held an elected leadership position, so it's not clear that he can herd cats; he likes to devise policy, something that's not really part of the speaker's job description.Washington Post
WHAT IF RYAN DOESN'T RUN? Jason Chaffetz and Daniel Webster are both still in the race, but neither is taken seriously as a front-runner. Costa has more on the state of play:
Several conservatives suggested House Financial Services Committee Chairman Jeb Hensarling (R-Tex.), a former member of the Boehner leadership team, as a contender. For his part, Hensarling is publicly backing Ryan.
Other names mentioned are Rep. Trey Gowdy (R-S.C.), the chair of the Benghazi committee, and Rep. Jim Jordan (R-Ohio), head of the House Freedom Caucus. But Gowdy also said he is backing Ryan and Jordan said he doesn't want the job.
Rep. Darrell Issa (R-Calif.), who preceded Chaffetz as chairman of the Oversight Committee, was also said to beconsidering a bid.
Establishment-aligned forces floated Rep. Tom Cole (R-Okla.), a respected former House GOP campaign chairman, as a calming presence.
Rep. Lynn Westmoreland (R-Ga.) said he is considering a run and told a group of colleagues in a conference call that his experience in the state legislature prepared him.
Reps. Steve Scalise (R-La.) and Patrick McHenry (R-N.C.), who were already running for lower leadership spots should McCarthy have ascended, were encouraged to seek the speakership but seem inclined to stay put.
Rep. Peter Roskam (R-Ill.) also mulled his options. So did Conference Chair Cathy McMorris Rodgers, the party's highest-ranking woman, and House Budget Committee Chairman Tom Price (R-Ga.). But they don't seem ready to make the leap. Washington Post

Guns
Officials: 1 dead, 3 wounded in shooting at Northern Arizona University, Star Tribune
Senate Democrats preparing gun control legislation, Washington Post
St. Thomas student robbed at gunpoint on Grand Avenue, Pioneer Press

Labor
March against US Bank set for Saturday, Workday Minnesota
MplsWorks advocates make case for Working Families Agenda, Workday Minnesota
UAW reaches tentative deal with Fiat Chrysler to avoid strike, Washington Post
Minneapolis seeks consultant to study minimum wage hike, Minneapolis/St. Paul Business Journal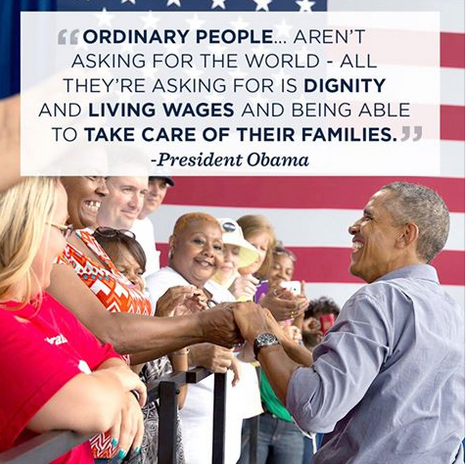 Legislators
Report: Nonprofit board members benefited from improper spending, MPR
Minneapolis senator's expenses singled out in review of failed nonprofit, Pioneer Press
Murdoch, Rupert
Rupert Murdoch, whose media empire includes Fox News and the Wall Street Journal, said that Barack Obama is not "a real black president." The News Corp. founder has been praising Ben Carson for days on Twitter. On Tuesday night, he told followers not to miss the retired neurosurgeon's appearance on Megyn Kelly's show. This past Saturday night, Murdoch touted a poll showing Carson ahead of Donald Trump. Last Friday, the media mogul complained about pundits underestimating Carson. But at 10:04 p.m. Eastern last night, Murdoch injected race into his musings: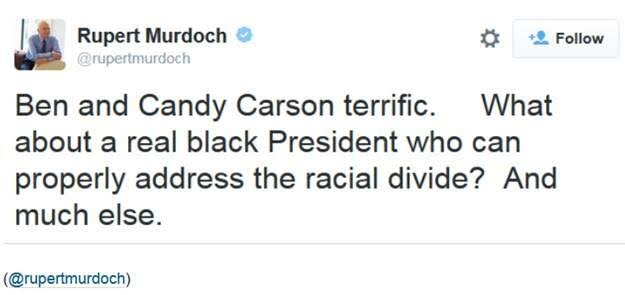 A former DNC communications director's response foreshadows today's cable firestorm (We predict CNN and MSNBC will cover the above comment obsessively):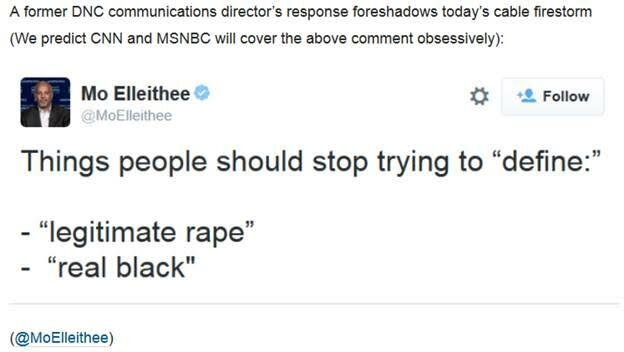 Washington Post

Transportation
With no federal funding in sight, state may suspend planning for Zip Rail train to Rochester, MinnPost
Veterans
A solid start at St. Cloud VA, but Walz and Emmer need to keep pushing, Star Tribune
LIKE the Minnesota DFL on FACEBOOK: https://www.facebook.com/MinnesotaDFL
Follow @MinnesotaDFL on TWITTER: https://twitter.com/MinnesotaDFL
On INSTAGRAM: http://instagram.com/minnesotadfl
daily brief · issues · news
<< Welcome