Sen. Hann gave the above statements at a May 19, 2014, press conference. There, he states that there had been no new sign ups through MNsure.
In June of 2014, MPR published an article on Minnesota's rate of people without insurance dropped substantially due to the new health care law. Here's a link to this article.
And, here's a chart from that article: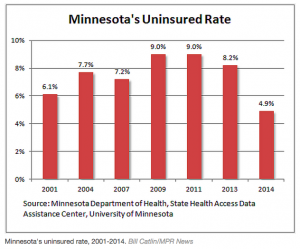 Looks to us like reality shows that people without insurance got insurance in 2014.
David Hann · MNsure · number of uninsured · Sen. Hann · uninsured
<< Applications for US unemployment aid plunged last week to 289,000