Senate DFL Caucus unveils a comprehensive transportation package.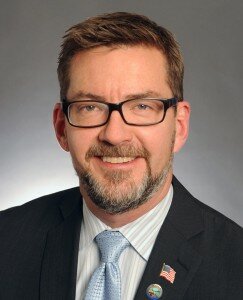 Sen. Scott Dibble, chair of the Senate Transportation and Public Safety Committee, recently unveiled the Senate transportation finance bill, a comprehensive bill to address Minnesota's transportation needs now and into the future.
"Minnesota faces a crisis in how to maintain our roads and bridges, and in how to meet the needs of our growing state," Sen. Dibble said. "As our roads and bridges continue to deteriorate, we can no longer afford a piecemeal approach to tackling these problems.
"Instead, we must adopt a comprehensive approach that creates the funding we need for a safe and economically competitive transportation network. Minnesotans deserve a great state and communities that work for all people."
According to the Governor's Transportation Finance Advisory Committee (TFAC) over the next 25 years, there is a $21.2 billion funding gap just to maintain Minnesota's roads and bridges. To compete internationally, the figure jumps to $54.6 billion.
The Senate legislation prioritizes road and bridge repair, expands economic corridors across the state, and increases the ability of all Minnesotans to get where they need to go in rural, suburban, and metro areas.
The plan provides dedicated revenue for transportation by increasing taxes at the wholesale level, increasing tab fess and other sources.
In stark contrast, the Republican House Caucus has released a funding proposal that provides $750 million over a four-year period as well as diverting $200 million from the state's general fund, money that is used for classrooms and nursing homes. Generally speaking, the Republican plan would fund one new bridge.
Many newly elected Republican members to the Minnesota House of Representatives campaigned on transportation issues and looking out for rural Minnesota. Just weeks into the session with an inadequate transportation funding proposal that won't fix deteriorating roads and bridges in rural communities they've painted themselves into a corner and have raised the question: will they will work FOR their constituents or vote WITH their Party.
Scott Dibble · SD61 · Sen. Dibble · Senate District 61 · Senate Transportation and Publi Safety Committee · TFAC · Transportation Finance Advisory Committee