New Report: Congressman Paulsen's Repeal Would Cost 7.3 Million Seniors $1,200 More for Prescription Drugs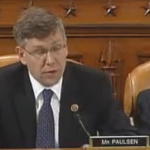 A new report released by the Centers for Medicare and Medicaid Services shows that the Affordable Care Act has helped more than 7.3 million seniors on Medicare save $8.9 billion on their prescription drug costs, saving an average of $1,209 per person. Unfortunately, Congressman Erik Paulsen continues to insist on scrapping and repealing the Affordable Care Act – which would reopen the "donut hole" that left millions of seniors without critical coverage for these prescriptions. Instead of eliminating these savings for seniors, all he has to do is join Democrats to fix and improve the law.
"This new analysis is another painful reminder that Congressman Paulsen would raise prescription drug costs for Minnesota seniors because he is obsessed with repeal," said Emily Bittner of the Democratic Congressional Campaign Committee. "Our seniors are saving an average of $1,200 on their prescriptions thanks to the Affordable Care Act, but Congressman Paulsen has spent the past year fighting to take those benefits away, leaving many Minnesota seniors in the 'donut hole' to fend for themselves to buy their medicine. Seniors shouldn't have to go back to choosing between buying food or medicine, but that's exactly what Congressman Paulsen's obsessive repeal effort would force them to do."
In the weekly Republican radio address, Congressman Paulsen's Congressional Republicans doubled down on their repeal-only approach, with CBS News describing their agenda with this headline: "GOP on Obamacare: Don't fix it, 'scrap it.'" On Tuesday, the DCCC launched a social media campaign directing constituents to the Facebook page "Republicans Sabotaged Your Health Care," which lays out a graphically detailed timeline of Congressman Paulsen and House Republicans' obsession with repealing and undermining the Affordable Care Act—from the 46 separate votes for repeal to shutting down the government for 16 days over the Affordable Care Act. Earlier in the year, Congressman Paulsen voted for the Republican Budget that would end the Medicare guarantee for seniors forcing them to pay thousands more and negotiate with health insurance companies for care.
BACKGROUND
CMMS: The Affordable Care Act has Saved 7.3 Million Seniors Nearly $9 Billion in Prescription Drug Coverage. "According to the Centers for Medicaid and Medicare Services, 7.3 million people who reached the 'doughnut hole' in their Medicare prescription drug coverage have saved $8.9 billion on their prescription drugs since the law was enacted in 2010. That's an average savings of $1,209 per person. The 'doughnut hole' refers to the gap in prescription drug coverage in which seniors must shoulder the full costs. Coverage under Medicare Part D provides an initial coverage limit on insurance and catastrophic coverage once costs hit a certain threshold. In between, seniors must pay the full costs." [The Hill, 11/26/13]
Congressman Paulsen Voted for the House Republican Budget That Would Cut Medicare Spending by $356 Billion and Would Make Medicare "Look Unrecognizable." In 2013, Congressman Paulsen voted for the House Republican budget, that the Center on Budget and Policy Priorities said would cut Medicare by $356 billion over ten years. The National Journal explained that "…for those younger than age 55, Medicare could look unrecognizable: People receive a fixed sum of money from the federal government to buy health insurance in their old age, regardless of the way inflation has caused health care costs to increase." The bill passed, 221-207. [HCR 25, Vote #88, 3/21/13; Center on Budget and Policy Priorities, 3/13/12; National Journal, 3/10/13]
ACA · Affordable Care Act · cd3 · congress · Congressman Paulsen · Erik Paulsen · Medicaid Services · medicare · prescription drugs · Third Congressional District