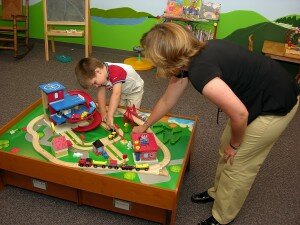 Right now in Minnesota, child care costs $901 per month, on average – totaling $10,812 per year just to provide quality care for one child. These high costs make Minnesota the 3rd-most expensive state in the nation for child care, based on the cost of infant care as a share of median income (15.5 percent).
Recently, Gov. Dayton today introduced the first component of his 2015 Budget Proposal, which would provide a Child and Dependent Care Tax Credit for 130,000 low- and middle-income families to help pay for child care costs, and care for aging or disabled family members.
Under current law, the Child and Dependent Care Credit provides direct tax relief to just 38,000 Minnesota families. But the plan proposed today by Governor Dayton would extend the tax credit to 130,000 low- and middle-income families. Under the plan, the average family would receive a tax credit of $481 per year. The maximum credit a family could receive would increase to $2,100.
Here is a closer look at the Governor's proposal, by the numbers:
38,000 – Number of families currently eligible for the tax credit
130,000 – Number of families eligible for the tax credit under the Governor's proposal
$39,000 – Under current law, a family must make less than $39,000 to be eligible
$124,000 – Under the Governor's proposal, a family with two or more children earning less than $124,000 would be eligible for the tax credit
$2,100 – Maximum tax credit a family could receive under the Governor's proposal
$481 – Average tax credit per family under the Governor's proposal
"Rising childcare costs have put hard financial strains on many Minnesota families, making it increasingly difficult for working parents to hold their jobs while assuring quality care for their children," Gov. Dayton said. "My Child Care Tax Credit helps to provide Minnesota families with options – so they don't have to choose between working and caring for their families."
2015 Minnesota budget proposal · child care · Gov. Dayton · Mark Dayton
<< Serious Ethical Questions Arising From Journalist's Participation In Koch Event