Going to the State Fair? Consider volunteering at the State DFL booth.
Posted by SD48 DFL Communications Team in Take Action!, Volunteer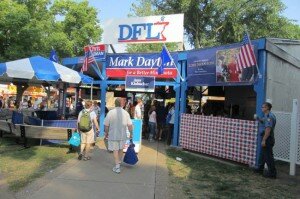 It's already July and the 2014 Minnesota State Fair is just around the corner – August 21 through Labor Day, September 1. Like all DFL activities, our State Fair booth needs spirited volunteers to make it great.
We're celebrating the 70th Anniversary of our Party's founding, so this will be a great year at the Fair. There are many things that you can do to help out, including:
Greeting visitors
Talking about important issues and
Registering new voters.
The schedule at the DFL State Fair booth is divided into 3 four-hour blocks. We need volunteers who are willing to work for a full four-hour period. Times available to volunteer include:
9:00 AM to 1:00 PM
1:00 PM to 5:00 PM
5:00 PM to 9:00 PM
It's a way to spread the word about our Party and our candidates while having fun and enjoying a day at the #1 State Fair in the USA! We'll even give you a free ticket for each day you work in the DFL booth, when you attend volunteer training at 10:00 AM on Saturday, August 9.
To sign up, please visit DFL.org/statefair/ http://www.dfl.org/statefair or call Morgan Hinton at 651-251-6367.
We'll see you at the Fair!
DFL volunteering · Minnesota State Fair
<< Joan Growe: McFadden marginalizing critical health issue for women