Mike McFadden's insulting comments about women's health care
Minnesota DFL launches microsite highlighting McFadden's insulting comments about contraception not being a health care issue for women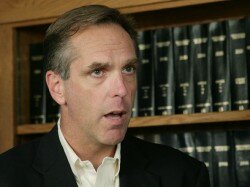 What's worse than getting kicked in the groin? Telling Minnesota women that contraception coverage isn't a health care issue.
Today, the Minnesota DFL is highlighting investment banker Mike McFadden's insulting comments over the weekend that contraception coverage isn't a health care issue for women and their families with the launch of the microsite isaccesstocontraceptionahealthcareissue.com.
"In case investment banker Mike McFadden has the urge to tell any more Minnesota women that contraception isn't a health care issue, we kindly suggest he visit isaccesstocontraceptionahealthcareissue.com first," said DFL Communications Director Ellen M. Perrault. "Minnesota women deserve to hear from Mike McFadden on this critical issue that impacts so many families."
On Saturday, during an interview with The Bemidji Pioneer, McFadden refused to answer a question on the recent U.S. Supreme Court decision on contraception, claiming it was neither a health care nor economic issue and therefore did not merit a response.
More than half a million women in Minnesota have benefited from the provision in the Affordable Care Act that requires insurance companies provide free preventive health services, such as contraception. Additionally, 99 percent of women have used birth control at some point their lives, according to the National Women's Law Center, and nearly 60 percent have used it for medical reasons other than preventing pregnancy.
Mike McFadden · U.S. Senate · women's health care
<< Going to the State Fair? Consider volunteering at the State DFL booth.