Members of the Democratic Farmer Labor (DFL) Party marked 100 days until the Nov. 4 election with a weekend of volunteers taking action. DFL Chairman Ken Martin said over the weekend DFL elected officials, candidates, volunteers, and staff reached nearly 100,000 voters.
"The weekend's pre-primary drive was unprecedented in Minnesota," Martin said. "With so many boots on the ground, DFLers were able to reach out to voters not only about the upcoming primary and general elections, but about the new early voting options. This is a huge accomplishment."
Official kickoffs for "100 Days of Action" were held with DFL leaders Sunday, July 27 at nearly 20 locations around the state. Martin appeared at the St. Paul "100 Days of Action" kickoff with State Auditor Rebecca Otto, Mayor Chris Coleman, and Gov. Mark Dayton.
"I can think of more than 100 reasons to make sure we re-elect Governor Dayton, Senator Franken and make sure we keep the majority in the Minnesota House," Martin said. "We have to make sure we don't take anything for granted because the stakes couldn't be any higher."
Martin talked about the progress made under DFL leadership in the past two years. There are more jobs than any other time in state history (160,000 jobs have been created since Gov. Dayton was elected); free all-day kindergarten will begin this fall; and Minnesota's lowest-paid workers will receive a wage increase, impacting 137,000 children whose parents make minimum wage.
"We can make a difference in people's lives," Martin said, "let's go out there and fight for that."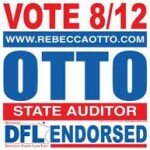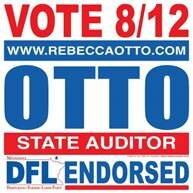 Auditor Otto, recognized around the country as one of the best state auditors, faces at primary on Aug. 12.
"I am so energized," Auditor Otto said referring to her campaign work. "People are in really good moods, they're feeling good about our state so it's about making sure they know the importance of voting."
In office for eight years as Mayor, Coleman said half the time has been spent under a Republican governor and the other half under Gov. Dayton. There's been a big difference.

"When Governor Dayton came in, we got additional local government aid," Mayor Coleman said. "We got investment in our cities. We got investment in education. That's what happens when you govern with DFL leadership. That's what happens when you govern with DFL values. That's what happens when you govern with someone like Mark Dayton.
"But the fact of the matter is we have a long haul to get us back where we need to be after years of Tim Pawlenty, after years of Jesse Ventura, after years of Arne Carlson."
Mayor Coleman told the crowd that there's a "real world experiment going on right now between the states of Wisconsin and Minnesota." He said Wisconsin has a Governor named Walker and Minnesota has a Governor named Dayton. When he asked the crowd whom they prefer, they loudly proclaimed, "Dayton!"
Gov. Dayton thanked the crowd for attending the kickoff event and stressed the importance of getting DFLers out to vote in November.
"The election is not going to be decided by the people, it's going to be decided by the voters," he said, "and there's a difference between the people and the people that turn out to vote."
Playing off the number of days until the November 2014 election, Gov. Dayton shared the number of days until the next key elections and what can happen if the DFL does not prevail in November.
"There are 835 until the 2016 election, which means if we don't re-elect our DFL House we will have to wait 835 days to remdy that," Dayton said. "I know how much damage can be done with the wrong people in charge of the legislature. Look at Washington- there's a Democratic president, a Democratic Senate, a Republican House, and look at the total gridlock they have there."
There are 1,533 days until the 2018 election when the DFL will have its next opportunity to elect a DFL governor if Gov. Dayton is not re-elected. Gov. Dayton pointed to the Republicans' opposition to funding for K-12 and higher education and noted that one candidate for Governor opposes funding a bonding bill.
Gov. Dayton made a strong case for taking action in the next 100 days and electing DFLers up and down the ticket.
"Look at all the progress we've made in the last three and a half years, particularly in the last two years since we elected a DFL legislature," Gov. Dayton said. "We made this state work again, we put people back to work again.
"All across this country, people are saying okay, Minnesota's back. As a state we can once again be looked at as a beacon for what we want in this state for our kids, for our grandkids."
For a full list of kickoff events held across the state, visit www.dfl.org/dfl100. For a social media recap, go to https://storify.com/MinnesotaDFL/100-days-of-action-kickoff-1
100 Days · Audrey Britton · DFL · Joan Howe-Pullis · Laurie McKendry · Lyndon Carlson · Matt Gieske · Rep. Selcer · Sharon Sund · Yvonne Selcer
<< Property Tax Reduction: What Republicans Don't Want You To Know