Daily Brief: Wednesday, Oct. 22nd, 2014
Posted by SD48 DFL Communications Team in Daily Brief, News
In the Know
Minnesota DFL
Oct. 22, 2014

Events today
9:06 a.m. – The state of voter ID laws, Daily Circuit, MPR.
10 a.m. – DFL Minnesota Secretary of State Candidate Steve Simon will announce his next generation proposals on election reform and discuss the race.

Events tomorrow
11:45 a.m. – Doors open for Vice President Joe Biden's GOTV rally for Congressman Rick Nolan, Hibbing Community College, 1515 E 25th St, Hibbing. Tickets available at www.dfl.org/gotvhibbing.
4 p.m. – Former Secretary of State Hillary Clinton will headline a dinner to benefit Gov. Mark Dayton. Sen. Amy Klobuchar and Sen. Al Franken will join Hillary as honored guests. St. Paul River Centre, St. Paul. Tickets are available here.

Mark your calendars and spread the word!
Early voting is open! #simonsaysvote www.mnvotes.org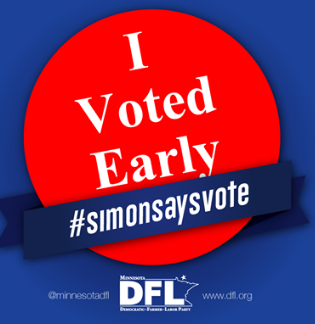 13 days until the Nov. 4 general election
Want to volunteer to elect DFLers? Visit http://www.dfl.org/gotv/
2014 election
2014 general election: We endorse, Insight News

New outside groups target Minnesota races, MinnPost
Michelle Obama to headline rally for Sen. Franken and Gov. Dayton, Fox 9
In Iowa and Minnesota, first lady Michelle Obama presses for young, minority voter turnout,Star Tribune
First lady tells Mpls. rally to 'finish what we started' by voting, Star Tribune
First lady rallies voters in Minneapolis, WCCO
Michelle Obama urges Democrats to vote in November, MPR
Michelle Obama rallies voters in Minnesota, KARE
Minnesota candidates: In profiles and photos, Star Tribune
Michelle Obama urges DFL faithful to get out the vote, Pioneer Press
Waiting on your absentee ballot? State website tracks requests, Pioneer Press
Minnesotans take advantage of open absentee voting, WCCO
An enthusiastic crowd that filled the Patrick Henry High School gymnasium in north Minneapolis before 3 p.m.didn't seem to mind the two-hour wait before first lady Michelle Obama took to the podium to deliver a rousing speech at a Get Out the Vote Rally two weeks before the election.
After warm-up speeches by Gov. Mark Dayton's running mate Tina Smith and Democratic secretary of state candidate Steve Simon, there was a lull of several minutes before the rally's marquee politicians, Dayton and Sen. Al Franken, took the stage. In the meantime, those gathered listened to background music of Bruno Mars, Coldplay, and the Black Keys, whose "Lonely Boy" lyrics were especially timely. "Any old time you keep me waiting," the band wailed. "Waiting, waiting…" Star Tribune
Legislature
Oakdale Republican runs for 1st time to seek DFLer's seat, Pioneer Press
Knoblach, Dorholt tangle in high-stakes House race, St. Cloud Times
Minnesota House races loom as Election Night battleground, KSTP
Over the summer, Republican candidate Jim Knoblach, in his quest to regain a place in the state House, wrote to a contributor to his Democratic opponent to ask for cash. In the letter, he said he had noticed the donor had given to Rep. Zach Dorholt, the St. Cloud DFLer Knoblach hopes to unseat, and he would like the same consideration. He went on to say that if Republicans retake the House, "my seniority will certainly land me a committee chair position, even possibly the chairmanship of the Ways and Means Committee, which I held when I decided not to run again in 2006." See the solicitation here. Star Tribune
Secretary of State
Low-key race heats up at the U, U of M Daily
Severson wrongly denies saying voters should stand in the cold for two hours, mn progressive project
The Steve Simon for Secretary of State Campaign launches a 30-second television ad that focuses on Steve Simon's experience and his commitment to being a Secretary of State for all Minnesotans.
The ad is titled, "Simon Says," and features Steve Simon's family, including his father. "My commitment to the right to vote is largely driven by the experiences of my own family," said Simon. "First by my great grandparents, who fled Lithuania to the freedom of America, where they were free to vote for the leaders of their choice. More recently, by my father, an Army veteran who now suffers from physical limitations that make it very difficult for him to travel to the polls on Election Day."
Governor
Commissioner 'No': a look at Jeff Johnson's record on the Hennepin County Board, MinnPost
Governor Dayton deserves four more years, ECM
PoliGraph: Johnson's numbers on state spending, MPR
U.S. House
Democrats say candidate Westrom boosted salary through expenses, Star Tribune
Emmer criticized in Minnesota's 6th Congressional District debate, Pioneer Press
A little Tom Emmer history, mn progressive project
Don't forget that Stewart Mills III is a total right wingnut, mn progressive project
Perske takes aim at Emmer in 6th District debate, St. Cloud Times
VP to hold rally for Nolan in Hibbing, WCCO
2014 Candidate Message: GOP Challenger Sharna Walgren, KSTP
DFL US House candidate calls GOP's Emmer divisive in Minnesota 6th District debate, Star Tribune
Democrats add $1.8 million in seats targeted by Republicans, National Journal
8th District race between Nolan, Mills intensifies in homestretch, Duluth News Tribune
Via Roll Call, the DCCC will add $740K to the Minneapolis TV market for Rep. Rick Nolan and $294K to the Fargo market for Rep. Collin Peterson. Morning Take
U.S. Senate
KSTP/Survey USA poll: with two weeks to go, Franken up by 15 points, MinnPost
Experts say McFadden's health insurance ideas don't hold up, MPR

Capitol complex
State lawmaker questions how many senators will move into new $77M office, KSTP

Congressional delegation
Franken
Franken 'optimistic' on PolyMet project, Mesabi Daily News

Labor
Airport workers mobliize for higher wage, TC Daily Planet
daily brief · issues · news