Daily Brief: Tuesday, Oct. 21st, 2014
Posted by SD48 DFL Communications Team in Daily Brief, News
In the Know
Minnesota DFL
Oct. 21, 2014

Events today
10:30 a.m. – Gov. Dayton will provide remarks at the grand opening of Emerson Electric Shakopee, Emerson Cafeteria, 6021 Innovation Boulevard, Shakopee.
12:30 – Joe Perske and Tom Emmer will debate at the Le St. Germain Hotel in St. Could. The event is sponsored by the St. Cloud Area Chamber of Commerce.
2 p.m. – First Lady Michelle Obama will headline a GOTV Rally for Sen. Franken and Gov. Dayton at Patrick Henry High School in Minneapolis.
5 p.m. – Rep. Nolan will hold a Minnesota Fish Fry with special guest Sen. Tom Harkin. The Eagles Club, Brainerd.

Events Thursday
11:45 a.m. – Doors open for Vice President Joe Biden's GOTV rally for Congressman Rick Nolan, Hibbing Community College, 1515 E 25th St, Hibbing. Tickets available at www.dfl.org/gotvhibbing.
4 p.m. – Former Secretary of State Hillary Clinton will headline a dinner to benefit Gov. Mark Dayton. Sen. Amy Klobuchar and Sen. Al Franken will join Hillary as honored guests. St. Paul River Centre, St. Paul. Tickets are available here.

Mark your calendars and spread the word!
Early voting is open! #simonsaysvote www.mnvotes.org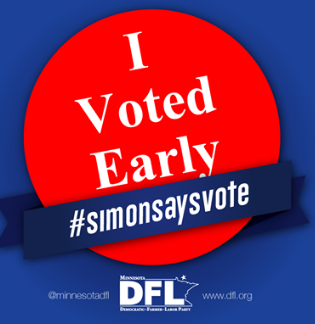 14 days until the Nov. 4 general election
Want to volunteer to elect DFLers? Visit http://www.dfl.org/gotv/
2014 election
Hillary Clinton adds event to her Minnesota docket, Star Tribune
Political parties pour cash into early voting, Star Tribune
First Lady Michelle Obama in Minneapolis on Tuesday, Star Tribune
US Rep. Rick Nolan to hold get-out-the-vote rally with Vice President Joe Biden in Hibbing, Star Tribune
GOP focuses on ground game to win seats, Star Tribune
Do attack ads have to dominate campaign season? They don't in other democracies, MinnPost
Candidates bear down as outside ad money flows into Minnesota, Star Tribune
First Lady Michelle Obama to rally voters in Minneapolis, KSTP
Michelle Obama, Joe Biden, Hillary Clinton to visit Minnesota this week, Pioneer Press
In the final weeks of the election, new players are spending cash in Minnesota and old players are upping their games. The Alliance for a Better Minnesota, which has already spent millions on state House races and the governor's race, will spend up to $1 million to go after Republican U.S. Senate candidate Mike McFadden. The American Action Network will spend at least $750,000 in Minnesota's Eighth Congressional District to trash Democratic U.S. Rep. Rick Nolan. Fuels America, a renewable fuels group, plans to spend cash to "thank" Democratic U.S. Sen. Franken and Rep. Collin Peterson. And at a more local level, the Republican State Leadership Committee has started mailings, part of a six figure investment in Minnesota, to support state House candidate Stacey Stout. Star Tribune
Legislature
Today the House DFL will launch a campaign microsite called the GOP House of Horrors, targeting incumbent Republican Representatives on an interactive map. When you click the photo of the Representative you get a bio of their "scary" ideas. http://bit.ly/1tHPIX5 morning take
Secretary of State
Voter ID sparks fly in secretary of state race, MPR
State Auditor
Endorsement: For state auditor, Rebecca Otto, Star Tribune
Attorney General
Endorsement: For attorney general, Lori Swanson, Star Tribune
Governor
The Fox 9 Hamline gubernatorial debate: Cautious, controlled, and scripted, TC Daily Planet
Gubernatorial debate gets personal, MinnPost
Lt. Gov. candidate Kuisle brings ag and transportation expertise to GOP ticket, MinnPost
What we haven't heard from Mark Dayton and Jeff Johnson, MinnPost
DFL pounces on Johnson's 'no clue' statement, politics mn
After Sunday's debate the "middle class" has become the hot talking point of the race. Yesterday the DFL, released a video highlighting GOP gubernatorial candidate Jeff Johnson's "no clue" answer on defining it. The Star Tribune wrote a piece trying to define it, and Johnson responded to the DFL attacks. http://bit.ly/1t3NqzF morning take
From the Johnson campaign: "Mark Dayton was born into wealth and has lived most of his life off a South Dakota trust fund…Jeff Johnson was born and raised in Detroit Lakes, his dad delivered bread to supermarkets for a living, and Jeff has earned every dollar he's made…If Mark Dayton and his attack machine want to get into a debate with Jeff Johnson over who better understands the middle class, bring it on." Morning take
The DFL- aligned Alliance for a Better Minnesota released ads in the Governor's Race and the Senate Race that begin airing today. http://bit.ly/1tHQvqP morning take
U.S. House
Realty Check: Are the CD 8 ads misfiring? WCCO
2014 Candidate Message: Incumbent Tim Walz, 1st District, KSTP
Radio ad supporting Collin Peterson and renewable fuels, Fuels America
The Republican Congressional Campaign Committee told Roll Call it would cut its spending in Maine so it could increase its spending in other places, including adding $500,000 to boost its candidate's chances in western Minnesota's Seventh Congressional District. Earlier this month, the Democratic Congressional Campaign Committee reduced its spending plans in other states so it could spend more on Minnesota's northern Eighth Congressional District. Star Tribune
GOP challenger Stewart Mills in CD8 released a new ad yesterday featuring a Mills Fleet Farm worker. http://bit.ly/1pwCzJl morning take
U.S. Senate
ABM launches ads against McFadden, MPR
KSTP/SurveyUSA: Franken still leads McFadden by double digits, KSTP
McFadden's daughter stars in an ad to tell voters why her father would be a good senator. YouTube
Economy
What is 'middle class'? The short answer: It depends, Star Tribune
Manufacturing contributed more than $43 billion to the state's economy last year and employs more than 300,000 workers. In all, manufacturing accounts directly or indirectly for nearly 826,000 jobs — nearly 31 percent of all jobs in Minnesota. Minnesota Manufacturers Week is Oct 19-25.

Giffords
Ex-Rep. Giffords discusses gun violence in Minneapolis, WCCO
Gabby Giffords in Minneapolis to speak on protecting women and families from gun violence, MinnPost
Former Congresswoman Giffords visits Mpls. on National Gun Control Tour, KSTP
Gabby Giffords aims to strip guns from convicted stalkers, Fox 9
Marriage equality
Turf shifts in culture wars as support for gay marriage rises, MPR

Progress
Policy choices cut poverty nearly in half, Minnesota Budget Project
daily brief · issues · news