Daily Brief: Tuesday, Aug. 18th, 2015
Posted by SD48 DFL Communications Team in Daily Brief, News
In the Know
Minnesota DFL
Aug. 18, 2015

Events today
7:20 a.m. – Speaker of the House Kurt Daudt is on WCCO-AM.
9:30 a.m. – Lt. Gov. Tina Smith will provide remarks at the Minnesota Reading and Math Corps school year kick-off event.
The Legislative Water Commission will tour in St. Cloud
10 a.m. – House DFL Leader Paul Thissen and Deputy Minority Leader Erin Murphy will hold a roundtable meeting at Buckham Memorial Library in Faribault to talk about workforce challenges in our community and its impact on economic development.
10 a.m. – Legislative Health Care Workforce Commission.
10 a.m. – Gov. Scott Walker presents his alternative to Obamacare in Brooklyn Center.
Noon – The Senate Health and Human Services Committee will meet to review the state procurement process for managed care contracts
12:30 p.m. – Following Scott Walker's healthcare speech in Brooklyn Center, DFL Chairman Ken Martin will hold a press call to discuss Scott Walker's disastrous healthcare agenda and what repealing Obamacare would mean for working families.
1 p.m. – The House State Government Finance Committee will hear from local government officials.
2:10 p.m. – Lt. Gov. Smith will provide remarks at the Minnesota Soybean "Biodiesel and Bioheat in 2015 and Beyond" event.
2:30 p.m. – Gov. Mark Dayton will name a new Supreme Court justice. It's his third pick overall for the top court and will fill the vacancy being left by Justice Alan Page's retirement.
6 p.m. – The Public Utilities Commission will hold a public hearing about the Enbridge pipeline on the White Earth Indian Reservation at the Rice Lake Community Center in Bagley.

Mark your calendars
Aug. 20 – The Hennepin County DFL Senior Caucus will meet at 12:30 p.m. at Maria's Cafe, 1113 E Franklin Ave., Minneapols.
Aug. 22 – A MN Seniors' Legislative Issues Forum will be held at Wescott Library, 1340 Wescott Rd, in Eagan, from 2 – 4 p.m. The event is free and sponsored by The DFL CD 2 Outreach/Inclusion Committee and DFL Southwest Metro Senior Caucus. Sen. John Marty (DFL-Roseville), Sen. Jim Carlson (DFL-Eagan), Sen. Kevin Dahle (DFL-Northfield), Rep. Debra Hilstrom (DFL-Brooklyn Center), and Rep. Sandy Masin (DFL-Eagan) will speak about legislation benefiting seniors' income, health, transit, and housing, as well as advocacy that can be done for upcoming legislative efforts.
Aug. 22 – The DFL African American Caucus will meet. Time and location TBD.
Aug. 26 – The Herstoric March on Women's Equality Day will start at St. Stephen and the Incarnation Episcopal Church in Washington D.C. following the 8 a.m. blessing of the walkers. Many will accompany Helene de Boissiere Swanson for the final four miles of this 7,000 mile spiritual pilgrimage to the U.S. Capitol to promote the passage of the Equal Rights Amendment. The four-mile route passing the White House and on to the Upper Senate Park at National Mall where top feminists and human rights activists will hold a press conference, and then rally for the ERA.
Aug. 29 – The Democratic National Committee (DNC) Seniors Coordination Council will meet at the Hilton Minneapolis Hilton at 1001 Marquette Ave. S. from 10 a.m. to noon. Admission is free. For more information contact DFL Senior Caucus Vice Chair Karla Sand at .
DNC presidential primary debates

Oct. 13 – CNN – Nevada
Nov. 14 – CBS/KCCI/Des Moines Register – Des Moines, IA
Dec. 19 – ABC/WMUR – Manchester, NH
Jan. 17 – NBC/Congressional Black Caucus Institute – Charleston, SC
February or March – Univision/Washington Post – Miami, FL
February or March – PBS – Wisconsin

2016 election
Wisconsin Gov. Scott Walker names campaign leadership for Minnesota, KSTP
Ahead of Minnesota visit, Walker lines up more state GOP support, Star Tribune
Wisconsin Gov. Walker takes on protesters as he tries to regain standing at Iowa State Fair, Star Tribune
State fair politics and the latest from the campaign trail, MPR
Scott Walker had a good time at the state fair, too. For a man who's struggled to show passion thus far in his campaign, the Wisconsin governor did a lackluster job Monday [Video] putting down hecklers at the Iowa State Fair. Walker, for whatever reason, has been visibly bombarded by various environmentalist and campaign-finance reform hecklers and pranksters on the campaign trail. When some of them started up Monday, he made clear he wasn't having any of it:
"I am not intimidated by you sir or anyone else out there," Walker says, loudly, to a protester in the front row. "This is what happened in Wisconsin. We will not back down."
While clearly frustrated, Walker managed to stay on message: His pitch to voters is essentially that he stared down the public-sector unions in his state and won. Walker managed to show a glimpse of how he did that Monday. The Washington Post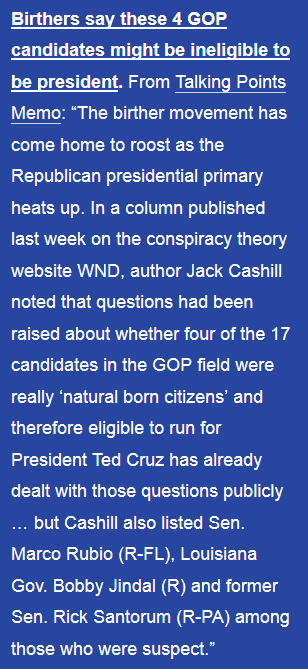 2016 polls
Walker, Clinton lead race for Minnesota support, Pioneer Press

More than any other Republican candidate for president, Donald Trump has won his party's trust on top issues and now stands as the clear leader in the race for the Republican nomination. A new CNN/ORC poll finds Trump with the support of 24 percent of Republican registered voters. His nearest competitor, Jeb Bush, stands 11 points behind at 13 percent. Just behind Bush, Ben Carson has 9 percent, Marco Rubio and Scott Walker 8 percent, Rand Paul 6 percent, Ted Cruz, Carly Fiorina and John Kasich all land at 5 percent, with Mike Huckabee rounding out the top 10 at 4 percent.
Trump is the biggest gainer in the poll, up 6 points since July according to the first nationwide CNN/ORC poll since the top candidates debated in Cleveland on Aug. 6. Carson gained 5 points and Fiorina 4 points. Trump has also boosted his favorability numbers among Republicans: 58 percent have a favorable view of Trump now; that figure stood at 50 percent in the July survey. CNN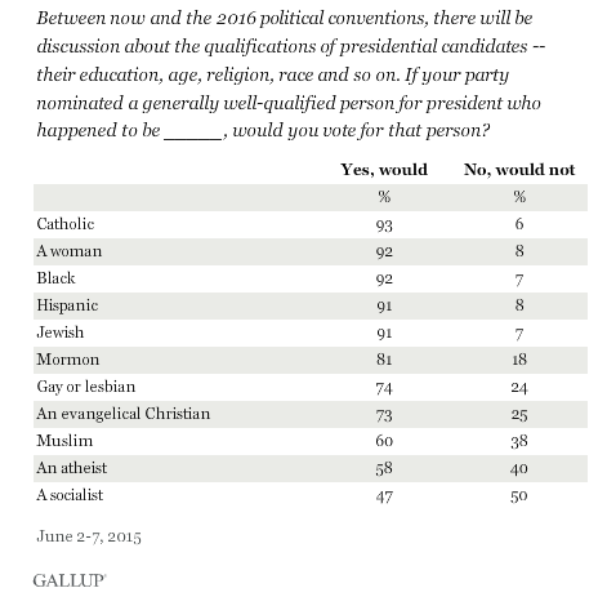 Black Lives Matter
The meaning of Black Lives Matter, one year later, Star Tribune

Bond, Julian
Remembering Julian Bond — and his lesson for journalists, Star Tribune

Democratic National Committee
The annual DNC Summer Meeting is coming to Minneapolis at the end of August. That means Hillary Clinton, Bernie Sanders, Martin O'Malley, Lincoln Chafee and Jim Webb will all be right here in Minnesota, and we want you to be there, too.
Donate just $5 or more, and you'll be entered to win tickets for you and a guest to the DNC Summer Meeting in Minneapolis on Aug. 28. Don't miss your chance: Click here to give now to enter before the deadline on August 21!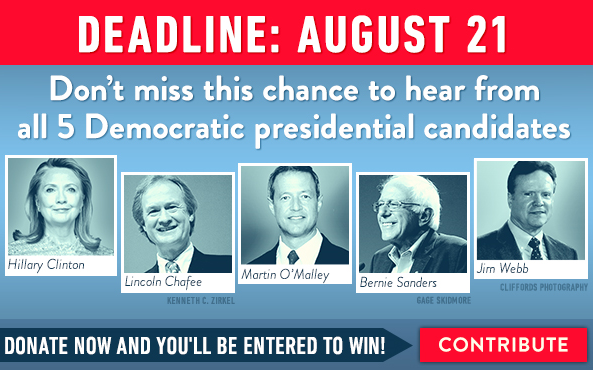 Dorothy Day Homeless Shelter
Clearing the way to replace St. Paul's overflowing homeless shelter, MPR

Education (higher)
Congressman John Kline given honorary doctorate for hosing students, City Pages
Red Lake college expansion completed, MPR

Energy
Feds allow Shell to drill for oil in Arctic Ocean off Alaska for first time in 20-plus years, Star Tribune
Enbridge pipeline hearing tonight on White Earth Indian reservation, MPR

Immigration
Scott Walker: The U.S. should 'absolutely' stop granting birthright citizenship, The Washington Post
Jeb Bush on Donald Trump's immigration ideas: 'A plan needs to be grounded in reality', The Washington Post
Trump driving migrant debate among GOP field, The Washington Post
The GOP Frontrunner Donald Trump's immigration plan is the Republican Party's immigration plan and draws on proposals laid out by the other Republicans running for president.
Trump's plan? Mass Deportation
Rand Paul said that "illegal immigrants must be deported."
Scott Walker's immigration proposal includes self-deportation of undocumented Americans.
Ted Cruz says that a "lack of jobs will dry up the magnet for being here and illegal immigrants will leave" –another mass self-deportation plan.
Jeb Bush has called for a crackdown on visa overstays.
Trump's plan? Criminalizing Immigrant Children
Chris Christie, not once but twice, last week called for the reexamination of the 14th Amendment, or "birthright citizenship".
Lindsey Graham warned, "To have a child in America, they cross the border, they go to the emergency room, have a child, and that child's automatically an American citizen. That shouldn't be the case."
Trump's Plan? Cementing Second Class Citizenship
Exactly zero members of the Republican presidential field support a full and equal path to citizenship for undocumented immigrants.
Jeb Bush even wrote a book on the subject in which he claimed that "a grant of citizenship is an undeserving reward for conduct that we cannot afford to encourage." Instead of a path to citizenship, Bush offers what he calls "legal status", which is another way to say partial and unequal status for 11 million Americans.
Trump's Plan? Enforcement First – Immigrants Never
Marco Rubio ran swiftly away from a plan for immigration reform and has embraced a border first approach.
Mike Huckabee just last week tweeted that, "without a secure border, nothing matters."
Rick Perry: "If you elect me president of the United States, I will secure the southern border." Immigrant relief? Barely an afterthought.
Ted Cruz's top immigration priority? "Keeping this nation safe from criminal aliens."
Trump's Plan? Cancelling Deportation Relief that Keeps Immigrant Families Together
Every single major Republican candidate for president has called for the cancellation of President Obama's plan to protect immigrant youth and keep immigrant families together.

Minnesota Supreme Court
Mark Dayton prepared to make third Minnesota Supreme Court pick, Pioneer Press
Poverty
Fact check: Is it Obama's fault that poverty has grown? MPR

State Auditor
What are Auditor Otto's options — and what is she doing about them? MinnPost
Wisconsin
Tax and spin: Most families in Wisconsin, it turns out, would save on taxes by moving to Minnesota, MinnPost
LIKE the Minnesota DFL on FACEBOOK: https://www.facebook.com/MinnesotaDFL
Follow @MinnesotaDFL on TWITTER: https://twitter.com/MinnesotaDFL
On INSTAGRAM: http://instagram.com/minnesotadfl
daily brief · issues · news