Daily Brief: Thursday, May 7th, 2015
Posted by SD48 DFL Communications Team in Daily Brief, News
In the Know
Minnesota DFL
May 7, 2015

Events today
9:30 a.m. – Advocates for people who use or provide services and for programs funded through the Health and Human Services budget hold news conference to call for a higher target than what is in the Minnesota Senate bill. State Office Building, Room 181.
10 a.m. – The Minnesota House of Representatives meets in session.
11 a.m. – The Minnesota Senate meets in session.
12:10 p.m. – Lt. Gov. Smith will provide remarks at the Governor's Workplace Safety Awards Luncheon, Minneapolis Convention Center.
Noon – In honor of 2015's National Children's Mental Health Awareness Day, the Department of Human Services – the state agency charged with managing mental health programs in Minnesota – will host a free performance of "Fidgety Fairy Tales, The Mental Health Musical." Minnesota Department of Human Services, Elmer L. Andersen Human Services Building lobby, 540 Cedar St., St. Paul.
12:30 p.m. – Sen. Amy Klobuchar, Sen. Al Franken, Sen. Heidi Heitkamp, Sen. Dick Durbin, Sen. Maria Cantwell, Sen. Jeanne Shaheen, and Sen. Mazie Hirono, as well as biodiesel producers, will hold a press conference to call on the Environmental Protection Agency (EPA) to stop the continued delays of the Renewable Fuel Standard (RFS) rule and set strong renewable volume obligations through 2017. The Senators will also reinforce the harsh impact of uncertainty caused by EPA's misguided 2013 rule and delays on farmers and biodiesel workers.
12:45 p.m. – NAACP, MADDADS and others will deliver a letter to the legislature and hold a "soapbox" rally outside the House Chamber urging lawmakers to pass restored voting rights legislation for 47,000 Minnesotans.
3:45 p.m. – Lt. Gov. Smith will stop by Gordy's Hi-Hat in Cloquet for one of their famous hamburgers. During the stop, the Lt. Governor will visit with the business owners and local customers.
8 p.m. – Gov. Dayton will provide remarks at the BOSS Banquet, North Woods School, 10248 Olson Rd E, Cook.

Event tomorrow
4 p.m. – A community picnic kicks off the 2015 Governor's Fishing Opener, Tower Civic Center. The event includes free food, free games, great entertainment and several other activities. Follow along at #MNGFO2015.

Constituency Caucus meetings
May 16 – The DFL African-American Caucus will meet at 10 a.m., Golden Thyme Coffee House, 921 Selby Ave, St. Paul.
May 16 – The DFL Environmental Caucus will hold a membership meeting, noon, Powderhorn Recreation Center, 3400 15th Ave. S, Minneapolis.
May 21 – MYDFL Central Committee meeting, 6:15 p.m., Rondo Community Library, 461 N Dale St., St. Paul.

Events you won't want to miss!
June 6 – Tickets are now on sale for the 4th Annual Humphrey-Mondale Dinner.
June 20 – Registration is now open for the DFL Training Summit. Attend and learn how you can help the party build to win, built to last.

2015 session
House, Senate conferees start meeting on jobs and energy bill, Session Daily
Bill providing extra protection for security hospital workers heads to governor, Session Daily
Subject to debate: Do floor speeches ever cause legislators to change their mind? MinnPost
MN Speaker Kurt Daudt confident deal to be had with Gov. Mark Dayton, Sen. Tom Bakk, Star Tribune
Daudt, Bakk, other legislative leaders meet for budget talks, Star Tribune
Minnesota minority leaders on how the session will end, MPR
This graphic can be found on the House DFL Caucus Facebook page: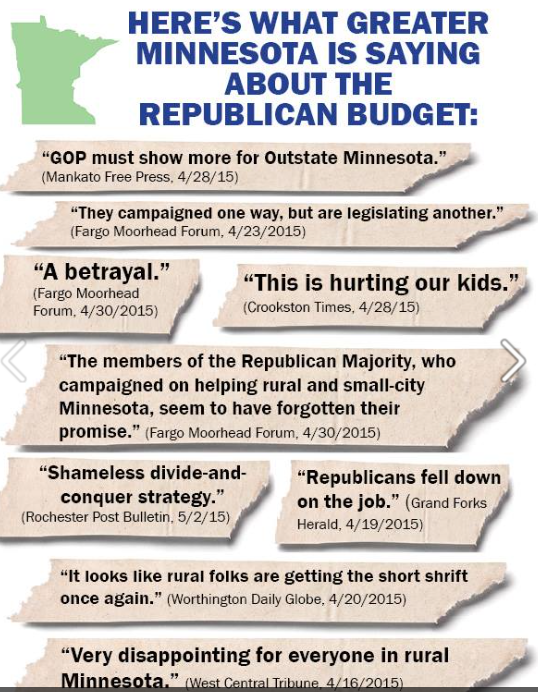 2016 election
Inside Jeb Bush's long game: A bet on peaking late, Washington Post

Campaign finance
Keep big money out of politics, Brainerd Dispatch

Capitol renovation
Capitol renovation additions send project over $300 million, Pioneer Press
State Capitol renovation costs up an additional $34 million; now over $300 million, MinnPost
Capitol renovation includes $400K for 'loggia,' $730K for decorative painting, Pioneer Press

Congressional delegation
Nolan
Nolan keeps his promise, International Falls Daily Journal

Economy
Job growth in Twin Cities driven by 'Suburban Edge,' according to Met Council report, MinnPost

Education (higher)
MSU-Mankato students walk to St. Paul for tuition freeze, Pioneer Press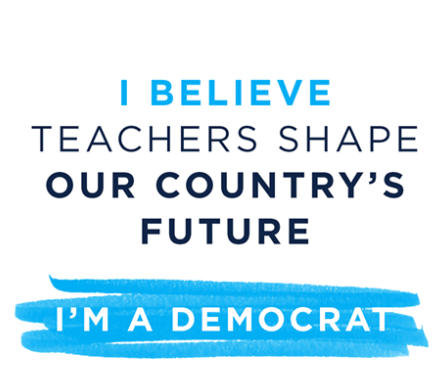 Environment
Dayton to name water quality director, pushes river buffers, Pioneer Press
Minnesota drinking water threatened by nitrates, MPR
Report: Most Minnesota drinking water in good shape, nitrate concerns are up, Fox 9

Fishing opener
Good Question: Why's the fishing opener on Mother's Day? WCCO

GOP
How Minnesota Republicans are screwing rural voters Part 1, mn progressive project

Health and human services
DHS Commissioner Jesson outlines state response to opioid addiction crisis, MinnPost
Senate HHS omnibus bill focuses on economic opportunity, health care and vulnerable youth, Minnesota Budget Project
Iron Range mobile team offers mental health help to go, MPR
Judge: 'Olmstead' disability plan lacks 'realistic commitments', MPR
Federal judge rebukes Minnesota on plan to reform disability services, Star Tribune

Taxes
A '30,000-foot view' shows wide differences in omnibus tax proposals, Session Daily
How about $1 billion in tax cuts? Pioneer Press
Why we should keep Minnesota's general levy, Star Tribune
With eye to end session, Daudt lowers tax target, MPR
Andrew Zimmern pitches 'Snowbate' tax renewal at Capitol, WCCO

Transportation
Transportation conferees miles apart as negotiations begin, Session Daily
Fiery derailment underscores Minnesota has no rail deal, Pioneer Press
Minnesota business groups back new money for transportation, Star Tribune
North Dakota oil train derailment, town evacuation restart rail safety debate in Minnesota, Star Tribune
Stakeholders seek ways to cut cost of $2 billion Southwest LRT project, KSTP
Wisconsin
Bad budget news for Wisconsin: No new money, WCCO
LIKE the Minnesota DFL on FACEBOOK: https://www.facebook.com/MinnesotaDFL
Follow @MinnesotaDFL on TWITTER: https://twitter.com/MinnesotaDFL
On INSTAGRAM: http://instagram.com/minnesotadfl
daily brief · issues · news