Daily Brief: Thursday, Jan. 8th, 2015
Posted by SD48 DFL Communications Team in Daily Brief, News
In the Know
Minnesota DFL
Jan. 8, 2015

Events today
9 a.m. – Senate DFL Caucus holds a press conference to release its 2015 session priorities.
10 a.m. House Republican Caucus holds a press conference to release its 2015 session priorities.
11 a.m. – House is in session.
11 a.m. – Move MN will lay out their transportation proposal at a news conference.
Noon – Senate Majority Leader Tom Bakk and Speaker of the House Kurt Daudt will speak that the Humphrey School of Public Affairs.
2 p.m. – Minnesota Public Utilities Commission holds fourth of five public hearings into the Sandpiper pipeline proposal. Crookston Inn and Convention Center, Ballrooms 1 and 2, 2200 University Ave., Crookston.
2:45 p.m. – President Obama will speak in Michigan.

Event Saturday
7 p.m. – North Star Ball to celebrate Gov. Dayton and Lt. Gov. Smith's inauguration. Union Depot. Ticket information available here http://bit.ly/13PeWGK.

2015 session
Bakk, Daudt to offer legislative preview at U's Humphrey School, MinnPost
Session's first bills land at Minnesota Legislature, showing priorities of opposing parties, Star Tribune
Daudt: We can all pitch in. These 5 ideas are a start, Star Tribune
First brother-sister team serve together in Minnesota House, MinnPost
2016 session
Reality Check: The 'No session 2016' movement, WCCO
Idea of skipping a legislative session bubbling up at Capitol, MPR
Auto industry
At the start of the century, U.S. automakers were leading global competitors in the auto industry, producing and selling cars at impressive rates. But the Great Recession hit our auto companies hard — sales plummeted, the industry was losing 40,000 jobs a month, and these giants of American manufacturing were teetering on the brink of collapse when President Obama took office in 2009.
But thanks to six years of grit and resilience — and the President's decision to stand by American companies — the American auto industry's resurgence is real.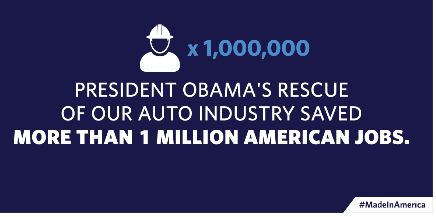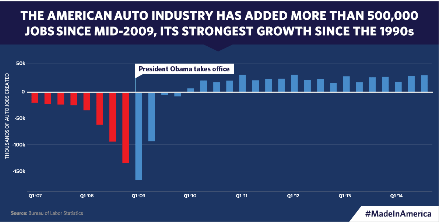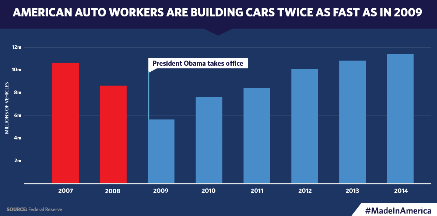 Congress
Battle lines drawn in the new Congress — but can bipartisanship break through? MinnPost
Congressional delegation
Franken
U.S Senator Al Franken appoints his first Somali staffer, Somali Current
Lyft answers Sen. Franken's questions about its privacy policy, Washington Post
Klobuchar
Sen. Klobuchar: Obama frustrating on Keystone, Mesabi Daily News
Paulsen
Paulsen tries again to repeal medical device tax, MPR

France
Obama calls French shooting 'cowardly evil attacks,' KSTP
Twin Cities Muslims denounce Paris terror attack, Fox 9

GOP
A (GOP) House divided: Republicans argue over whether Boehner opponents should be punished, Star Tribune
Political veterans Zellers, McClung, Anderson team up to form consulting firm, Star Tribune
Former Minnesota speaker Kurt Zellers wades back into politics, Pioneer Press
In G.O.P., a divide of ideology and age, New York Times

IRRRB
New Iron Range Board commissioner faces $100 million question, Star Tribune
Dayton praises Phillips for IRRRB, Mesabi Daily News

MNsure
MNsure gets extra $34M from feds for upgrades, Pioneer Press

Sunday liquor sales
Sunday liquor rematch brewing at state Capitol, MPR

Transportation
Roads, bridges on Dayton's plate at Chamber dinner, Star Tribune
Dayton: Challenges could delay Southwest light rail, Star Tribune
Mark Dayton gas tax plan gets cool reception from business, Pioneer Press
Dayton pushes business to back transportation funding; House GOP offers short-term plan,MPR
University of Minnesota Board of Regents
Process for filling regent slots on University of Minnesota board advances at Capitol, Star Tribune
LIKE the Minnesota DFL on FACEBOOK: https://www.facebook.com/MinnesotaDFL
Follow @MinnesotaDFL on TWITTER: https://twitter.com/MinnesotaDFL
On INSTAGRAM: http://instagram.com/minnesotadfl
daily brief · issues · news