Daily Brief: Monday, Oct. 20th, 2014
Posted by SD48 DFL Communications Team in Daily Brief, News
In the Know
Minnesota DFL
Oct. 20, 2014
Events today
Gov. Dayton will convene members of this Cabinet to discuss the state's Ebola preparedness and response efforts.
Sen. Al Franken will visit the Iron Range and Duluth. He will greet and visit with workers during a shift change at the Minntac plant in Mountain Iron and speak at a DFL volunteer canvass kick-off event in Duluth. He will also be at Mesabi Range College in Eveleth, to discuss his ongoing push to ensure employers in the region and across Minnesota have enough trained workers to fill the skilled jobs that are being created.
7 p.m. – Congresswoman Betty McCollum will take part in a forum. Stillwater City Hall, 216 Fourth St. N, Stillwater.
Event tomorrow
2 p.m. – First Lady Michelle Obama will headline a GOTV Rally for Sen. Franken and Gov. Dayton at Patrick Henry High School in Minneapolis. Free tickets are available on a first come, first serve basis at dfl.org/mpls-rally.
Events Thursday
11:45 a.m. – Doors open for Vice President Joe Biden's GOTV rally for Congressman Rick Nolan, Hibbing Community College, 1515 E 25th St, Hibbing.
3 p.m. – Hillary Clinton will headline a grassroots GOTV event in support of Sen. Al Franken and Gov. Mark Dayton at the Macalester College Leonard Center Field House. Doors will open at 3 p.m. The event is free and open to the public. Ticket information can be found at dfl.org/HRCevent and admission will be first come, first serve.
4 p.m. –Hillary Clinton will headline a dinner to benefit Gov. Mark Dayton. Sen. Amy Klobuchar and Sen. Al Franken will join Hillary as honored guests. St. Paul River Centre, St. Paul. Tickets are available here.
Early voting is open! #simonsaysvote www.mnvotes.org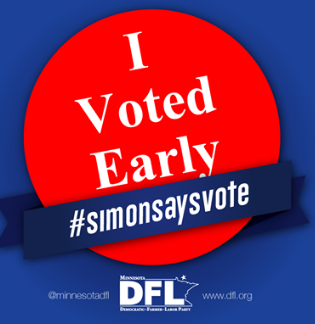 15 days until the Nov. 4 general election
Want to volunteer to elect DFLers? Visit http://www.dfl.org/gotv/
2014 election
Hillary Clinton coming to Minnesota to rally Democrats, Star Tribune
Hillary Clinton to raise money for Dayton, MPR
As election years go, this is a rather quiet one, Star Tribune
Biden adds Duluth stop to Minnesota visit, Duluth News Tribune
White House details Tuesday's Michelle Obama visit, MPR
Vice president scheduled to campaign on the Range Thursday, Grand Rapids Herald
2014 Voting Checklist, AFL-CIO
Juan Williams: Female voters hold key to midterms, The Hill
Former secretary of state and possible presidential candidate Hillary Rodham Clinton will be in Minnesota on Thursday to support Gov. Mark Dayton's re-election bid. Clinton will rally Democrats at a dinner and reception at St. Paul's RiverCentre. Clinton is one of a long line of Democrats visiting the state to help Democratic incumbents. Former President Bill Clinton, first lady Michelle Obama, Vice President Joe Biden, Sen. Elizabeth Warren and other Democratic stars have had or are making Minnesota travel plans. Tickets for the Hillary Clinton event start at $150 and go up to $2,500. Star Tribune
A top Democratic campaign surrogate invoked the late Sen. Paul Wellstone in Northfield on Saturday, echoing his populist tone in urging voters to give her colleague Al Franken a second term. Massachusetts Sen. Elizabeth Warren rallied a crowd of 400 dotted with old Wellstone T-shirts at Carleton College, where Wellstone taught and planted his political roots. Warren and other Democrats — including Franken — urged voters to help keep Wellstone's political dream alive, often repeating his signature line: "We all do better when we all do better." Star Tribune
Legislature
Selcer, Stensrud locked in Hennepin County district rematch, Star Tribune
Key Edina House race embraces the political center, Star Tribune
Governor
Endorsement: For governor, Mark Dayton, Star Tribune
Gov. Mark Dayton: Standing by his record, Star Tribune
Policy, personality split Minnesota governor candidates, Star Tribune
PoliGraph: Economic claims from the 3rd Gov. debate, MPR
Hillary Clinton to raise money for Dayton, MPR
Middle class, gun control highlighted in latest gubernatorial debate, MPR
Promises, promises: revisiting Mark Dayton's 2010 campaign pledges, MinnPost
Minnesota governor candidates debate excludes third parties, Pioneer Press
Dayton, Johnson spar over MNsure, discuss Ebola in 4th debate, Pioneer Press
To protect Johnson, GOP withheld good poll information, politics mn
Unwinding The SPIN: Jeff Johnson's 'no clue' candidacy is over, politics mn
Gov. Mark Dayton, Jeff Johnson answer nine questions, WCCO
Keeping track of the candidates and issues in the campaign for governor, Star Tribune
RECAP: Minnesota governor debate from Hamline University, Fox 9
Hear 4th gubernatorial debate: Mark Dayton and Jeff Johnson, MPR
KSTP/SurveyUSA: Race for governor tightens; Dayton still leads by 10, KSTP
Attorney General
Incumbent's view: Attorney general enforces rules for consumers, Duluth News Tribune
Lori Swanson is a 2-term AG. They hope to end her party's reign, Pioneer Press
Secretary of State
Open race for Secretary of State heats up, Star Tribune
Dan Severson goes full tin foil hat at tea party meeting, mn progressive project
Endorsement: Steve Simon for secretary of state, Star Tribune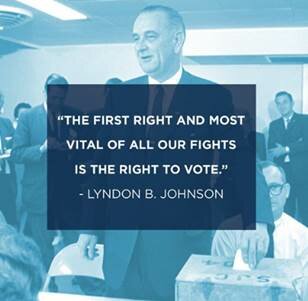 State Auditor
Our view / endorsement: State voters oughta re-elect Auditor Otto, Duluth News Tribune
U.S. House
Editorial: Walz grabs the moderate vote and deserves to be re-elected, Albert Lea Tribune
ECM Editorial Board supports re-election of Congressman Tim Walz, ECM
5th District Congress: Return Ellison to two more years, ECM
ECM Editorial Board: The nod in the 4th goes to incumbent Betty McCollum, ECM
Forum Communications Endorsement: Peterson should continue good work, Morris Sun Tribune
7th District- Westrom: Another GOP failure regarding health care, mnpACT!
Interview: Rep. Rick Nolan discusses money in politics, ISIS & guns, WCCO
U.S. Senate
Senators Al Franken and Elizabeth Warren visit Carleton College, Northfield News
Warren stumps for Franken at Carleton; McFadden in Central MN, WCCO
U.S. Senate race, in person, on the issues: Al Franken, Star Tribune
Why are we obsessed with the 2014 US Senate elections? Smart Politics
Franken campaigns in Red Lake, White Earth, Bemidji Pioneer
Warren in Minnesota: The game is 'rigged,' Washington Post
Congressional delegation
Ellison
Ellison leads Ebola meeting in Brooklyn Center, KARE
Franken
Franken: MN needs 'center of excellence' to handle possible Ebola cases, MPR
Dayton
Governor notes state role in project, takes part in dedication, Ely Echo
Economy
Our View: Mankato job growth shines again, Mankato Free Press
Wisconsin
Wisconsin's on-again, off-again voter ID law is off, Pioneer Press
daily brief · issues · news