Daily Brief: Monday, Feb. 16th, 2015
Posted by SD48 DFL Communications Team in Daily Brief, News
In the Know
Minnesota DFL
Feb. 16, 2015

Events today
11 a.m. – The Senate meets in session.
12:45 p.m. – Secretary of State Steve Simon will push to make it easier to vote for members of the National Guard and for Minnesota to join 30 other states in enfranchising children born abroad to Minnesota parents….At the House Veterans Affairs Division Committee, Secretary Simon will testify on a military and overseas voting bill (HF501) that would allow members of the National Guard called to service by the state to use the same special procedures for voting as when they are called to service by the federal government.
3:30 p.m. – The House meets in session.

2015 session
Capitol catch-up: Mark Dayton, Tom Bakk square off, Pioneer Press
Amid DFL feud, a Senate confirmation hearing is postponed, Pioneer Press
Commissioner hearings on hold in the Senate, MPR
Orchids to Sen. Bakk; onions to Gov. Dayton, Mesabi Daily News
Arne Carlson weighs in on salary tussle, MinnPost
Bakkstabbed, MinnPost
Take a bow Sen. Bakk, Star Tribune
Bakk to square one: Intra-DFL squabble's big impact, Star Tribune
Fractured Dayton-Bakk relationship throws DFL agenda into doubt, could have lasting political implications, Star Tribune
Pay raise controversy will likely linger through 2016, WDIO
No fury like a governor scorned: Dayton's hostility toward DFL Senate leader a rare divide, Fargo Forum
PoliGraph: Pay raises, facts and flack, MPR
Dayton-Bakk rift surprises Minnesota Capitol, Duluth News Tribune
Top 10 Bills to watch at the Capitol, Alliance for a Better Minnesota
Dayton's pay raises dampen income inequality argument, ECM
Talking Points: Health dept. head talks commissioner pay raises, WCCO
Dayton enraged by DFL move to suspend pay raises, WCCO
Pay raise controversy will likely linger through 2016, KSTP
Local lawmakers, political analysts respond to Dayton/Bakk pay raise dispute, WDIO
2016 election
In drive to be 45th president, Jeb Bush faces legacies of 43rd and 41st, Washington Post
Bush role in end-of-life dispute as governor now 2016 issue, Star Tribune
It's too soon to handicap the 2016 campaign, Star Tribune
Top of the ticket to ya, Sen. Warren, Star Tribune
Early fumbles offer likely GOP candidates a bumpy learning curve to 2016 presidential race, Star Tribune
As Scott Walker mulls White House bid, a spotlight on his jobs agency, Reuters
Stan Hubbard is supporting WI Gov. Scott Walker for President according to Politico. morning take
2016 precinct caucuses
DFL & GOP move date of 2016 precinct caucuses, politics mn

Affordable Care Act
Deadline day brings push for health law enrollment after technical glitch on website fixed, Star Tribune

Agriculture
State's dairy farmers discuss legislative priorities, Agrinews

Broadband
Broadband services is a constant work in progress, Redwood Falls Gazette

Budget (state)
State's disabled asking: Where's the money? Star Tribune

Climate change
How vulnerable is Minnesota to climate change? Brainerd Dispatch

Congressional delegation
Franken
Al Franken to return to SNL for special appearance, The Hill
Franken looks back at 'SNL,' St. Cloud-set film, St. Cloud Times
Sen. Franken helps introduce bill to allow American workers to earn paid sick days, Insurance News
U.S. Sen. Al Franken has helped introduce legislation that would allow everyday workers to earn paid leave to use when they are sick, to care for a sick family member, to obtain preventive care, or to address the impacts of domestic violence, stalking or sexual assault. The Healthy Families Act would allow workers in businesses with at least 15 employees to earn up to 56 hours or seven days of job-protected paid sick leave each year. Workers would earn one hour of paid sick time for every 30 hours worked. Sen. Franken press release
Kline
Craig opening? Chamber of Commerce turning away from the Kline agenda, MN Political Roundtable
Klobuchar
Women senators plan a hearing on sex trafficking, Northland News Center
Nolan
Rep. Nolan, area officials talk transportation, ECM
Nolan perseveres through challenges in personal, professional life, Duluth News Tribune
Nolan: PEIS won't be needed, Mesabi Daily News
Thank you Congressman Nolan, Brainerd Dispatch

Democratic National Convention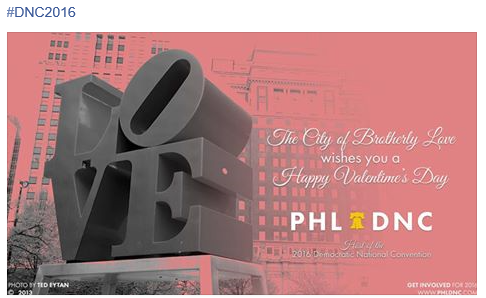 Ebola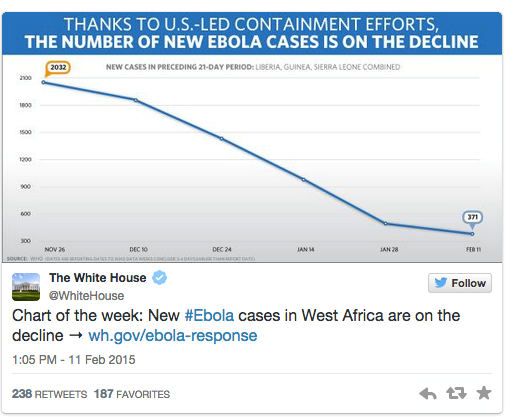 Economic development
Duluth seeks state money for aviation industry expansion, MPR
Child poverty map demonstrates need for more state investment in economic opportunity, Minnesota Budget Project

Education (early)
Use early-ed dollars to help low-income students, Star Tribune

Education (higher)
Why MnSCU must chart the future, Pioneer Press

Education (K-12)
Strengthening Minnesota's classrooms, with nary a punitive thought, Star Tribune
Minnesota schools lose $74 million under GOP plan, White House says, Star Tribune

Environment
Fond du Lac Band working toward restoration of elk in northeastern Minnesota, MinnPost

GOP
GOP needs to speak up before hitting the iceberg, Detroit Lakes Online
Backer should tell us where he stands, Alexandria Echo Press

Health
Twin Cities hospitals are front line in treating Bakken burn victims, Star Tribune

Labor
Labor backs legislation ensuring workers are paid what they earn, AFL-CIO
University unions lay it on the line, Workday Minnesota
Seattle council member headlines Minneapolis rally for $15 minimum wage, Fox 9
Lawmaker proposes minimum wage exemption for nonprofits, St. Cloud Times

Mining
Proposed frac sand mining operation could be biggest in Minnesota, Pioneer Press
U.S. Steel fights new environmental standards for MN mine, MPR
MNsure
With a smaller uninsured pool to target, MNsure boosts outreach effort, Pioneer Press

Sex offender program
Human services commissioner testifies in MSOP trial, KARE

State Elections Campaign fund
UPDATED: Below is an updated graphic with information of how to donate to the Minnesota DFL on your income tax forms. The $5 donation does not impact your refund. My apologies for the first graphic's misinformation and thank you for helping to spread the word about this opportunity to help the DFL build to win, build to last.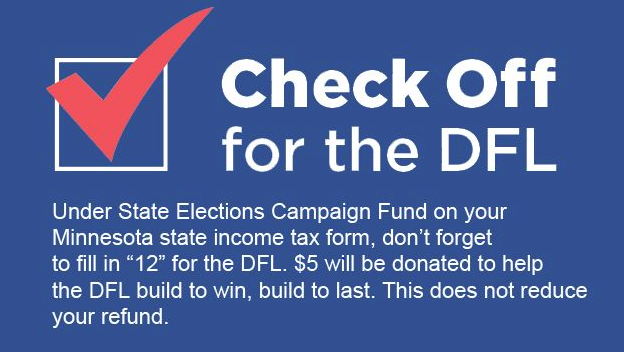 Transportation
How does Minnesota maintain its roads? Pioneer Press
Fast-charging stations for electric cars making their way to Twin Cities, Pioneer Press
Minnesota's road network mapped, Pioneer Press
Shield Minnesota cities from higher road costs, Star Tribune
Are we willing to pay for good highways? Hutchinson Leader
Veterans
The Clay Hunt Act: What the President just signed, The White House

Viking stadium
Viking stadium almost 40 percent complete, Pioneer Press
Vikings stadium construction work to pick up steam, Pioneer Press
daily brief · issues · news