Minnesota's major party chairs agree to move 2016 precinct caucus date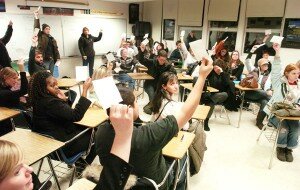 To meet the requirements for the 2016 Presidential nominating process set forth by both the Democratic and Republican National Committees, DFL Chairman Ken Martin and GOP Chairman Keith Downey have agreed to move the 2016 precinct caucus date to March 1, 2016.
State law allows the chairs of Minnesota's two major political parties to submit to the Minnesota Secretary of State a single date on which they have agreed to conduct their precinct caucuses in the next even-numbered year. A letter notifying Secretary of State Steve Simon stating the agreement was delivered Monday, February 16, 2015.
DFL Chairman Ken Martin said he and Downey found quick agreement on this issue and he appreciates the opportunity to move the date. That evening, DFLers will cast a binding presidential preference ballot.
"With an open seat at the top of the ticket we are already gearing up for a busy 2016," Martin said. "We'll work hard between precinct caucuses and the Democratic National Convention in Philadelphia to have a delegation that is ready to nominate the next President of the United States. And after we have our nominee we'll work hard to keep the seat in Democratic hands to ensure this nation has a leader that works for the interests of all people, not the interests of a select few."