Daily Brief: Friday, Jan. 30th, 2015
Posted by SD48 DFL Communications Team in Daily Brief, News
In the Know
Minnesota DFL
Jan. 30, 2015

Events today
10 a.m. – House DFL Leader Paul Thissen and other House DFL Leaders will hold a media availability in the Centennial Office Building, Blazing Star Room at to discuss the week's developments and upcoming legislative issues, including long-term care.
11 a.m. – The Governor's Task Force on the Protection of Children hears public testimony in Little Falls. Initiative Foundation, 405 1st St. S.E., Little Falls.
11:45 a.m. – Lt. Gov. Smith will attend the Minnesota Newspaper Association Annual Convention Luncheon.

Event Saturday
Congressman Keith Ellison; Lt. Gov. Smith; Minnesota Department of Revenue Commissioner Cynthia Bauerly; Prepare + Prosper Executive Director Tracy Fischman; Greater Twin Cities United Way Senior Vice President of Community Impact Meghan Barp; and Earned Income Tax Credit (EITC) recipient Stephanie Smith will hold a news conference celebrating the 40-year history of EITC. The event will highlight how vital EITC is and share how the program moves more than 300,000 Minnesotans out of poverty each year.

Event Sunday
10 a.m. – DFL Chairman Ken Martin will appear on KSTP's "At Issue." If you miss the broadcast you can watch "At Issue" here.

2015 session
Clergy urge lawmakers to heal racial, economic division, KSTP

2016 election
Wisconsin Gov. Scott Walker expanding political operation as he considers a presidential run, Star Tribune
Is Scott Walker a true contender? NBC
Scott Walker ramping up on national political operation, KSTP
Several key Romney donors, fundraisers and a longtime staffer are committing to Jeb Bush, Star Tribune
New signals of Rubio weighing a 2016 bid as senator makes California fundraising stop, Washington Post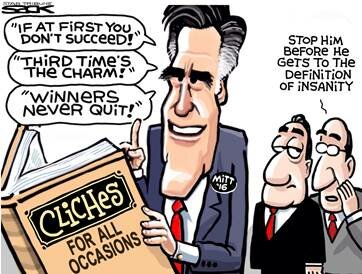 Budget (federal)
As new leadership takes over in Washington, a major fiscal clash takes shape, New York Times

Budget (state)
Governor's budget continues to invest in a strong future for Minnesota, Minnesota Budget Project
How Senate Republicans are planning to respond to Dayton's budget, MinnPost

Bonding bill
Bakk envisions smaller bonding bill, MPR

Congressional delegation
Nolan
Rep. Rick Nolan pushes for resolution to end "dark money" in political campaigns, Northland News Center

Economy
For public schools, low-income kids are the new normal, Star Tribune
Last week, the Southern Education Foundation issued a report that said 51 percent of children in public schools in the United States qualified for free or subsidized lunches in 2013 — the first time in a half-century that lower-income kids made up the majority of students. By comparison, less than a third of students nationally qualified in 1989, while 38 percent were eligible in 2000.
In our low-income 'new normal,' who will help families? Star Tribune

Education (K-12)
Obama administration to request new funding for American Indian schools, MinnPost
Administration to seek $1 billion for tribal schools, target building repair and construction, Star Tribune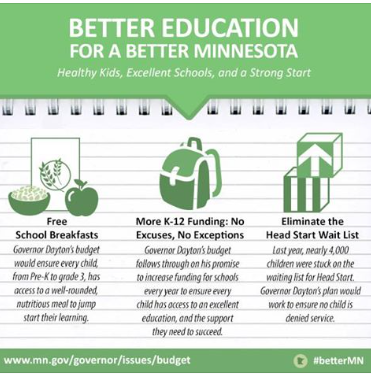 Energy
Senate OKs Keystone XL pipeline, setting up fight with Obama, MPR
Republican-led Senate passes bill approving Keystone XL oil pipeline, defying White House, Star Tribune

Family law reform
Collaboration of lawmakers, attorneys propose family law reform package, Star Tribune

GOP
Former Minn GOP operative takes advisory role at RNC, Star Tribune
Feds hit Minnesota GOP with $26,000 fine, Star Tribune
Minnesota GOP to pay $26,000 fine over fed reporting issues, WCCO

Health care
Lawmakers push for more doctors, nurses in rural Minnesota, Fox 9

Minnesota Zoo
Minnesota Zoo asking lawmakers for $1.5M amid budget crisis that could force exhibit closures,Star Tribune
Minnesota Zoo faces possibility of closing exhibits without cash infusion, Fox 9

MNsure
County officials struggling to make MNsure system work, Star Tribune

North Dakota
Plummeting oil prices cut North Dakota revenue forecast in half, Star Tribune

Police body cam
Bill to keep police body cam video private raises alarm, MPR
Legislation aims to make police body cam footage mostly private, Star Tribune

Public health
Public health spending focuses on children, mentally ill, MPR

Public safety
Gov. Dayton wants to double fines for repeat texting-while-driving offenders, KSTP
Obscure Minnesota speeding law allows habitual offenders to remain on the road, KSTP

Rochester
Plan to transform downtown Rochester goes to city council, MPR

Seniors
Mark Dayton wants new financial protection law for elderly, Pioneer Press

Super Bowl (2018)
Game on: What to expect when Minneapolis hosts Super Bowl 2018, MPR
Trails
Aging Minnesota trails lead to big maintenance bills, Star Tribune

Transportation
Scott Brener: Focus on sustained, strategic transportation funding, Grand Forks Herald

Vaccinations
MN bill would make it harder to opt out kids from vaccinations, MPR
Minnesota bill requires doctor talk before kids skip vaccinations, Pioneer Press
'Conscientious objectors' forgo vaccines for their kids, Fox 9
Minnesota rep wants vaccine-objecting parents to meet with doctor first, Fox 9
Voting rights
Released felons seek voting rights in Minnesota, WCCO
Released offender voting bill gains momentum, KARE
One issue that can bring liberals, conservatives and libertarians together at the state Capitol, MinnPost

Wolves
Mark Dayton proposes more compensation to farmers for wolf losses, Pioneer Press
daily brief · issues · news
<< GOP lawmaker closes open meeting, raises questions about GOP plan for property taxes