* Sen. Franken *
Here are some videos:
U.S. Sen. Amy Klobuchar introduces Sen. Al Franken to accept the Minnesota DFL endorsement:
U.S. Sen. Al Franken accepts the Minnesota DFL endorsement:
Tina Smith and Gov. Mark Dayton accept the Minnesota DFL endorsement for Governor and Lieutenant Governor:
DFL-endorsed candidate for U.S. Congress in CD3 Sharon Sund addresses delegates and alternates:
Rep. Steve Simon accepts the Minnesota DFL endorsement:
Minnesota State Auditor Rebecca Otto accepts the Minnesota DFL endorsement:
Sen. Amy Klobuchar addresses delegates and alternates:
Speaker of the Minnesota House of Representatives Paul Thissen and House Majority Leader Erin Murphy address delegates and alternates:
Minnesota Senate Majority Leader Tom Bakk is joined by his Senate colleagues as he addresses the 2014 Minnesota DFL State Convention:
State DFL Chair Ken Martin addresses the delegates and alternates:
No tags
You can't make this up. This morning, Minnesota Public Radio is reporting that when asked a question by a voter, investment banker Mike McFadden literally fled the scene — walking out of the room and refusing to answer.
Minnesotans know McFadden has a long history of avoiding voters and the issues. But until today we did not know that he actually ran away from a voter when pressed on an issue.
Check it out for yourself:
Mike McFadden walked into caucus meetings a few weeks ago in Apple Valley wanting to talk federal budget and the Affordable Care Act.
Then came a question about his view on the Patriot Act and its power to hold people indefinitely without being charged. The GOP candidate for Senate left the room without answering, telling caucus-goers, "I've got to run to another meeting."
Pressed by a reporter in the hallway, he offered an answer that had nothing to do with the Patriot Act. "Once again, my focus is on the economy, education and health care."
For his critics, it was fresh evidence that McFadden, a first-time candidate and one of half a dozen Republicans competing to run against DFL Sen. Al Franken, was ducking issues.
….
McFadden's initial response to the Patriot Act question at the caucus in Apple Valley still frustrates 62-year-old Larry Billson, the guy who asked the question.
"He ducked. He literally put his head down and walked out of the room and said I've got to go," Billson recalled.
Billson said he was sorely disappointed with McFadden's refusal to answer his question, calling it "kind of cowardly." He said he would never vote for McFadden. [MPR, 2/21/14]
No tags
Reported in the February 20, 2014, e-newsletter from the Eden Prairie News: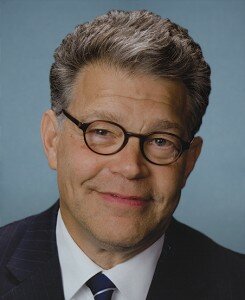 U.S. Sen. Al Franken is scheduled to host a roundtable discussion with parents, mental health advocates, school administrators and counselors on improving access to mental health resources in schools at 9:30 a.m. Thursday, Feb. 20 at Central Middle School.
Franken has authored the Mental Health in Schools Act to help ensure that schools provide access to critical mental health treatment for kids who need and deserve these services. Several provisions similar to Franken's bill were included in the budget legislation recently passed by Congress. The budget contains $40 million for competitive grants to schools to collaborate with community-based mental health providers and other community organizations to expand access to early intervention and mental health treatment for students, according to a news release.
Read the post here.
Al Franken · mental health · Sen. Franken · U.S. Senator Franken
In the November 11, 2011, edition of Politics in Minnesota, Charley Shaw posted an article detailing Sen. David Hann's attempt as Chair of the Senate Health and Human Services Committee, to keep $25 million of federal health care grants out of the state. (If the federal government wants to send some of our tax dollars back to us, why wouldn't we say "yes, please"?)
It also details the ongoing animosity between Gov. Dayton and Sen. Hann because of Sen. Hann's criticism of the new health care exchange.
An unnamed GOP operative stated, "I think pretty much everyone defers to him on issues related to health care."
The article also covers his 2011 introduction of the "Freedom of Choice in Health Care Act" (beware of Republicans using Orwellian language, folks), which would have rolled back Gov. Dayton's executive order taking advantage of the state's ability to enroll early in the expanded Medical Assistance program. This bill was was more conservative than anything initially offered by the Republican-controlled legislature.
You can read the full article here.
David Hann · David Hann Dr. No · GOP hard-liner · Gov. Dayton · Mark Dayton · sd48 · Sen. Hann · Senate District 48