Gov. Dayton signs bill providing immediate tax relief for 200,000 Minnesotans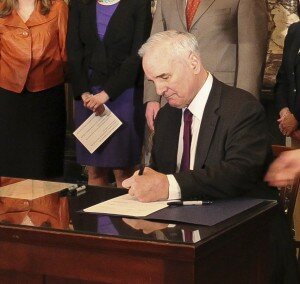 The tax conformity legislation signed into law yesterday by Governor Dayton will provide direct savings to more than 200,000 middle-income Minnesotans, including:
Students and Families – More than 40,000 college students and their families paying for higher education tuition will see a tax break.
Teachers – More than 60,000 teachers will be eligible for a tax deduction for the books, art supplies, and other materials they purchase for their classrooms.
Homeowners – More than 96,000 new homeowners who pay mortgage insurance premiums for their residences will see a tax break. Additionally, homeowners struggling to recover from the housing crisis – those who suffered through a short sale or refinanced their homes – will get relief by excluding the discharge of their debt from their income.
Special Needs Minnesotans – The Achieving a Better Life Experience Act (ABLE) allows disabled or blind Minnesotans to set up a tax-free ABLE account. Modeled after 529 college plans, ABLE accounts allow people with disabilities to save up to $100,000 without losing government benefits, and make withdrawals for expenses such as housing, health care, and employment training.
The legislation included a provision for the Destination Medical Center in Rochester. The 20-year Destination Medical Center public-private partnership is aimed at securing Minnesota's competitive position as an international hub for health care and medical advancement, and making the Rochester region an economic center for job growth and business development.
The state's $455 million investment in the project over the next two decades will leverage an estimated $5.6 billion in local and private investment, and create tens of thousands of new jobs.
2015 tax relief · Destination Medical Center · Gov. Dayton · Gov. Mark Dayton · Mark Dayton · Rochester
<< Statement from DFL Chairman Ken Martin on Gov. Dayton's proposed budget