Daily Brief: Tuesday, Sept. 23rd, 2014
Posted by SD48 DFL Communications Team in Daily Brief, News
In the Know
Minnesota DFL
Sept. 23, 2014

Events today
11:30 a.m. – DFL Chairman Ken Martin and GOP Chairman Keith Downey speak to the St. Paul Area Chamber of Commerce. Hamline University.
11:45 a.m. – Sen. Franken will attend Voterpalooza at the University of Minnesota, visiting with students and delivering remarks.

Al is meeting with students to talk about the student loan refinancing bill he is pushing in the Senate, the same bill that investment banker Mike McFadden has now twice criticized Congress for focusing on in the last week. The same bill McFadden also opposes because it's paid for with the Buffet rule despite the fact that it would benefit 560,000 Minnesotans.

Sen. Kloubchar will speak at the North Hennepin Community College Bioscience and Health Careers Center Grand Opening. North Hennepin County College will open the doors to a new 65,000-square foot facility to address the increasing need for bioscientists, nurses, and lab technicians.
2014 is a midterm election year, and we want every eligible American to celebrate our nation's democracy by registering to vote and heading to the polls. The theme for National Voter Registration Day is: Celebrating Democracy in America! Go to http://nationalvoterregistrationday.org/ for more information.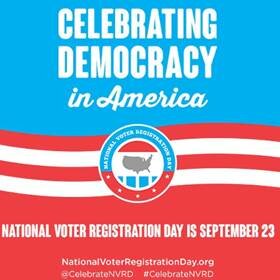 Mark your calendars and spread the word!
Early voting is open! www.mnvotes.org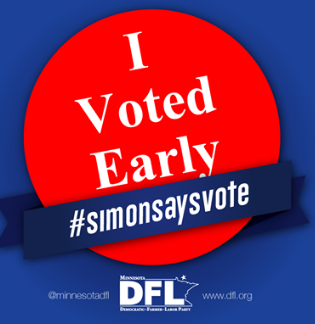 42 days until the Nov. 4 general election
Want to volunteer to elect DFLers? Visit http://www.dfl.org/gotv/

2014 election
Stakes high for workers in 2014 elections, unions say, Workday Minnesota
The best TV shows for political advertisements, Roll Call
In heated midterm contests, GOP candidates explore a move to the middle, Washington Post
Minnesota Poll: This is the fall of our acquiescent discontent, Star Tribune
Legislature
House candidate cuts neighbor's garage in half, MPR
Minnesota state House candidate sued after allegedly sawing his neighbor's garage in half, Star Tribune
Rep. Erhardt, GOP challenger Anselmo mostly agree, Star Tribune
Minnesota Supreme Court
Poll reveals 86-point lead for Lillehaug over GOP-endorsed challenger Michelle MacDonald in Supreme Court race, Star Tribune
Governor
Minnesota: Public money for incentives to business? Pioneer Press
Unwinding The SPIN: Johnson's scrappy fighter image is knocked out, politics mn
U.S. House
Truth Test: Ad attacking Stewart Mills focuses on taxes, income … and hair, KSTP
Yachts and lobsters: candidates targeted for wealth, MPR
MN-08: Mixed messaging from Mills about the great wide world, mn progressive project
This is how you run a campaign ad against a rich guy, Washington Post
The campaign arm of U.S. House Democrats has rolled out a new ad featuring a lookalike of Stewart Mills, the Republican challenger to Democratic incumbent Rick Nolan in the Eighth Congressional District race. The Democratic Congressional Campaign Committee spot features a Mills doppelganger preparing a meal of champagne and lobster aboard a luxury cabin cruiser yacht. Democrats have tried to portray Mills, a scion of the Mills Fleet Farm scion, as out-of-touch with middle class Minnesotans, because he inherited his wealth from his family's business. The ad began airing in the Twin Cities market this week. Star Tribune
U.S. Senate
Fight for Senate control down to five states, Roll Call
Child welfare
Abuse case drives Dayton to order county child welfare reviews, MPR
Dayton acts to step up response to child protection, Star Tribune
Minnesota's child protection system: Dayton steps up review process, Pioneer Press
In wake of boy's abuse death, changes come to child protection, WCCO
3 ways Minnesota governor plans to prevent child abuse, Fox 9
Community Action of Minneapolis
Dayton 'very alarmed' by audit findings on state-subsidized nonprofit, Star Tribune
Leaders intensify criticism of Community Action, Star Tribune

Congressional delegation
Bachmann
Outgoing U.S. Rep. Michele Bachmann has taken more trips than any other member of Congress in 2014. The Republican lawmaker has taken six trips, including one in August to Haiti through the Congressional Coalition on Adoption Institute. The total cost of trips by members of Congress and their aides during August reached $766,000, according to LegiStorm, a nonpartisan watchdog group. Lawmakers typically scale back their election year travel, choosing to focus their attention on re-election and away from junkets that could draw criticism from opponents. With her plans to leave Congress at the end of the year, Bachmann doesn't have to worry about either. Star Tribune
Klobuchar
Sign of the times: Husbands happily join Senate spouses, US News and World Report

Education (higher)
House DFLers promise another tuition freeze, MPR
House DFLers promise another tuition freeze, Star Tribune

Environment
Global summit on climate change slated for Minneapolis, Star Tribune

Labor
Next steps for Minnesota AFL-CIO: Transportation, paid sick leave, Workday Minnesota

MNsure
Why PreferredOne pulled out of MNsure, MPR

Taxes
Tax-free Amazon sales ending next week in Minnesota, MPR
Amazon to collect Minnesota sales tax Oct. 1, Star Tribune
daily brief · issues · news