Daily Brief: Monday, Sept. 22nd, 2014
Posted by SD48 DFL Communications Team in Daily Brief, News
In the Know
Minnesota DFL
Sept. 22, 2014

Events today
9:30 a.m. – Gov. Dayton will hold a news conference to announce a series of executive actions to protect children in Minnesota from the threat of abuse and neglect. In response to the tragic death of four-year-old Eric Dean, Gov. Dayton will direct immediate changes to the child protection system, and call on experts, legislators, and stakeholders to recommend additional improvements to be considered by the Legislature in 2015.
Gov. Dayton will attend the 52nd annual AFL-CIO convention.
Sen. Amy Klobuchar, State Auditor Rebecca Otto, State Sen. Katie Sieben, Congresswoman Betty McCollum, Speaker Paul Thissen, and Secretary of State candidate Steve Simon will all address the AFL-CIO convention.
Tina Smith will be traveling in Southern Minnesota tomorrow, meeting with college students, talking to voters and kicking off a door knock.
U.S. Senators Amy Klobuchar and Al Franken will highlight their continued efforts to close the skills gap and boost STEM education in Minnesota schools. Klobuchar and Franken will be joined by students and faculty from Apple Valley High School, the recent recipient of a $3 million federal grant to establish a dedicated STEM focus and create partnerships with colleges and local businesses. The news conference will be at Uponor in Apple Valley and will include Apple Valley Superintendent Jane Berenz and Apple Valley students.

Mark your calendars and spread the word!
Early voting is open! www.mnvotes.org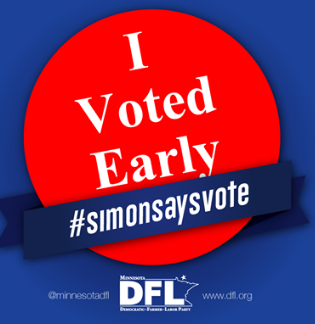 43 days until the Nov. 4 general election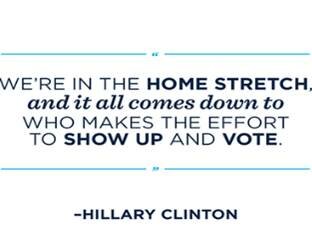 Want to volunteer to elect DFLers? Visit http://www.dfl.org/gotv/

2014 election
RNC reports raising $10M in August, bests DNC, Star Tribune
Anticipating attacks, GOP campaigns focus on courting women voters, NPR
Beltrami GOP event draws some big names: Mills, Westrom, others attend, Bemidji Pioneer
Reality Check: Freedom Club TV ad has more Whoppers than a Burger King, WCCO
Minnesota begins expanded absentee voting process, Pioneer Press
Campaign season in full bloom as Gov. Dayton and party chairs to appear on Almanac, MinnPost
On your mark, get set: vote! Absentee balloting starts Friday in Minnesota, MinnPost
Local view: Election is important for women and families, Duluth News Tribune
Johnson and McFadden – trying to find something that sticks, mnpACT!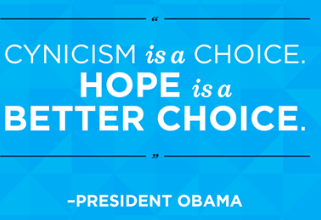 Legislature
Time-tested tea leaves bode well for Minnesota GOP, Star Tribune
Minnesota Supreme Court
After trial, Michelle MacDonald vows to continue campaign for supreme court, MinnPost
Governor
Leadership shake-up at Jeff Johnson campaign; former Pawlenty aide taking charge, Star Tribune
Johnson continues to focus campaign on MNsure, Star Tribune
GOP governor hopeful Johnson replaces campaign chief, MPR
His name is Jeff Johnson. He wants to be governor. Pioneer Press
Dayton, Johnson agree to debates, Bemidji Pioneer
Mark Dayton releases first ad, Mark Dayton for a Better Minnesota
Dayton campaign calls Johnson's MNsure charges a 'smear', MinnPost
Unions will play key role in Dayton re-election bid, Star Tribune
Dayton campaign debuts first television ad of re-election bid, Star Tribune
Minnesota is the state of political hockey ads, MPR
U.S. House
In NW Minnesota, state senator's long win streak has a stern test in Peterson, Star Tribune
Hagedorn Indian comments spur call for him to drop out of race, KEYC
Westrom shakes hands at Prairie Inn, Morris Sun Tribune
Without Bachmann, 6th District race is off radar, St. Cloud Times
Dill hits daily-double endorsements, Mesabi Daily News
Democrats and their allies focus on changing 8th District, Brainerd Dispatch
Westrom wields Obamacare in bid to topple Peterson, Litchfield Independent
Rep. Peterson: NRCC TV ad is misleading, Detroit Lakes Online
Bill Maher creates an opportunity in the 2nd District, mnpACT!
National GOP hits Dems on national security, The Hill
U.S. Senate
McFadden presses Franken for more Senate race debates, MPR
Michele Bachmann asks Al Franken to help defeat Al Franken, Roll Call
Fact Check: Mike McFadden's attack ads, Northland News Center
Al Franken, Mike McFadden agree to three debates, Star Tribune
Franken, McFadden find quiet agreement on Senate vote on plan to fight ISIL, Star Tribune
Louisiana and Georgia runoffs, Alaska vote count, could leave Senate control unclear for weeks, Star Tribune
McFadden bashes Obamacare in visit to Albert Lea, Albert Lea Tribune
Klobuchar on front lines of national battle for Senate women, St. Cloud Times

Congressional delegation
Ellison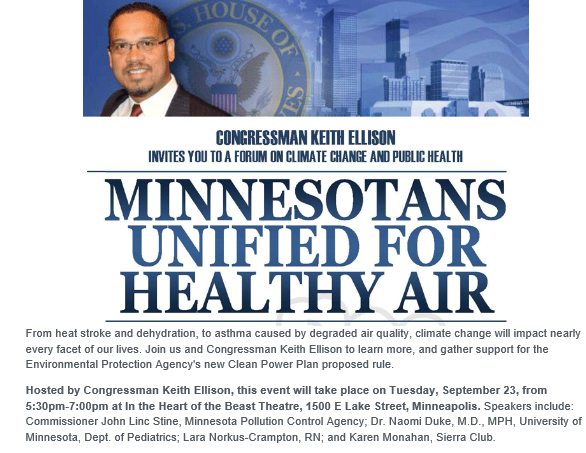 Klobuchar
Klobuchar praises salmonella verdict, Star Tribune
Nolan
Rep. Nolan urges Postmaster General to visit – aiming to keep Duluth Distribution Center open, Northland News Center

Economy
Why the Great Recession was even worse than you thought, MinnPost

Dayton
Dayton visits Garfield Elementary, Brainerd Dispatch
Dayton on statewide campaign trail for the last time, Brainerd Dispatch

Labor
University of Minnesota union drive underway, Pioneer Press
MNsure
Regarding PreferredOne – nobody's fault, just business, mnpACT!

Minnesota Poll
Minnesota Poll: Majority has given to political causes, Star Tribune
Minnesota Poll: Corporate inversions unpopular in Minnesota, Star Tribune
Minnesota Poll findings September 14-19, 2014, Star Tribune
Oberstar
The U.S. House Transportation Committee on Transportation has approved legislation that would rename the stretch of Hwy. 35 from Forest Lake to Duluth for the late congressman Jim Oberstar. The committee vote clears the way for the bill to reach the House floor when lawmakers return to D.C. in November. But grander pieces of legislation designed to honor Oberstar's legacy have stalled. Companion House and Senate bills that would rename the U.S. Department of Transportation building for him have not yet had committee hearings, months after lawmakers introduced the bills. A former Transportation Committee chairman who represented northern Minnesota in Congress for 18 terms, Oberstar died in May. Star Tribune

Wisconsin
So glad to live in Mark's Minnesota rather than Walker's Wisconsin!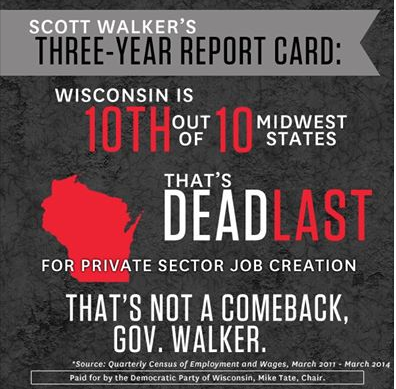 daily brief · issues · news