Minnesota ranks #1 in job creation!
Posted by SD48 DFL Communications Team in News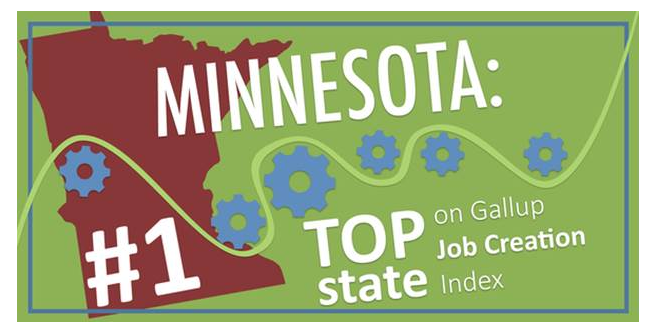 Minnesota ranks #1 in job creation
A new report released by the Gallup Inc. polling company ranks Minnesota first in the nation in job creation. Gallup's annual Job Creation Index report, which can be found here, is the latest in a string of national ratings demonstrating Minnesota's strong economic growth and high quality of life.
Here is what you need to know:
1st in Job Creation – Today's news from Gallup ranks Minnesota first in the nation in the annual Job Creation Index. This is the first time Minnesota has achieved this national distinction.
Best State for Business – CNBC recently ranked Minnesota the best state in the nation for business.
2nd-Strongest State in the Nation – Politico recently ranked Minnesota the 2nd-strongest state in the nation in its annual "The States of Our Union" report.
Best State to Retire – The AARP recently ranked Minnesota the best state to retire in – offering some of the best housing, health care, and other services to our older residents.
5th-Best Run State – Minnesota was recently named one of the five best-run states in the nation by 24/7 Wall Street.
3rd-Best Place to Own a Home – This week, Porch and Redfin ranked Minnesota the 3rd-best state to own a home.
READ MORE about the announcement, and learn about the Gallup study, in this news release.
More work to do
Despite Minnesota's strong economic progress, not everyone is feeling the state's recovery – including laid-off miners on the Iron Range, and people of color across Minnesota who now face larger unemployment rates and much lower median incomes. That is why Governor Dayton and Lt. Governor Smith remain strongly committed to doing the work necessary to ensure everyone, in every region of the state, shares in Minnesota's prosperity. That's why they are:
Calling for a special session – The Governor and Lt. Governor are pushing strongly for a special legislative session to help laid-off steelworkers on the Iron Range, and to begin the work of addressing economic disparities among Minnesotans of color.
Creating a new office of career and business opportunity – Gov. Dayton has created a new Office of Career and Business Opportunity at the Department of Employment and Economic Development to help improve access to jobs and business opportunities for Minnesotans of color. Watch Commissioner Clark Sieben discuss the efforts her Department is undertaking to set up the new office.
Calling for a $100 million investment in broadband – Following the announcement of Minnesota's projected $1.87 billion state budget surplus, Gov. Dayton announced that he will propose a $100 million investment in competitive broadband infrastructure grants. The proposal will be considered in the upcoming session, and would provide a needed economic boost for Greater Minnesota communities.
job creation index · Minnesota unemployment rate · news