2015 State of the Union Speech
Posted by SD48 DFL Communications Team in News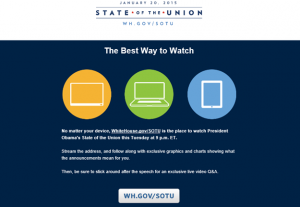 As the President prepares to deliver tonight's State of the Union – Republicans face a dilemma: do they pull a Mitch McConnell and try to claim credit for the economic recovery that President Obama has presided over, or do they bemoan the progress we've made and push trickle down economic policies that benefit the most fortunate and big corporations while leaving everyone else with the bill.
No matter which door they choose, here's what we know – time and again, Republican economic doom and gloom has never come to fruition – in fact, just the opposite:
Unemployment rate: 5.6%, lowest in 6 years
Economic Growth: Fastest economic growth in more than a decade
Stocks: Fourth-longest bull market since World War II
Gas Prices: Average price today $2.14/gallon
Job growth: 11.2 million over 58 straight months; 2014 was the best year for job growth since 1999
These are the facts — Republican doomsday predictions couldn't have been more off. And while it's likely the GOP will continue trying to obstruct progress, President Obama and Democrats will keep fighting every day to build on this progress and continue growing the economy for all Americans – tonight, and for the years to come.
2015 State of the Union · Barack Obama · economic growth · gas prices · job growth · President Obama · stocks · unemployment rate
<< Statement from DFL Chairman Ken Martin on the State of the Union address