What you won't see on Jeb Bush's new website or read in his e-book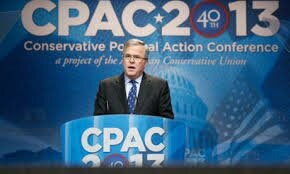 What's actually included in Jeb Bush's new e-book and on his new website reveals less about what another Bush presidency would look like than what it omits. Bush is pushing such bold platitudes as our need to "protect our shores" and be "a force of good not bad." But he's leaving out his real record of leadership as governor, which more closely resembles the backward policy goals of Mitt Romney than a bold reformer willing to move our country forward.
Fighting for the wealthy' s 'right to rise' – Jeb Bush consistently cut taxes for the wealthiest Floridians and big business, including the wealth tax on financial instruments, like stocks, bonds and mutual funds, and estate taxes. He supported his brother's Bush tax cuts, which largely benefited the wealthy and Wall Street investors, and he continues to support eliminating the capital gains tax – which has been called one of the top five tax breaks for the rich.
Income inequality – In Florida, it got worse under Jeb Bush's governorship, with the average income of the richest 5 percent of Florida families increasing by more than 22 percent, while the average income of the poorest fifth of Florida families barely changed.
Education – Jeb Bush supported a change to school funding formula that slashed millions from large urban school districts, consistently proposed hiking college tuition, oversaw a nearly 50 percent rise in average in-state tuition for the state university system that amounted to more than $1,000 per student, and proposed millions of dollars in cuts to university funding.
Health care – Jeb Bush directed the legislature to overhaul the state's children's health insurance program, which eliminated health care coverage for thousands of Florida children, and Bush supports the Ryan budget which would end Medicare as we know it and increase out-of-pocket health care costs for seniors.
Below is a statement from DNC spokesperson Ian Sams on Jeb Bush's website and e-book:
"Jeb Bush's record as Florida's governor reads like the track listing on the greatest hits of failed Republican ideas that line the pockets of the wealthy and big corporations at the expense of working families. Jeb's attempt to rebrand himself as a champion for middle class opportunity is as laughable as the idea of Mitt Romney as an anti-poverty crusader. Bush has spent his entire career fighting for a right to rise for the select few at the
corporate welfare · education · health care · income inequality · Jeb Bush · tax cuts for corporations · tax cuts for the wealthy · war on the Middle Class