Welcoming the 2014-15 school year with a commitment to education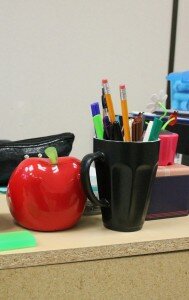 The start of a new school year offers an opportunity to review the historic investments DFL leaders have made in our students and their future.
"After Republicans borrowed money from our schools to balance their state budget, Gov. Mark Dayton and DFL leaders have the state back on track," said DFL Chairman Ken Martin. "They made reinvesting in our schools, supporting our students and teachers and ensuring all children have access to a world-class education a top priority. The result was a historic investment in our children's education."
In addition to repaying the $2.8 billion the Republicans borrowed from our schools, Gov. Dayton and DFL legislators have provided:
All-day Kindergarten – This fall, every Minnesota student has access, free of charge. Previously, some families were paying as much as $2,500 to $3,000 to send their kids to all-day Kindergarten programs.
More funding for every school – A goal when he took office, Gov. Dayton increased the school funding formula by $371 million since 2011, providing more funding for every school in the state. These new funds, along with hundreds of millions of dollars in other new E-12 investments, have totaled $895 million since 2011.
Early learning scholarships – Nearly $50 million in early learning scholarships that will help 9,000 low- and middle-income students attend quality child care and preschool programs statewide.
Special education reform – These reforms will provide better support for special education teachers, eliminate unnecessary paperwork and create an online system to better-track student data to help kids succeed.
School nutrition – By investing in school nutrition programs, schools that provide breakfast will be able to offer free breakfast for all Kindergartners. In addition, no child will be denied a healthy lunch in school.
Better reading – A $157 million investment will help ensure all Minnesota students are reading well by 3rd grade.
English Language Learning (ELL) – An ELL programs investment provides school districts the flexibility and funding to help every child prepare for success in school.
Teacher and principal evaluations – New teacher and principal evaluation systems will provide ongoing feedback and professional support to educators to ensure that Minnesota has great teachers in every classroom and great leaders in every school.
Safe and Supportive Schools Act –The Safe and Supportive Schools Act provides local districts the guidance, support and flexibility to adopt clear and enforceable school policies to help protect all children from bullying, and to reinforce the principles of tolerance and respect in our schools.
A quick look shows us:
$895 million: With the support of DFL legislators, Gov. Dayton has invested $895 million in E-12 education since 2011
$2.8 billion: $2.8 billion previously borrowed from our schools has been repaid in full
9,000: 9,000 young learners will go to preschool thanks to Early Learning Scholarships
"These are amazing accomplishments, but more work remains to be done," Martin said. "We know for a fact that an educated workforce attracts and retains business in Minnesota, helps the state recover more quickly than others from an economic down turn and is the backbone of a strong middle class.
"Voters have a clear choice in this fall's election: vote for DFL leaders who've made great strides in moving our education system forward or vote for Republican candidates who think nothing of borrowing from our students. I trust Minnesota voters will make an educated decision."
all-day kindergarten · early learning scholarships · education · ELL · pay back our schools · safe and supportive schools · school nutrition · school shift · special educaiton reform