Truth vs. Republican Spin Chapter 2
Posted by SD48 DFL Communications Team in News
The GOP claim: Gross receipts tax dollars can be used for transit or light rail.
REVENUE IS CONSTITUTIONALLY DEDICATED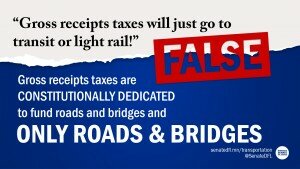 According to Article 14, Sec. 10 of the Minnesota Constitution, the gross receipts tax MUST ONLY be spent on roads and bridges.
"The legislature may levy an excise tax on any means or substance used for propelling vehicles on the public highways of this state or on the business of selling it. The proceeds of the tax shall be paid into the highway user tax distribution fund."
Scare tactics and threats won't fix our roads and bridges.
2015 transportation plan · bridge repairr · GOP scare tactics · Republican scare tactics · road repair