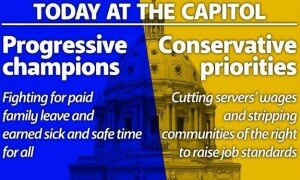 Paid family leave
Today the Senate Jobs Committee heard a bill (SF 779) sponsored by Sen. Katie Sieben to ensure Minnesotans have access to paid family leave when they are caring for a newborn or care for an elder. The hearing started at 2 p.m., so I don't have the vote yet.
Republican members on this committee are: Sen. Gary Dahms, Sen. Carla Nelson, Sen. Carrie Ruud, and Sen. Bill Weber. If they vote against the bill, it would be good to get out letters to the editor about their no vote. If you want a draft of a letter, please let me know.
Stripping communities of the right to raise job standards
The House Job Growth and Energy Affordability Committee is hearing a bill (HF 1241) to local governments of the authority to enact local employment standards.
Republican members of this committee are: Rep. Pat Garofalo; Rep. Dave Baker; Rep. Dan Fabian; Rep. Bob Gunther; Rep. Bob Loonan; Rep. Jim Newberger; Rep. Marion O'Neill; Rep. Peggy Scott; Rep. Dennis Smith; Rep. Chris Swedzinski; and Rep. Bob Vogel. Again please let me know if you need a draft of a letter to the editor.
Transportation
The House GOP came out with its transportation proposal today.
Good news: They agree with Gov. Dayton that it's a multi-billion, multi-year issue.
Bad news: They are sticking to their "no new taxes" pledge and don't want to honestly pay to fix our deteriorating roads and bridges. They want to take money out of the general fund (that means taking money away from students and seniors), use other shifts and gimmicks and use more than $200 million of the state's budget surplus.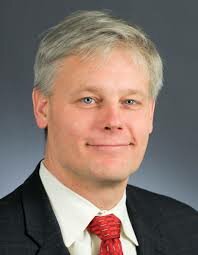 House Minority Leader Paul Thissen had this to say:
"Unfortunately, the Republican plan is the same old shifts and gimmicks budgeting we've come to expect from them. Siphoning money from schools and hospitals and relying on the state's credit card is no way to fund Minnesota's transportation system. This is a 'Give the Deficits Back' Act.
"The Republican plan irresponsibly raids the general fund, shifting hundreds of millions of tax dollars that should pay for better schools and uses it to pay for transportation projects. The next economic downturn could be around the corner, and if we use general fund tax dollars to fund transportation projects then we are hurting our schools, hospitals and other basic priorities in the future. Investments in Minnesota's transportation systems shouldn't compete with our kids' education.
"And the Republican plan excessively borrows money, running up the credit card bill to pay for future road and bridge projects. Minnesota is finally in a better financial position. We shouldn't go right back to the borrowing and gimmicks that got us in trouble for the previous decade."
HF 1241 · House GOP · paid family leave · Sen. Katie Sieben · SF 779 · stripping communities of the right to raise job standards · transportation bill
<< 5 Obama Successes Republicans Have to Pretend Never Happened