TAG | Senator Klobuchar
The following commentary by Sen. Klobuchar appeared in the February, 5, 2015, issue of the Eden Prairie News: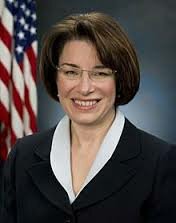 In 2014, Minnesota's unemployment rate sank to its lowest level in more than a decade at 3.7 percent, state exports reached a record $5.5 billion this past quarter, and our manufacturing industries continued to surge. Nationally, the economy added 321,000 jobs in November — the largest monthly gain in nearly three years — and gas prices continued to drop with the United States overtaking Saudi Arabia as the number one oil producer in the world.
With the economy improving, we are no longer governing from crisis — we are governing from opportunity. Especially as we head into a new year with a new Congress, Washington must put governing over gridlock and get things done that will move our economy and country forward.
I have always prioritized working with members of both parties and know progress is possible. Whether it has been passing legislation with Roy Blunt of Missouri to boost tourism or partnering with John McCain to reduce prescription drug costs, two-thirds of the bills I have led include Republican cosponsors. This blueprint of working across the aisle has proven to be successful. This past year, I passed eight bipartisan bills into law.
Starting this month, I will be taking on a new leadership position as chair of the Democratic Steering and Outreach Committee. This position will give me a chance to reach out to members across the aisle, as well as community leaders, businesses and policy experts, to identify areas of common ground and work together for the benefit of all Americans. (more…)