TAG | DFL Chair Martin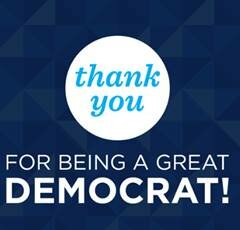 With the worst mid-term election since 1928 and Democrats losing races across the nation, the Minnesota DFL met all but one of our goals:
reelect Gov. Dayton;

reelect Sen. Franken;

reelect our congressional delegation;

reelect Attorney General Lori Swanson

reelect Auditor Rebecca Otto and

elect Steve Simon as our next Secretary of State.
For the first time since 1970 – 44 years – the Minnesota elected a DFL Governor and DFL U.S. Senator.
With fewer than 2 million people voting we fell short on our fifth goal, retaining the majority in the Minnesota House. DFL Chairman Ken Martin makes the point that 10 of the 11 seats that the GOP picked up were in Greater Minnesota.
"The GOP message did not resonate with suburban voters who left the gains that the DFL made in 2012 in suburban districts relatively intact," Martin said. "The DFL's ability to win in suburban districts in a difficult mid-term election suggests that the GOP is becoming increasingly confined to a rural party. Indeed their inability to compete in the more populous parts of the state has prevented them from winning ANY statewide office since 2006."
Thank you to everyone for their hard work to elect leaders who will build a better Minnesota and represent our values in Washington, D.C. We look forward to working together to ensure that the DFL is a Party built to win, built to last and that we retake the Minnesota House and go blue for our Democratic presidential candidate in 2016.
2014 election · Al Franken · Attorney General Swanson · DFL Chair Martin · Gov. Dayton · Ken Martin · Lori Swanson · Mark Dayton · Secretary of State Simon · Sen. Franken · State Auditor Otto · State Auditor Rebecca Otto · Steve Simon · U.S. Senate