TAG | debt
At the Saturday, April 11, 2015 Minnesota Republican convention, SD48's own Sen. David Hann spoke to the group. In his speech, he said the Senate DFL was levied the largest campaign finance fine in history. Rachel Stassen-Berger, the Capitol Bureau Chief and Reporter for the St. Paul Pioneer Press immediate responded with this: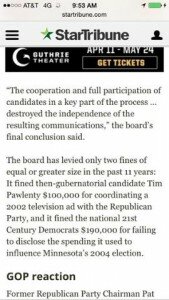 Last month, it was reported that his party is in major arrears to vendors for the 2014 campaign. Here's a post from the StarTribune detailing that situation.
Today (April 14, 2015), the StarTribune details the $26,000 fine the Minnesota GOP was given by the FEC for not disclosing receipts, payments and debts in 2009 and 2011. The FEC also fined the Minnesota GOP $170,000 for misrepresenting debts.
The StarTribune reports that the FEC has warned the party again that it must straighten out its paperwork for 2014 by May 15, 2015. The article also details the $1.40 million the party is still in debt.
Again, which organization is the party of fiscal responsibility and able to manage money better? It might have been the GOP at one time. Folks, it isn't now. And, when push comes to shove, there is prevarication at best.
David Hann · debt · FEC fines · sd48 · Sen. Hann · Senate District 48