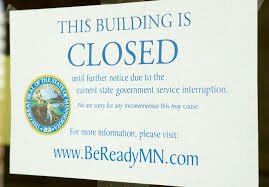 By Ken Martin, DFL Chairman
"The same Republican Party that brought Minnesota into a government shutdown in 2011 is already preparing itself for another destructive shutdown.
"On Wednesday afternoon, with several weeks left before a shutdown would be triggered, state Sen. Sean Nienow (R- Cambridge) attempted to advance a bill he calls 'Plan B,' even while negotiations between legislative leaders and Gov. Mark Dayton are still in progress. Every single Senate Republican voted for Nienow's motion.
"Make no mistake: this Plan B is just a desperate attempt to deflect accountability from their Party, which has refused to move from their negotiating position for weeks. Minnesotans don't want to eliminate MinnesotaCare for 100,000 of our neighbors. We don't want an education budget that would force cuts in our school districts. We don't want to end up with a budget that sacrifices long-term fiscal stability for a temporary tax cut. Minnesotans will see through their cynical politics if Tea Party Republicans continue to propose such destructive policies and try to dodge responsibility for the results.
"While Republicans are busy preparing Plan B, Senate DFLers are still working hard on Plan A: negotiating a compromise with the House, passing a responsible budget and keeping the government from shutting down in the first place. If Senate Republicans are truly concerned about Minnesota's future, they should work to avoid a shutdown instead of spending the last days of session avoiding the blame."
government shutdown · Minnesota Senate Republicans · Tea Party