Sen. Hann Stamps His Foot Again
Posted by SD48 DFL Communications Team in David Hann, SD48 GOP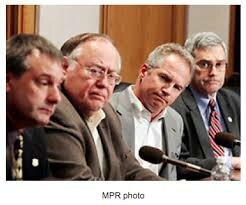 Our current SD48 State Senator, David Hann, called a press conference April 10, 2015, to dredge up his ethics complaint against Sen Hayden that he started in September of last year.
If you've spent time in any organization, you've seen how people continue to repeat behavior they've been rewarded for in the past. Why do we bring this up in this case?
Let's look at how Sen. Hann became Senate Minority Leader. He got there through behind the scenes manipulation of a situation that wound up costing the taxpayers tens of thousands of dollars. He was part of the gang of 4 that ousted former Leader Amy Koch for her affair with Michael Brodkorb. You can read more about that situation here.
In addition to the above situation, he has his own ethics skeleton. You can read more about that here.
David Hann · ethics · Sen. Hann
<< DNC Chair's Statement on Hillary Clinton's 2016 Announcement