Sen. Hann Not a Math Guy
Posted by SD48 DFL Communications Team in SD48 GOP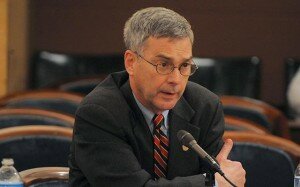 In the StarTribune's Hot Dish blog on January 27, 2015, Senator Hann and Speaker Daudt don't like Gov. Dayton's budget. (They also had no specifics on what they would have done with the budget, but that's pretty common for these folks.)
They talk about a Jesse Ventura style tax rebate. Remember that? What can we expect?
$100 back per household in a "tax rebate"
$400 out of pocket to replace damaged tires, rims and suspension work because the potholes in our roads aren't fixed.
Doesn't seem like math that works in your and our favor, does it?
2015 Minnesota budget surplus · David Hann · sd48 · Sen. Hann · Senate District 48