Sen. Al Franken is demanding information from FBI on surveillance flights
Posted by SD48 DFL Communications Team in Issues, News, Sen. Franken
The following article by John Reinan and Matt McKinney appeared in the June 4, 2015, issue of the Star Tribune:
He asked about use of surveillance technology and legality of flights.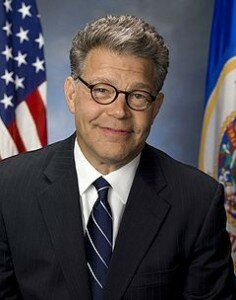 U.S. Sen. Al Franken on Wednesday asked for more information about government surveillance flights in cities across the country, including Minneapolis. In particular, Franken wants to know what spy technology is being used by the fleet of small planes, which are registered to fictitious companies in Virginia.
An Associated Press investigation this week definitively linked the flights, which had already drawn media and public attention, to a widespread FBI surveillance program. Scores of aircraft have been used in the program, most of them single-engine Cessnas that can remain aloft at low speed for hours.
The Star Tribune previously reported that one of the planes made several flights last month in the Twin Cities area, including at least one late at night in which it repeatedly circled downtown Minneapolis, the Mall of America and Southdale Center at low altitudes.
Franken, in his letter to U.S. Attorney General Loretta Lynch and FBI Director James Comey, said the public needs to know more about the surveillance.
"Many Americans have been troubled by these reports, and as ranking member of the Senate Judiciary Subcommittee on Privacy, Technology and the Law, I believe it is important to ensure that these programs adequately protect Americans' privacy while furthering public safety and national security," Franken wrote.
Franken asked what surveillance technologies the FBI planes are using, rattling off a laundry list of spy gear including IMSI-catchers, dirtboxes and Stingrays. All are devices used to capture information from cellphones. Franken also asked the FBI to explain its use of infrared cameras and video cameras.
The letter asks for an explanation of the legal authority under which the FBI is conducting the surveillance program, and whether it's on a case-by-case basis or under a broader authorization. "Please provide a representative sample of the applications for these court orders," the letter states.
Franken also asked about what policies the Department of Justice has developed for the use of these devices, and the retention of data they collect.
"What safeguards are in place to ensure that innocent Americans' privacy is protected during aerial surveillance utilizing technology that collects data and personal information?" he asked.
Franken's letter did not specify a deadline for receiving the information. The FBI and Department of Justice did not return calls seeking comment Wednesday.
You can read the original post here.
Al Franken · FBI surveillance flights · Sen. Franken