SD48 Photo Contest-Win Driveway Patch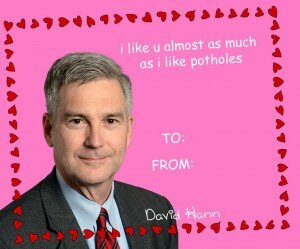 We've heard from you that we have enough pot holes, degrading overpass bridges and congestion right here at home — in Sen. Hann's own district — to host our own photo contest.
So, effective today, we're asking you to take photos (safely, of course) of obvious deterioration:
pot holes
cracked pavement
multiple patchings rather than really repairing a road or bridge deck
a bridge or overpass that has crumbling concrete and rusting rebar and
congestion.
Send those photos to us at info@dfl48.org with information on where the photo was taken. The deadline is March 15, 2015.
We'll review them and decide who captured the worst of the worst. The winner will receive a container of driveway patch.
We will be forwarding the photos to the State DFL for use in their communications.
We look forward to seeing what you can document in Sen. Hann's backyard. Thanks!
congestion · crumbling bridges · crumbling roads · pot holes · transportation