Rep. Selcer Legislative Update May 5, 2015
Posted by SD48 DFL Communications Team in News
Dear Neighbor,
I hope you all had the opportunity to enjoy the beautiful weather this past weekend. Before taking the weekend break, we continued to hear important omnibus bills here at the Capitol, including the tax and legacy funding bills, which are summarized for you below.
Omnibus Tax Bill
Recently, the House voted on the Majority tax bill, which funds the priorities of our state. The proposal included permanent tax breaks for the owners of the largest corporations and businesses in Minnesota—many of whom don't live in the state. To read the recent StarTribune article on out of state and country interests who would benefit from these tax breaks, click here.
The tax relief in the bill provided to working Minnesotans is temporary, and would only amount to about $50-70 per
individual over the next two years. I support tax relief for all Minnesotans, and voted against DFL tax increases last biennium. I also voted against this Republican bill because of the imbalance between individual and corporate tax relief. These tax breaks are greater than the projected budget surplus, which could throw our budget back into deficit, and that would not be fiscally responsible.
I did vote for the Minority Tax Report, which provided more substantial and sustainable tax breaks to individuals and small businesses, instead of prioritizing corporate giants such as the Germazian Brothers and Walmart.
I am hopeful that a more balanced proposal will return from conference committee than can garner broad, bipartisan support.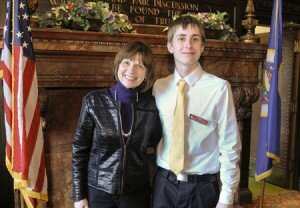 One of the great programs to involve our young people includes our page program, which provides interested high school Juniors from across our state with the opportunity to spend a week at the Capitol.
Legacy Funding Bill
Last week, the House passed the Legacy Funding bill. This budget area is dedicated to clean water, land and legacy projects that were part of the 'Legacy' amendment approved by voters in 2008. I have serious concerns with the current Legacy bill, including a lack of support for addressing the growing problem with drinking water for Minnesotans. The current proposal could cost us $9 million dollars in aid from the federal government, and will likely result in the metro area needing to continue to subsidize ameliorating the water problems in Greater Minnesota. I also could not vote for the changes my colleagues across the aisle wanted to make to the Lessard Sams Heritage Council, which community members have assured me is doing a good job of meeting the needs of our state as mandated in the Minnesota constitution.
As always, please contact me anytime with your input. I can be reached by phone at (651) 296-3964 or by email at . Thank you for the honor of representing you at the State Capitol.
Best,

Yvonne Selcer
State Representative
2015 House omnibus tax bill · 2015 legacy funding bill · HD48A · House District 48A · legislative update · Rep. Selcer · Yvonne Selcer
<< Republican tax bill benefits corporations and multi-millionaires, leaves Minnesotans behind