President Obama's straight talk on middle-class economics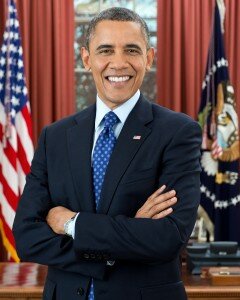 This past week at the City Club of Cleveland, President Obama not only discussed how middle-class economics has strengthened our economy, but he also explained how the Republican alternative of trickle-down economics has failed.
President Obama:
"One Republican in Congress warned our policies would 'diminish employment and diminish stock prices.'
"Another predicted my reelection would spike gas prices to $6.60 a gallon.
"My opponent in that last election pledged that he could bring down the unemployment rate to six percent by 2016.
"Right here in Cleveland, the leader of the House Republicans, a good friend of mine, he captured his party's economic theories by critiquing mine with a very simple question: 'Where are the jobs?'
"Well, after 12 million new jobs, stock market that's more than doubled, deficits that have been cut by two-thirds, health care inflation at the lowest rate in nearly fifty years, manufacturing coming back, auto industry coming back, clean energy doubled – I've come not only to answer that question, but I want to return to the debate that is central to this country and the alternative economic theory that's presented by the other side.
So while 2016 GOP hopefuls join the chorus of Republicans attacking the president's record on the economy's swift recovery, the current economic indicators speak for themselves. And the reality is that the Democrats' middle-class economics works, and the Republicans' trickle-down economics does not.
Barack Obama · City Club of Cleveland · middle class economics · President Obama
<< DNC Chair Rep. Debbie Wasserman Schultz on the House GOP Budget