'Personally Offensive Tour': Duluth workers invite Stewart Mills III to meet a minimum-wage earner
Posted by SD48 DFL Communications Team in News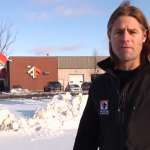 Workers of the 8th Congressional District gathered in Duluth today to invite Stewart Mills III to meet a minimum wage earner, saying they are "personally offended" that he believes all minimum-wage workers are "sixteen or seventeen-year-olds."
At the event were more than a dozen minimum-wage earners, low-income workers, and residents of the Duluth area.
"I'm personally offended that Stewart Mills III thinks the only people who earn the minimum wage are teenagers," said Todd Gustafson, a local low-income worker. "I've worked minimum wage jobs my whole life. Stewart Mills has never even had to apply for a job, and makes $560,000 a year at the job his family gave him – but he's opposed to raising the minimum wage.
"This just shows that he is an out-of-touch multi-millionaire who is not on the side of working Minnesotans."
The first stop of the "Personally Offensive" Tour also took place in Duluth in front of the shuttered Georgia Pacific plant, following comments made by Stewart Mills III that he finds it "personally offensive" that the rich are asked to pay their fair share of taxes.
Background:
Mills says minimum wage jobs are for "sixteen and seventeen year olds." "As far as the minimum wage is concerned, those jobs are stepping stone jobs. They're designed for sixteen and seventeen years old to get their first job." (10/7/2014)
According to a study published in the New York Times, the average age of a minimum-
wage worker is 35 years old, and 88 percent are at least 20 years old. Half are older than 30, and about a third are at least 40. (6/10/2014)
DFL kicks off "personally offensive" tour against GOP's Stewart Mills [Northland News Center, 8/13/14] "DFLers are calling on Republican Congressional candidate, Stewart Mills, to explain his stance on the federal minimum wage and his comments on taxing the wealthiest Americans. […] The DFL claims those comments mean Mills finds it "personally offensive" for multi–millionaires to pay their fair share. … 'There's a lot of people who are going to bring in good jobs,' said former Georgia Pacific employee Glenn Jackson. 'Stewart Mills is not one of them. Stewart Mills – all he wants is the money – he doesn't support minimum wage, he doesn't support worker's rights.'"
income inequality · minimum wage · Personally Offensive Tour · Stewart Mills
<< Michelle Obama to headline campaign rally in support of Sen. Franken and Gov. Dayton